Leonardo DiCaprio Admitted He Was 'Taken Aback' By Claire Danes' Kiss in Her Audition For 'Romeo + Juliet'
Leonardo DiCaprio was a 1990s teen heartthrob who was also considered one of the best actors of his generation. After his turn in Baz Luhrmann's 'Romeo + Juliet,' DiCaprio gave a rare interview where he opened up about his leading ladies – including Juliet herself Claire Danes – and how her audition left him 'taken aback.'
ARTICLE HIGHLIGHTS
Leonardo DiCaprio was a 1990s teen heartthrob who turned into one of the best actors of his generation.
In a rare candid interview, DiCaprio opened up about some of his leading ladies
Leonardo DiCaprio admitted when Claire Danes kissed him at her 'Romeo + Juliet' audition he was 'taken aback'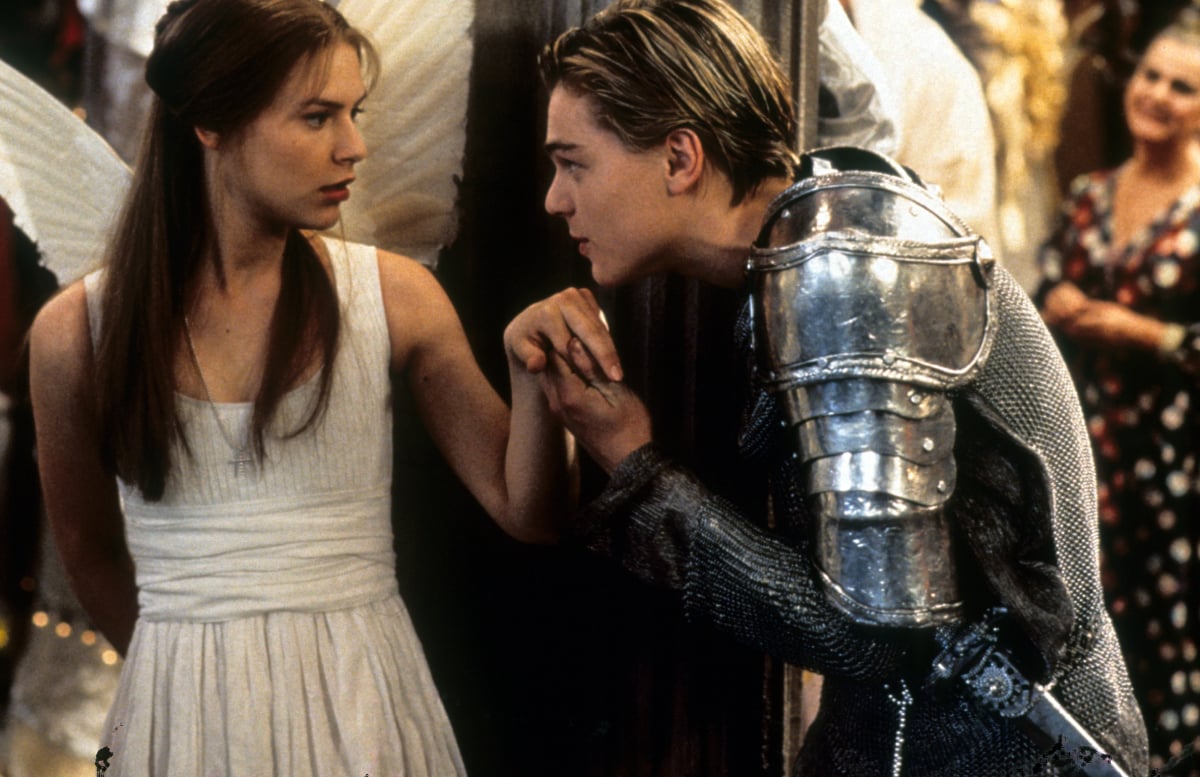 Leonardo DiCaprio was the quintessential 1990s teen heartthrob. With roles in everything from Growing Pains to What's Eating Gilbert Grape? to The Basketball Diaries, DiCaprio was quickly touted as the "best" actor of his generation.
After the release of Baz Luhrmann's Romeo + Juliet in 1996, DiCaprio gave a rare, candid interview about the direction of his career. He also shared his thoughts on his leading ladies. When talking about his Romeo + Juliet co-star Claire Danes, DiCaprio admitted he was "taken aback" by the kiss in her audition.
Leonardo DiCaprio watched Claire Danes on 'My So Called Life'
Before she landed the role of Juliet in Luhrmann's Shakespearean update, Danes starred in the ABC cult classic My So Called Life.
DiCaprio told i-D in their 1997 "Desirable Issue" that he was familiar with Danes before they starred in the film together.
"I saw her television show, My So-Called Life, and I knew from that point on that she was just an extremely intense and emotional girl and possessed a lot of what we wanted Juliet to be," DiCaprio explained.
The Oscar winner admits he was 'taken aback' by Claire Danes' kiss at her audition
DiCaprio — who was 22 at the time of the interview — explained that they didn't want "a flowery, over-dramatic version of Juliet."
He said the character "actually laid down the law to Romeo." And told him that "if you're so into me, you have to marry me and defy everything." This was an important point they wanted to bring up in the film.
"As soon as I met with Claire and did auditions, everyone else was doing it the traditional way and she, like, grabbed the back of my neck and kissed me," DiCaprio revealed. "I was like, 'What's going on here!' I was a little taken aback by the whole thing but I realized she knew what she was doing."
Leonardo DiCaprio described filming 'Romeo + Juliet' in Mexico City as 'very stressful'
DiCaprio and Danes — plus the rest of the cast and crew — spent weeks in Mexico City filming Romeo + Juliet. DiCpario admitted that the shoot was "very stressful" because of what was going on around them.
"The interesting thing was that although there was a lot of violence and a lot of shootings and a lot of people getting sick all the time, it really added to what we were doing out there," DiCaprio explained.
"There were a couple murders, one of our people got kidnapped. It was hard and everyone got really sick, but at the same time it really gave us something to work off of. We were used to being around guns."
Claire Danes didn't want to go back to Mexico City
Despite the stress of filming in Mexico City, DiCaprio went right back to the location for his next project — Titanic. What fans might not know is that Danes was offered the role of Rose before Kate Winslet. But Danes turned it down.
"Honestly I had just made this romantic epic with Leo in Mexico City, which is where they were going to shoot Titanic and I just didn't have it in me," Danes told Dax Shepherd on his Armchair Expert podcast in 2020.
Danes says she knew DiCaprio wrestled with the decision to take the role of Jack in Titanic. But he ultimately looked at her and said, "I'm doing it." Even though he wasn't sure about it.
"I looked at him, like, I totally understand why he wanted to do that but I'm not ready for that," Danes said. "I remember after the movie came out and he just went into another stratosphere… It was a little scary. I just couldn't do it, I didn't want it."
Leonardo DiCaprio's life changed with 'Titanic', Claire Danes has 'zero regrets'
Danes says she has "zero regrets" about turning down Titanic. Especially after seeing how DiCaprio's life changed when the movie came out.
"I was really clear about it, I wasn't conflicted. I was feeling eager to have different creative experiences and that felt like a repeat and it was going to propel me towards something that I knew I didn't have the resources to cope with," Danes said.
DiCaprio admits that starring in Titanic was definitely a life-changing experience. The 45-year-old told Marc Maron on his podcast that since that movie came out, his life has been noticeably different.
"I was in my early twenties, then the movie came out and I just remember four SUVs outside my house one day and they just kept following me every day of my life and I was like OK, this life will no longer be the same," DiCaprio said.
Titanic is available on Netflix with a subscription, and Romeo + Juliet is available for free on YouTube.