Liam Hemsworth's Girlfriend, Gabriella Brooks, Is Reportedly 'Quiet' and 'Low Key' Compared to Miley Cyrus
Breakups are always tough — and being in the public eye certainly doesn't make it easy. As for Liam Hemsworth and Miley Cyrus, we've watched them get together and call it quits on a number of occasions. The couple was together for a decade before calling it off officially, and they were even married for a short time. Now, their divorce is official, and they've moved on with new significant others.
Cyrus has been seeing Australian musician Cody Simpson for months, and the two flaunt their relationship all over social media. As for Hemsworth, he's been seeing model Gabriella Brooks since the end of 2019. But sources explain Brooks is much different than Cyrus, which may be why their relationship is going so smoothly.
Liam Hemsworth and Gabriella Brooks have been spotted together since December 2019
Hemsworth seemed to have a more difficult time moving on from his decade-long relationship than Cyrus did. As his sister-in-law, Elsa Pataky, told Hola!, "My brother-in-law, well … After a relationship that you've dedicated 10 years to, he's a little bit down, but he's coping well."
Thankfully, Hemsworth was able to move forward after taking some time to himself. And he's now with model Gabriella Brooks. The two were first spotted in mid-December, though it was difficult to tell just how serious they were getting. "Liam is still in the midst of his divorce with Miley [Cyrus] so marriage is the furthest thing from his mind right now," a source exclusively told HollywoodLife at the time. But the source added that Brooks was a "breath of fresh air" after the chaos.
"They have no label on where things stand with them at this point and although they're both really private, they feel comfortable enough with each other to step out in public and allow themselves the freedom to have a good time," the source noted.
Miley Cyrus and her boyfriend, Cody Simpson, are still going strong
While things are heating up for Hemsworth and Brooks, it looks like Cyrus and Simpson are going strong as well. The two have been spotted together since the end of 2019, and they've been very forward with their relationship on social media. Simpson also can't hide how much he adores Cyrus. He's stated in past interviews that he's always taken an active interest in his pop star girlfriend, and he's even written her songs and poems to prove his love.
Now that coronavirus (COVID-19) is encouraging everyone in the U.S. to social distance, Cyrus and Simpson appear to be quarantining together as well. Seventeen notes Cyrus recently shaved Simpson's head to raise awareness for one of his favorite charities. And we're sure we'll hear about more of their antics soon enough.
Brooks is allegedly much more 'low key' than Cyrus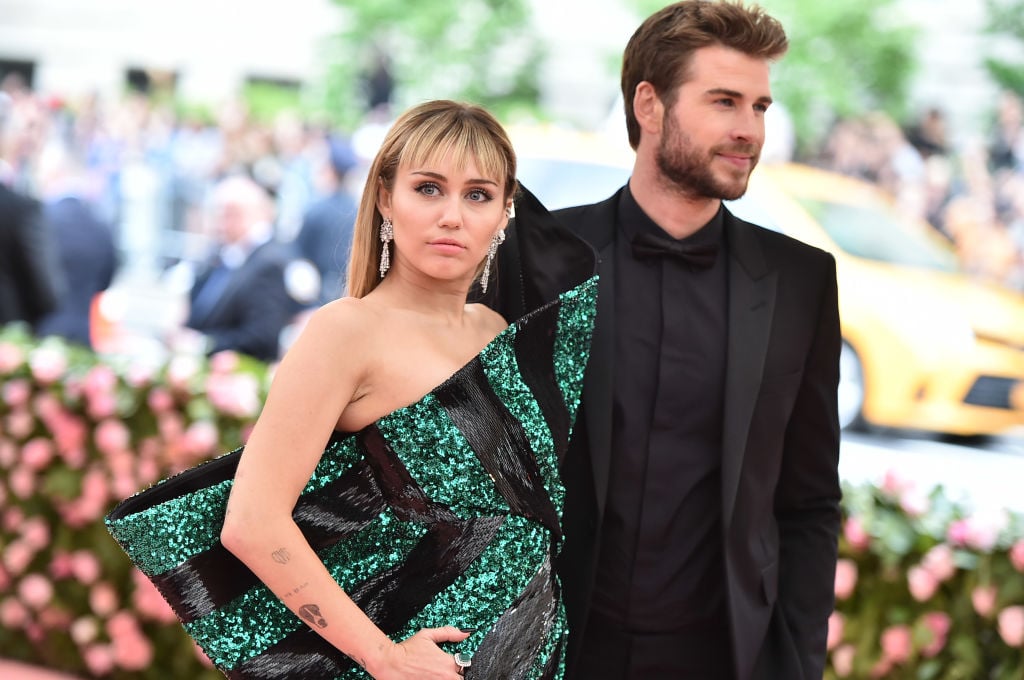 We know Cyrus can be loud, chaotic, and in-your-face — and it seems Brooks is the exact opposite. A source told Entertainment Tonight that Hemsworth's relationship with Brooks is proving to him that he can go on without Cyrus in his life. And Brooks has a totally different (and reportedly calmer) personality.
"While Liam's family has been a huge support since the breakup with Miley, it was Gabriella who made him realize there is life after Miley," said the source. "Gabriella is quiet, low key. She loves to be alone with Liam and isn't seeking attention from others."
The source then added that Brooks "adores" Hemsworth and gets along well with his family and friends. And while Hemsworth "loved Miley," her inability to settle down was too tough to manage.
"She knows how important love and marriage are for him, but she just needed her independence," the source noted of Miley's well wishes.
We're happy to see both Hemsworth and Cyrus moving forward with relationships that suit them. We can't wait to hear further developments.
Check out Showbiz Cheat Sheet on Facebook!