Lidia Bastianich on the Role Julia Child Played in Her Success: 'She Was Such a Grand Lady'
Celebrity chef Lidia Bastianich was already an accomplished chef and successful restaurant owner before she became a beloved PBS star. The Italian-American chef opened up about how it was that the legendary woman who made food something to watch on TV — Julia Child that is — had a part in Bastianich herself becoming a standard-setter in culinary television.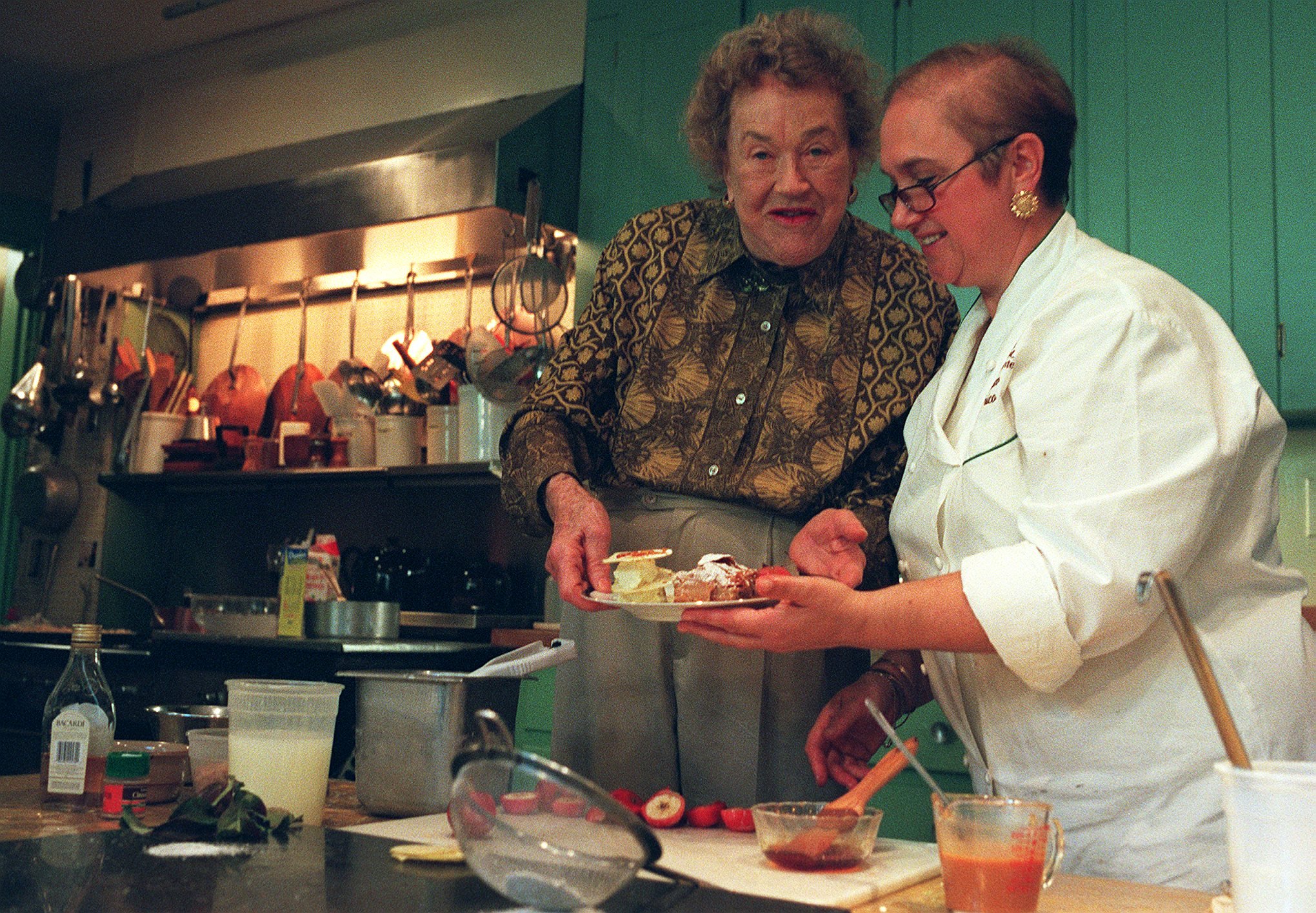 Bastianich's flagship restaurant, Felidia, recently closed
The chef's restaurant, Felidia, which opened in 1981 just closed after 40 years in business in New York City. Eater reported that it wasn't clear whether the popular restaurant would re-open elsewhere.
Bastianich wrote in her 2019 cookbook Felidia: Recipes from My Flagship Restaurant: A Cookbook, of her resolve to open the restaurant back in the 1980s despite all circumstances seemingly being against her.
"I knew the odds, but I had a vision, and I was determined to make it work," she recalled. "In 1981, with two young children and two successful restaurants under our belts, my husband Felix and I took on what would prove to be the most daunting and risky project of our lives, the building of Felidia on East 58th Street in New York City."
While the couple's other restaurants were successful to be sure, Bastianich had in mind a different kind of "more elegant establishment in Manhattan, where we could showcase the regional Italian food we had both grown up on."
The risks were all worth it, as Felidia became one of the city's most popular eateries.
Julia Child helped kick off Bastianich's television career
Felidia, it can be said, launched Bastianich's fame, leading to her PBS programs, cookbooks, and line of supermarket items such as prepared pastas and sauces, because it was the restaurant that brought renowned French chef Julia Child to her door.
Bastianich was visited at the establishment by Child and illustrious American chef and author James Beard. Eventually, she and Child became good friends. The Lidia's Italy host recalled the slightly intimidating moment Child and Beard first walked into Felidia.
"One day, in come Julia and James Beard," the chef recalled in a conversation with public television's GBH. "These two towering figures, you know, big. And they wanted to taste, what was this Italian woman cooking? [Julia] came for the risotto, specifically. I cooked the risotto, I was nervous, of course, but I don't think I really realized the magnitude. You know, sometimes ignorance is bliss? So it was very comfortable, I felt like she was my friend."
Child ultimately invited her to be on her Cooking with Master Chefs public television series in 1993. Her appearance on her friend's program, Bastianich said, was "where it sort of all began…She was such a grand lady."
And the Italian chef has made her own programs, well, her own, with thoughtful and intelligent instruction that empowers viewers to prepare their own Italian meals at home.
Bastianich is still going strong with another bestseller
The Queens, New York resident just published her latest cookbook,  Lidia's a Pot, a Pan, and a Bowl. And it's all about making the cooking process simpler for cooks at every level using just one pot, one pan, or one bowl.
In the chef's conversation with The Pittsburgh Post-Gazette, she explained that the cookbook is "for everybody, even the beginners" and features recipes for the dishes many cooks lean on day in and day out with eggs, soups, salads, pastas, risottos, pizzas, seafood, meat, poultry, and of course, desserts.
"It was fun," she told the outlet, "to be able to use my years of experience in a commercial kitchen and traveling and synthesize it down to a simple baking pan that everyone can relate to."