Lidia Bastianich's Seafood and Leek Risotto Is a Spring-Welcoming Dish
If you're ready to cook with fresh ingredients that scream spring, you need to try PBS personality Lidia Bastianich's fresh and light Seafood and Leek Risotto. 
The celebrity chef's dish is packed with healthy ingredients resulting in a creamy, simple, and absolutely satisfying risotto. And as usual, Bastianich removes the fear factor from a classic dish that many beginning cooks find intimidating.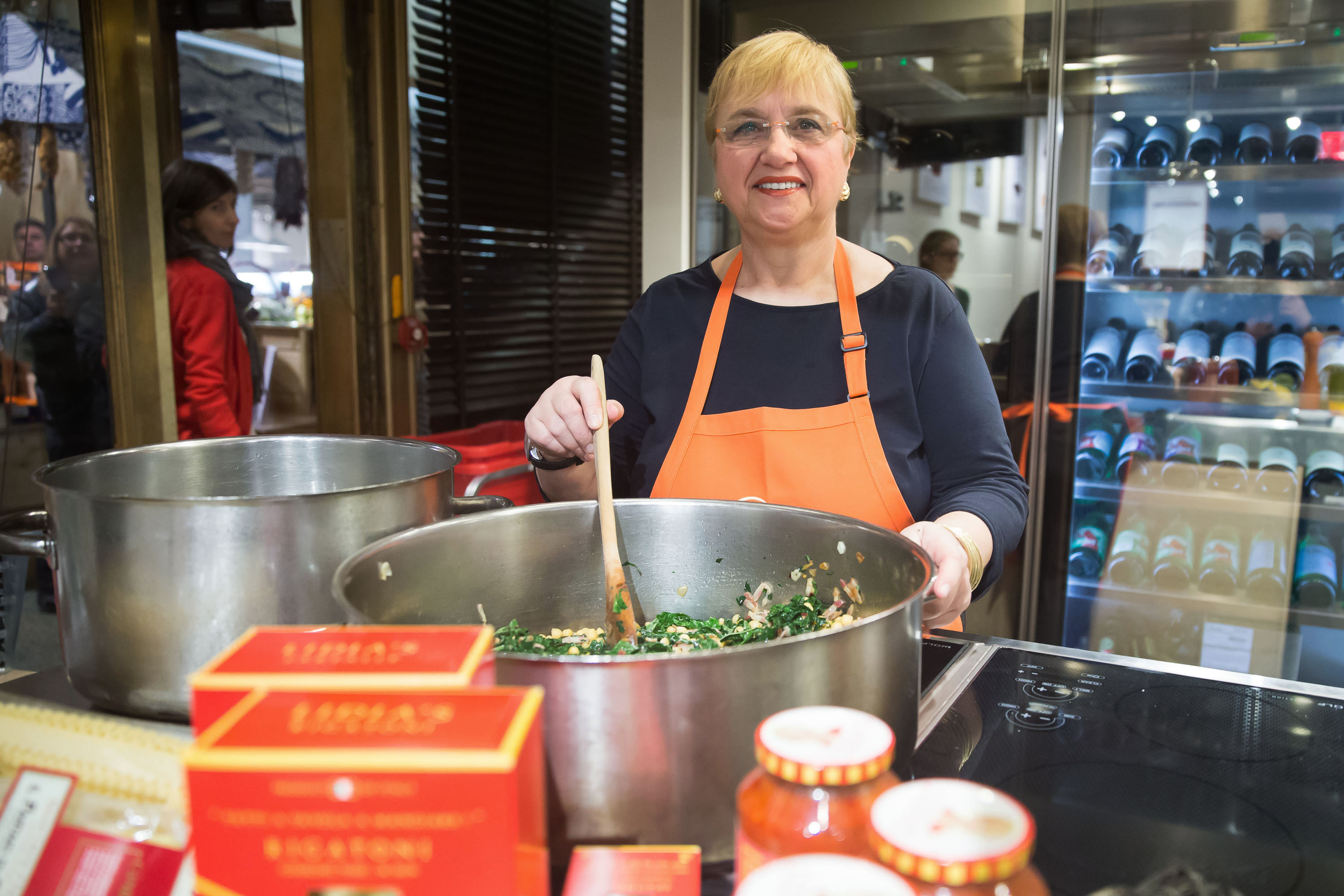 The star of Bastianich's risotto is seafood
In her latest cookbook, Lidia's a Pot, a Pan, and a Bowl, the chef noted that the dish is extremely flexible, allowing for just about any kind of seafood to be used in it.
"Risotto di mare means risotto of the sea, and here I use shrimps and scallops, but as its name suggests, it can be made with any fish of your preference," she wrote. "It could be made with clams and mussels, or firm fish like monkfish."
She revealed as well her tips and tricks to cooking seafood in a risotto.
"The rule to observe is cooking time," she continued. "Clams and mussels take about eight to 10 minutes to open up and cook, while monkfish takes about 15 minutes. When cooking fish, it is important not to overcook it, so keep this in mind if you choose to vary the kind of fish."
The chef demystifies how to make perfectly-cooked risotto
Bastianich, in a video for her YouTube channel, said of making the dish, "Risotto, very quintessential Italian. Love it. People love it. Is it difficult to make? Well, today maybe we will make it not so difficult for you." And, it's the ultimate one-skillet meal.
From the start, the chef makes clear that a great risotto begins with a wide pan "so that you mix it well in all of the corners."
As she told Epicurious, other secrets to textbook-perfect risotto are: 
Toast the rice kernels
Flavor the risotto with wine before you add broth
It's important to use hot broth
Spoon your broth in gradually
Incorporate your butter and cheese in at the last moment
Make sure you serve your risotto immediately
Her Seafood and Leek Risotto calls for saffron threads, hot water, extra-virgin olive oil, the white and light-green parts of leeks sliced thinly, an onion, a small fennel bulb, Arborio or other short-grain Italian rice, dry white wine, salt, peeled and cleaned medium-sized shrimp, cleaned sea scallops, fresh Italian parsley, and unsalted butter.
Bastianich says to be aware of the rice's doneness in this recipe
To start, the saffron is placed in a measuring cup or bowl and soaked with a cup of hot water. The chef says to "let it steep" while the risotto is prepared.
Next, Bastianich softens the leeks, onion, and fennel in olive oil for "about five minutes." Now, the moment of truth: the rice is added, stirring to coat it in the oil. "Cook," Bastianich says in her cookbook, "until the rice grains are translucent, about two minutes."
The wine is added, and once it's been absorbed by the rice, the saffron is now stirred in, as well as "enough additional hot water to cover the rice."
At this point, every time water or broth is added and absorbed, more liquid is added and absorbed, until "the rice is al dente."
Pay attention to the rice's doneness, the chef notes, being sure to add the seafood only "when the rice is four to five minutes from being ready."
Once the rice and seafood are done, the parsley, butter, and additional fennel are folded in. Enjoy!
You can find this and more single pot, pan, and bowl recipes in Lidia Bastianich's cookbook, 'Lidia's a Pot, a Pan, and a Bowl'.
RELATED: Lidia Bastianich on the Role Julia Child Played in Her Success: 'She Was Such a Grand Lady'