'Lightyear': Who Is Sox the Cat, Why Are Critics Obsessed With Him?
Lightyear is Pixar's latest adventure for family entertainment starring the famous Buzz Lightyear. However, he isn't the focal point of the conversation. Critics can't stop talking about a cat in Lightyear named Sox. Here's a look at who the character is, why critics are so obsessed with him, and why the world is about to fall in love with him, too.
'Lightyear' is a 'Toy Story' spinoff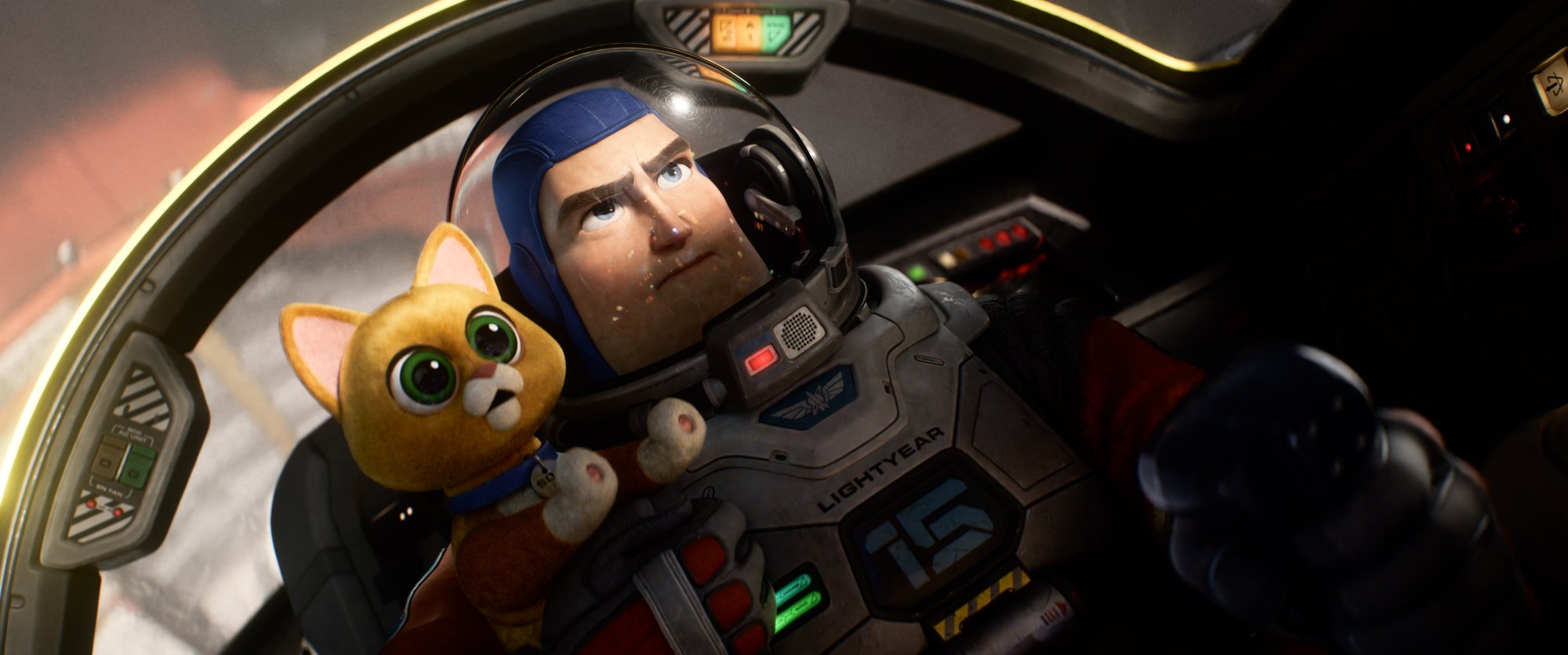 Pixar's Toy Story franchise originally started with the 1995 original movie, which would later turn into a massive franchise. There are currently four total installments, but it also inspired television shows, specials, and a short film. The upcoming Lightyear is a prequel and spinoff from the franchise that continues to excite the Disney/Pixar fandom.
The Toy Story universe just got a little bit bigger with the new movie. Lightyear tells the story of the young space ranger, Buzz Lightyear (voiced by Chris Evans). He finds himself stuck on a planet with his commander and crew, but they will need to find a way to get back home. However, they discover that they aren't alone. Lightyear brings several new characters to the silver screen, including a cat named Sox.
'Lightyear' introduces Sox the cat
The cat, Sox, is one of the major comedic relief characters in Lightyear. He's a robotic cat and Buzz's personal companion. The ginger and white cat with green eyes wears a blue collar. The space ranger initially wants nothing to do with the cat, but ultimately forms a close bond with him.
Sox proves increasingly useful over the course of Lightyear. The promotional materials show how he has a unique personality and gives his own opinions about their mission. Additionally, Sox wants to help Buzz however he can, even to help him sleep. The robotic cat suggests that he can play peaceful sounds, such as whale and white noises to help his companion get to sleep.
Lightyear establishes that Sox consistently provides humor throughout the movie. His character takes many of the stereotypical cat behaviors and exaggerates them into hilarious robotic antics.
Critics can't stop talking about Sox the cat
LIghtyear critic reactions are in and they can't stop talking about Sox. In fact, they're gushing more about the robotic cat than they are about Buzz himself. Some call him the true star of the movie and an absolute scene-stealer. One tweet even went so far as to call Sox "one of the best characters Pixar has ever created."
Critics adored Sox's comedic delivery throughout Lightyear along with his adorable looks. He certainly acts as a throwback to nostalgic movie moments, but he's his own character that critics connected with. Disney clearly had the forethought that the character would be popular. As a result, there's already a massive amount of merchandise surrounding the character that Disney/Pixar fans will eat right up.
The big question will be if Sox has staying power past Lightyear. Dug landed a big impact in Up, but Sox appears to overshadow the hilarious dog as a massive scene-stealer that audiences won't soon forget.
RELATED: Pixar's 'Lightyear' Required a Whole New Technology to Bring it to the Big Screen