Lil Kim Announces Cardi B as the Queen of Rap: 'She's Got the Crown'
Lil Kim is one of the most prolific female rappers in history, with numerous awards and hit songs to her credit. Known for her provocative lyrics, ever-evolving appearance, and friendships with other iconic figures such as The Notorious B.I.G., Lil Kim is still a working artist today.
As the most influential and iconic female rapper alive, Lil Kim is often asked about her relationships with other rappers in the industry. Recently, she gave a revealing interview where she listed her pick for the "Queen of Rap."
Keep reading to learn about Lil Kim, her relationships with both Nicki Minaj and Cardi B, and why she thinks Cardi B reigns supreme.
Lil Kim has a beef with Nicki Minaj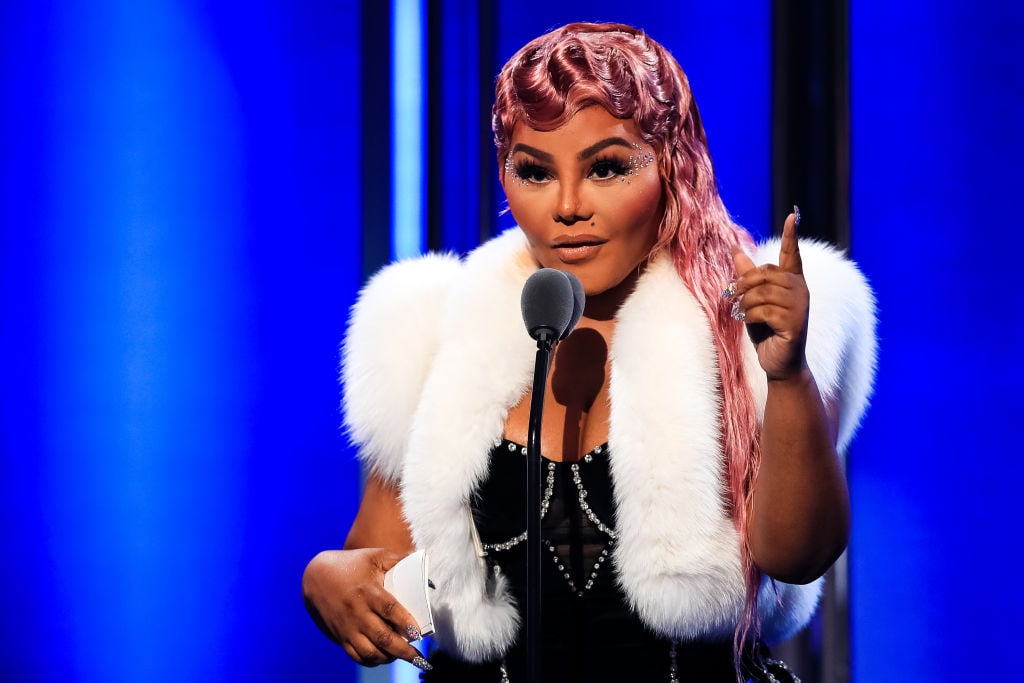 Nicki Minaj is a talented rapper who has released many hit songs over the years. She has assumed many different personas and has evolved from a more outrageous look — featuring lots of brightly colored hair and sky-high heels — to a sophisticated, mature style.
Minaj has many fans all around the world, but Lil Kim is definitely not one of them. The two women have a feud dating back to 2007 when Minaj released some promotional photographs that seemed remarkably similar to an album cover released by Lil Kim previously.
While many looked at the similarities as an homage, Lil Kim seemed to view them as identity theft. Over the next several years, they took shots at each other in interviews and on social media.
In a recent interview, a reporter asked Lil Kim about Minaj as well as the newly minted superstar Cardi B. While Lil Kim admitted that she loves Cardi B, she threw shade at Minaj by saying she "doesn't know" her. 
Lil Kim and Cardi B have a lot in common
When it comes to the reason why Lil Kim loves Cardi B so much, the answer could come down to strong similarities between the two rappers. Lil Kim is a well-known fan of plastic surgery and has had numerous procedures over the years, altering her appearance drastically from when she first appeared on the scene. Cardi B is also open about her plastic surgeries and has talked about having several procedures done since the birth of her daughter, Kulture.
It is also possible that Lil Kim recognizes a bit of herself in Cardi B and how she rose from difficult circumstances to be one of the leaders in her field. Regardless, Lil Kim is one of Cardi B's most outspoken celebrity advocates.
Lil Kim stated that Cardi B has the 'crown' 
Providing proof positive that Cardi B has Lil Kim's support as she forges ahead with her career, the famous rapper recently spoke out in an interview. She said that if there ever was to be a remake of the iconic song "Lady Marmalade," she could see leaving it "up to Cardi."
In addition, Lil Kim acknowledged that the torch is in her hands and that "she's got the crown."
For Minaj fans who might have been hoping that she and Lil Kim had buried the hatchet, it seems that there is still bad blood between the two. It is certainly clear that Cardi B has Lil Kim's vote for the biggest female rapper of the decade. 
Will Lil Kim and Cardi B collaborate in the future?
While there's no word on whether or not Lil Kim and Cardi B could create new music together in the future, Cardi B is definitely paying homage to her predecessor through an upcoming all-female rap album. Details are few and far between at this point, but it is possible that Lil Kim could make an appearance on the album.