Lil' Kim Explains the Origins of Her Trademark 'Quiet Storm' Dance
Lil' Kim set trends as soon as she arrived on the scene in the '90s, and ever since, she's continued to influence fans and fellow artists.
Though she took a break from doing interviews in recent years, the rapper is back in the spotlight for her narration work in BET's American Gangster: Trap Queens.
While doing promo rounds for the true crime docuseries, Lil' Kim spoke about her family, career, and that signature dance of hers made famous in Mobb Deep's "Quiet Storm" video.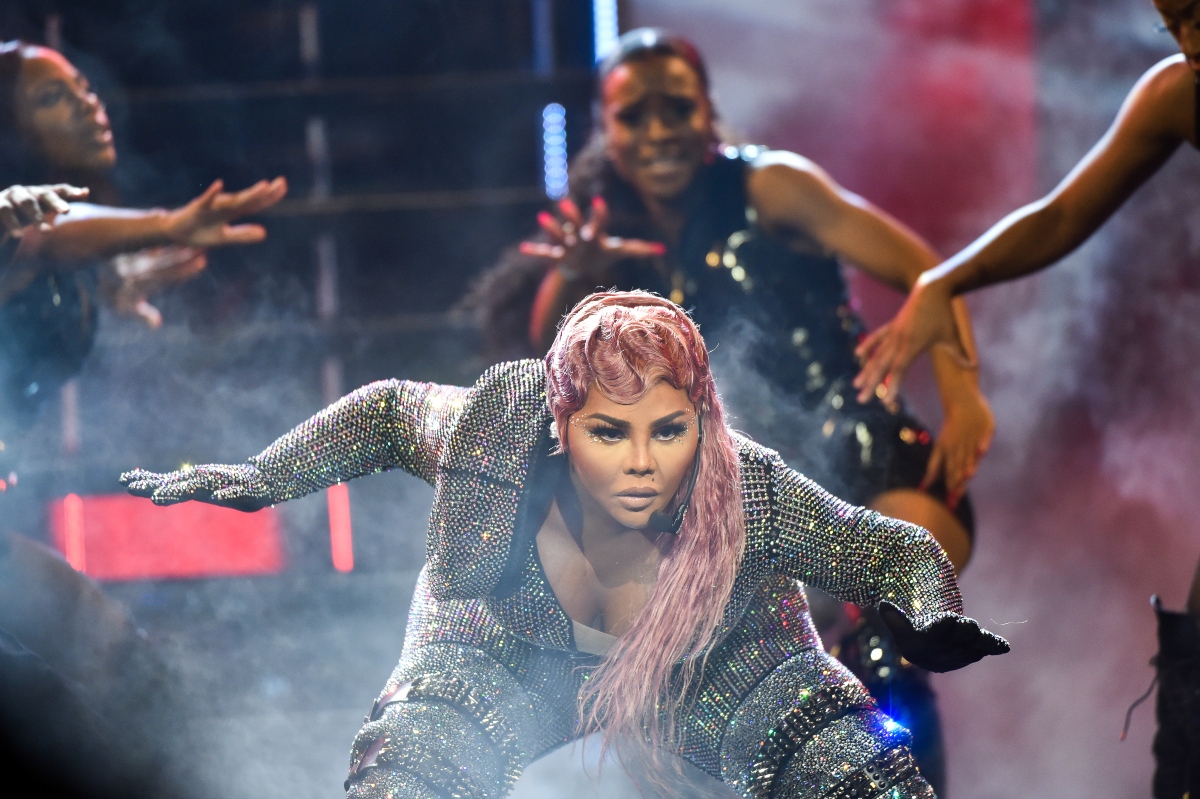 Lil' Kim's moves in 'Quiet Storm' became a thing
Mobb Deep has undoubtedly put out a number of classics, and their "Quiet Storm" remix with Lil' Kim is one that still gets hip-hop fans hyped. To match up with the song's gritty beat and lyrics, director Hype Williams used red lighting in the video to capture the fire in the song.
More than 20 years later, people remember that visual and the moment Lil' Kim's verse came in with "Hot dam* ho, here we go again…" But when she hit the dance in the video, it instantly took on a life of its own.
Lil' Kim's side-to-side bounce became her signature move, and she last performed it when she was honored with the BET "I Am Hip Hop" Award in 2019. The crowd went wild.
RELATED: Lil' Kim Was Given A Gift Worth $250K That Led to a Felony Arrest
2016 turned "The Lil' Kim" into a dance challenge on social media and it had a revival on TikTok in 2020. People did their own versions of her trademark rock and some went viral.
Lil' Kim's dance inspired by Wu-Tang rapper
Lil' Kim was a guest on the Jan. 14 episode of Sway in the Morning, and she discussed the new BET show, her music, and some of her favorite moments in hip-hop. But host Sway also asked her how her now-iconic "Quiet Storm" dance came to be.
"People don't even know this — it's the first time I'm saying this — but I was a huge Method Man fan and one thing that I always used to say was he had the illest bounce in the game," said Lil' Kim.
"And so, in the video, I clap my hands and I shake my hands together, and it was something that Method Man used to always do. And I loved that dance he used to do. I did that in honor of him," she shared.
She noted the Wu-Tang rapper lowered his body so he wouldn't look so tall when doing his bounce, and she borrowed elements from his move. "I'm so petite. I had to come up. So, I just did that little dance, and then I come up," Lil' Kim explained.
She added that "it's just something in the breakdown on that beat that I just wanted to give something different."
Havoc praised Lil' Kim's 'Quiet Storm' verse
Back in 2017, Havoc of Mobb Deep appeared on VladTV to talk about Prodigy's death and legacy, and the "Quiet Storm" remix came up in the conversation. He recalled how he saw Lil' Kim write her verse, and once she put it on the record, he was blown away.
"It f*cked me up. I think that might be one of best Lil' Kim verses of all time, and she's got a lot of good verses," Havoc said. The song is still a banger.
Fans can check out Lil' Kim's current gig for American Gangster: Trap Queens on BET+.