Lil' Kim Is Still Upset Over Her Portrayal in the Notorious B.I.G. Biopic
Lil' Kim and The Notorious B.I.G.'s relationship is legendary. The love affair between the two is polarizing to many, considering Biggie's marriage to singer Faith Evans, creating a full love triangle. Biggie and Kim's love is depicted in the 2009 biopic Notorious, which Kim says is an inaccurate portrayal. The self-proclaimed Queen Bee's stance on the film remains consistent today, roughly a decade later.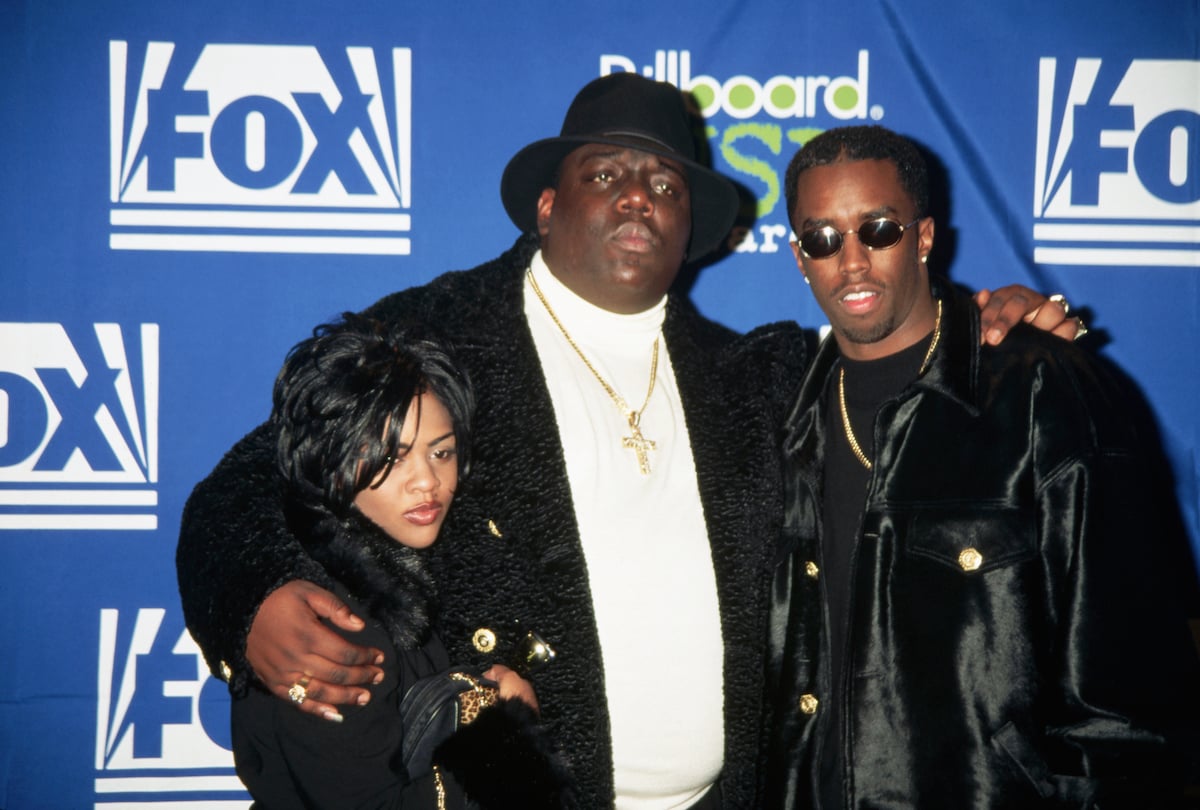 Lil' Kim blasts 'Notorious' and her portrayal 
From the moment a biopic surrounding Biggie's life and career was announced, Kim made her concerns clear. Her criticism includes everything from the script to casting. She specifically believes her portrayal in the film is not in the best light and blames Biggie's widow and the late rapper's mother.
She revealed in a 2009 interview with Hip Hop Weekly that one of the film's writers contacted her and she became uneasy following their conversation.
RELATED: How Faith Evans Musical Skills Helped Her Catch Biggie Cheating
"I knew something was fishy about them having the writer call me. When I spoke to the writer I felt like he was trying to play me, so I wouldn't give up anything," Kim says, as reported by MTV News.
She continues, "I knew I wouldn't have control of how I was depicted. I did correct the writer about Biggie's nickname for me. He had written that Biggie called me Big Momma. Biggie never called me Big Momma. As a matter of fact, he didn't even like that name for me. He used to call me Mookie."
The main complaint of Kim's is the actor who portrayed her: Power star Naturi Naughton.
"Naturi was the worst out of all of them. Regardless of the fact she looked nothing like me, when I saw the audition tapes, she was the worst and I had no idea why they picked her. It seemed she was the total opposite of what I am.
She also accuses Naughton of not reaching out to her for her input on the character, something Naughton denies.
Lil' Kim is still not happy about her portrayal in 'Notorious' 
Kim's stance on the film remains the same today. During a recent chat with Fat Joe on Instagram live, Kim takes shots at Naughton's acting ability.
"Yeah, no. No. I hate that movie. To me it was like a spoof," she says. "It was something that I would have never approved. I didn't like who played me. No. No, no, no, no…"I would go to Brooklyn and find a girl within that period that I feel represents Brooklyn, knows what it's like to grow up in Brooklyn."
RELATED: What Was the Status of Faith Evan's Relationship With the Notorious B.I.G. when the Rapper Passed?
Kim also believes Naughton's actions throughout the years are disrespectful. Naughton explained in her TV One Uncensored episode that despite Kim's disproval, she hopes that Kim one day changes her view as she has nothing but respect for the rapper.
Kim doesn't believe Naughton's comments are sincere. Madame Noire reports that Kim's remarks about Naughton are still harsh, noting Kim's interview with Hollywood Unlocked.
"I was not okay with that. Don't disrespect. I would have never picked her. Never, ever, ever," shay says. "She has nothing in common with me. Nothing. We have nothing in common. And I don't like the way she's been disrespectful about it. Because I wasn't even basically blaming her. But she did a whole documentary coming at me. I was like what is this?"
Naughton hasn't responded to Kim's recent comments.