When Is Lily Collins Getting Married?
It's always interesting to learn of an actor's engagement, especially when both people involved are in the entertainment industry. Some celebrity couples are open about their relationships, engagements, and weddings, and others keep these details quiet. One such celebrity who enjoys keeping things out of the public eye is Lily Collins, who recently got engaged to her boyfriend of two years. Let's talk more about who Lily Collins and her fiancé are, and what we know about their upcoming wedding.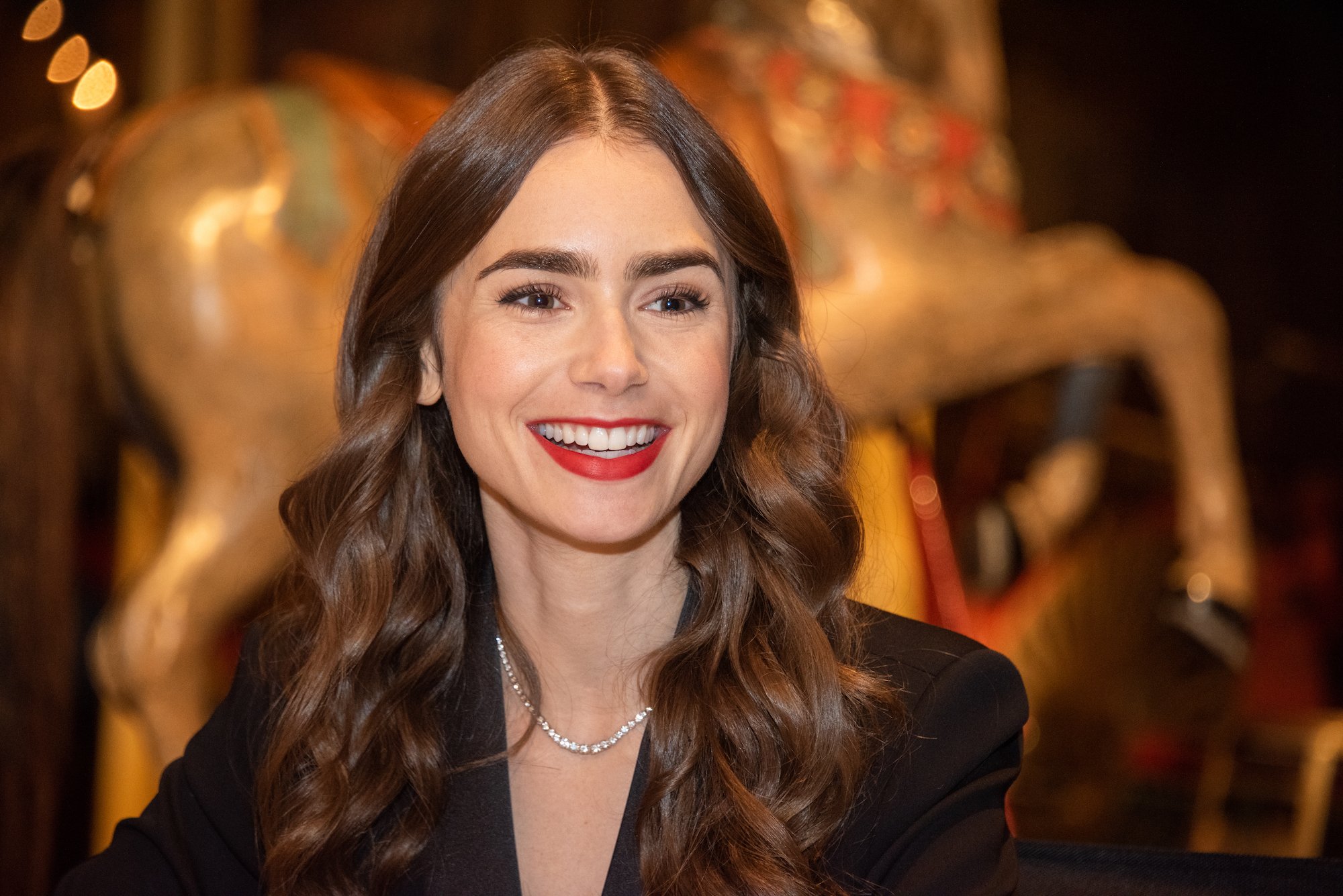 Who is Lily Collins?
Lily Collins, the daughter of famed musician Phil Collins and Jill Tavelman, is a British-American actor most known for her roles in To the Bone (2017), Extremely Wicked, Shockingly Evil and Vile (2019), and Emily in Paris (2020). 
According to IMDb, Collins' first official acting role was in 90210 in 2009, where she was featured in two episodes. She gained more recognition after starring in Abduction (2011) with Taylor Lautner and portraying Snow White in Mirror Mirror (2012). Since then, Collins has worked steadily, playing several complex and dynamic characters and proving her abilities as a dramatic actor. 
Who is she engaged to?
Lily Collins is engaged to Charlie McDowell, an American director and writer. McDowell is perhaps best known for his first film, The One I Love, which starred Mark Duplass and Elisabeth Moss. He has also directed and written three other films, Bye Bye Benjamin (2006), The Discovery (2017), and an upcoming work titled Gilded Rage. Gilded Rage is set to star Bill Skarsgård, and Christoph Waltz playing the same character, investment banker Thomas Gilbert Sr., at different stages of his life. 
Outside of movies, McDowell has directed many episodes of popular television shows, including Legion, Dispatches from Elsewhere, Silicon Valley, Dear White People, and more. According to Elle, McDowell's parents are a pair of actors, Malcolm McDowell and Mary Steenburgen. His mother married Ted Danson in 1995, making McDowell a stepson to Danson.  
McDowell and Collins announced their engagement in September 2020. McDowell asked Collins to marry him while the pair was on an RV trip in Sedona, Arizona. Collins posted a few photos after the engagement to Instagram, as did McDowell shortly after. The couple first met in 2019, and the first Instagram post addressing their relationship was posted shortly after on August 20th, 2019. The excitement of the engagement has left many wondering when they will officially tie the knot. 
When will they get married?
Collins is known for keeping her personal life private and her relationships out of the public eye, making it difficult to know when the two will get married for sure. Some attribute this affinity for privacy due to her childhood and having famous parents.
According to Good Housekeeping, Collins once stated, "My family went through a lot of very public situations and I saw that side of it from a young age. My mum raised me to be normal, and I wanted to grow up and find out who I was and who I wanted to spend time with before anyone else did." 
No official word has come out giving any hints as to when McDowell and Collins will have their wedding, but the couple seems to be very much in love. On a recent appearance on The Drew Barrymore Show, Collins stated, "I truly feel like the happiest I've ever been, so I'm very, very lucky," about her engagement.