Lin-Manuel Miranda Was 'Very Far Outside [His] Comfort Zone' Writing 'Dos Oruguitas' From 'Encanto'
Lin-Manuel Miranda earned an Academy Award nomination for the 'Encanto' track, 'Dos Oruguitas.' Here's what he said about the songwriting process.
Lin-Manuel Miranda is the mastermind behind Encanto's "Dos Oruguitas" writing the song entirely in Spanish. This language barrier proved to be a challenge for the composer, with Miranda saying writing the track was "very far outside [his] comfort zone." Here's what we know about the Disney original song.
Lin-Manuel Miranda wrote 'Dos Oruguitas' for Disney's 'Encanto'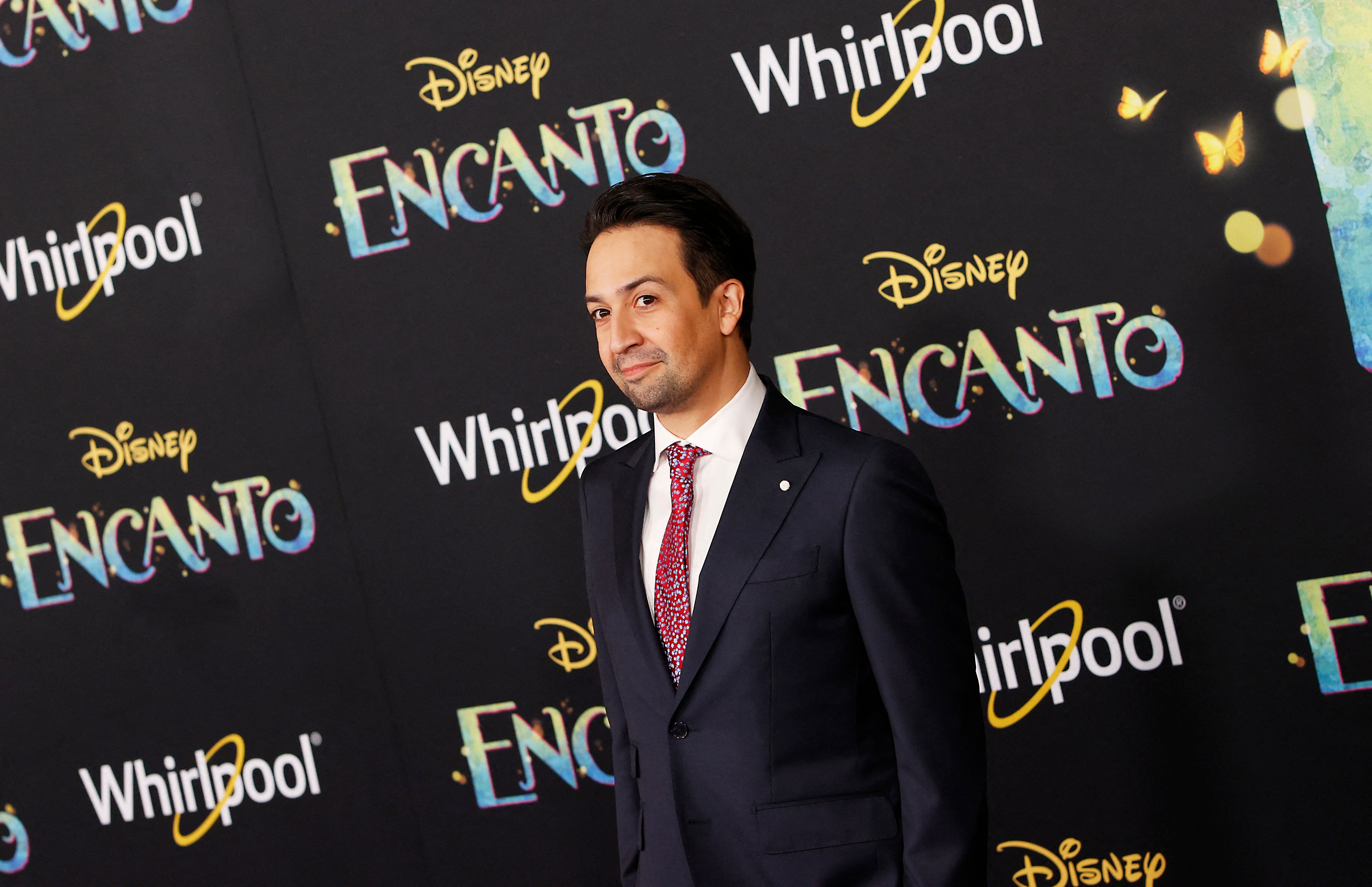 Encanto tells the story of the magical Madrigals, each member (except Mirabel) gifted with a unique, extraordinary power. This Disney movie also tells the story of Mirabel's Abuela, who journeyed with her husband to build a new life and home for her family. Abuela and Abuelo's love story is told through "Dos Oruguitas," written by Miranda. 
"Inspired by the butterfly metaphor, I wrote the song about these two caterpillars who are in love and don't want to let each other go," Miranda said during an interview with Variety. 
"But of course, they have to let each other go, because how on earth will the miracle come if they don't make room and make space for that? That to me felt like a delicious metaphor for what the entire family is going through," he continued.
Miranda said that he was 'outside of [his] comfort zone' writing 'Dos Oruguitas' in Spanish
"Dos Oruguitas" is one of the few Encanto songs not performed by voice actors for this animated film. It's also one of the few tracks in this Disney production written and recorded entirely in Spanish. This track was a challenge for Miranda, whose primary language is English. 
"I was very far outside my comfort zone, and I had my thesaurus with me at all times," Miranda said during the same Variety interview. "Even after I'd written my first draft, I asked myself if the Spanish that I'm using would translate and be at home in Colombia and Puerto Rico."
This song earned Encanto an Academy Award nomination in the Best Original Song category. Since its Spotify debut, this track earned over 55 million plays. Miranda's wife even called this track the best song her husband ever created. 
Lin-Manuel Miranda wrote other songs for 'Encanto' and Broadway musicals like 'Hamilton' and 'In the Heights'
Miranda wrote eight songs from the Encanto original soundtrack, "Dos Oruguitas" included. "We Don't Talk About Bruno" quickly became a fan-favorite musical moment for Disney fans. It even surpassed the popularity of Frozen's "Let It Go" on the Billboard music charts. 
With Miranda known for creating musicals In The Heights and Hamilton, some TikTok users remixed songs from Encanto to have an "Alexander Hamilton" twist. Encanto cast member, Stephanie Beatriz, posted a TikTok of herself lipsyncing to "The Family Madrigal." 
The video featured Mirabel's fast-paced lyrics. However, the instrumental in the background was Hamilton's "Guns and Ships," combined by musician Jacob Sutherland. "Mirabel de Lafayette," Beatriz captioned the TikTok clip.