Is Lin-Manuel Miranda in 'In the Heights'?
'In the Heights' features 'Hamilton' cast members like Christopher Jackson and Anthony Ramos. Here's what we know about Lin-Manuel Miranda's role with the movie musical.
After months of anticipation, the movie musical adaptation of the Tony Award-winning Broadway musical, In the Heights, is available in theaters and on select streaming platforms. There's even a brief cameo from the mastermind behind the story, Hamilton actor Lin-Manuel Miranda. 
Here's what we know about his character and other appearances from former Hamilton cast members.
[This article contains spoilers from the movie musical adaptation of In the Heights.]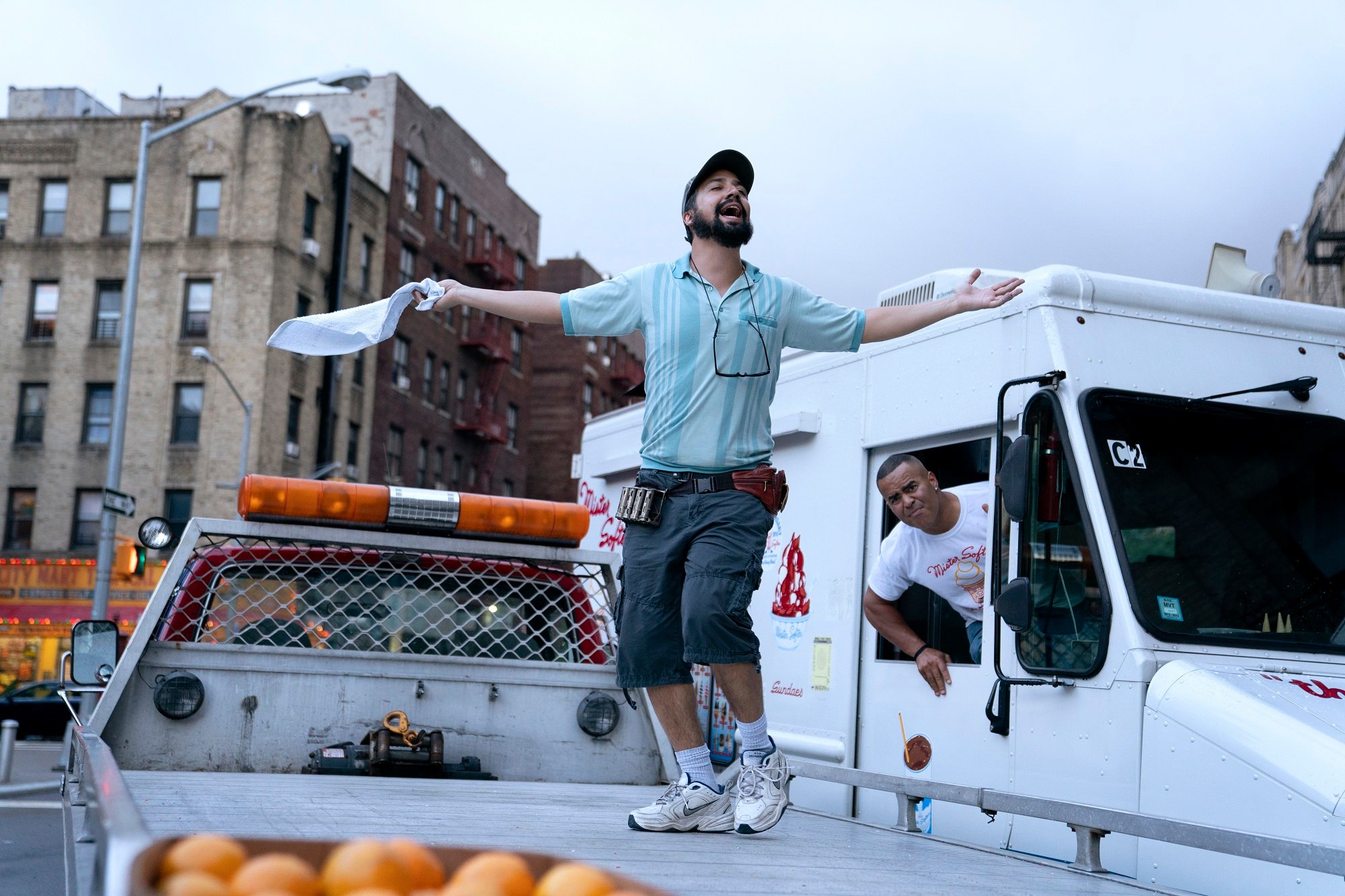 The movie musical adaptation of 'In the Heights' features Anthony Ramos as Usnavi
The streets were made of music. Originally created as a stage production, In the Heights premiered in theaters, featuring several stars from the original cast of Miranda's Hamilton. The main character of the 2021 adaptation of In the Heights is portrayed by Anthony Ramos.
In the original In the Heights production, Miranda portrayed Ramos' character, named Usnavi. According to Variety, Miranda opted against reprising his role, claiming that he "aged out" of the character's intended age. 
"His connection to Usnavi was so molecular. It was just like, I was playing Usnavi and Anthony is Usnavi," Miranda said during an interview with Variety. "That's genuinely how I felt when I watched him do it. That was a good six months before we were even talking casting, but I knew he had the chops to do it."
Who does Lin-Manuel Miranda portray in the movie musical, 'In the Heights'?
Although Miranda does not have a starring role in his film, he does make a brief appearance as Piragüero, also known as the Piragua Guy. (Piragua is a Puerto Rican shaved ice dessert, often sold by sidewalk vendors in Upper Manhattan.)
This character has his own brief song, aptly titled "Piragua," about the Piragua guy's competition — the Mister Softee ice cream man. This rival is portrayed by another Hamilton alumni. That's Christopher Jackson, known for his portrayal of George Washington in the original cast. 
This musical also includes a post-credits scene, featuring the return of these dessert vendors. The movie musical version of "Piragua" is available on Spotify, where it already has thousands of streams from fans. 
Another Lin-Manuel Miranda production premiered on Disney's streaming platform, Disney+
Although it's not a movie musical adaptation, a live stage production of Miranda's Tony Award-winning musical, Hamilton, premiered on Disney+ during 2020. However, In the Heights is not available on Disney's streaming platform.
In the Heights tells the story of Washington Heights, New York, where a neighborhood became a tight-knit community and family. This movie musical adaptation stars Brooklyn Nine-Nine actor, Stephanie Beatriz, as Carla. Melissa Barrera acts as Vanessa. 
This movie was originally scheduled for a June 2020 release. However, due to the coronavirus (COVID-19) pandemic, the premiere date was postponed. In the Heights is now playing in theaters and on HBO MAX.