Lin-Manuel Miranda Had an NDA Talk With His Kids About 'We Don't Talk About Bruno' Before 'Encanto' Came Out
Lin-Manuel's kids kept singing "We Don't Talk About Bruno" before 'Encanto' was released, so he had to explain why they couldn't sing it outside their home.
Every so often, a movie comes along that takes everyone by surprise. That is what Disney has managed to do with yet another movie release that is now streaming on Disney+. Encanto has both kids and adults talking about its fun songs and impressive story. The tunes were so catchy, in fact, that Lin-Manuel Miranda had to explain to his kids that "We Don't Talk about Bruno" was not a song they should sing before Encanto came out.
'Encanto' and its songs have been a huge success
Encanto tells the story of an enchanted family living in a magical house. Everyone in the family is extraordinary with magical powers except Mirabel, who often feels left out because of her differences. When the encanto is in danger, though, she may be the only one to help her family.
Many people are talking about how much they love the story portrayed in Disney's newest animated film. Beyond that, it has a soundtrack that exceeds expectations as well as one song in particular that has made it to No. 1 on the Billboard charts: "We Don't Talk About Bruno." Impressively, It is a song that has become even bigger than the song "Let It Go" from Frozen.
Lin-Manuel Miranda had an NDA chat with his kids about 'We Don't Talk About Bruno'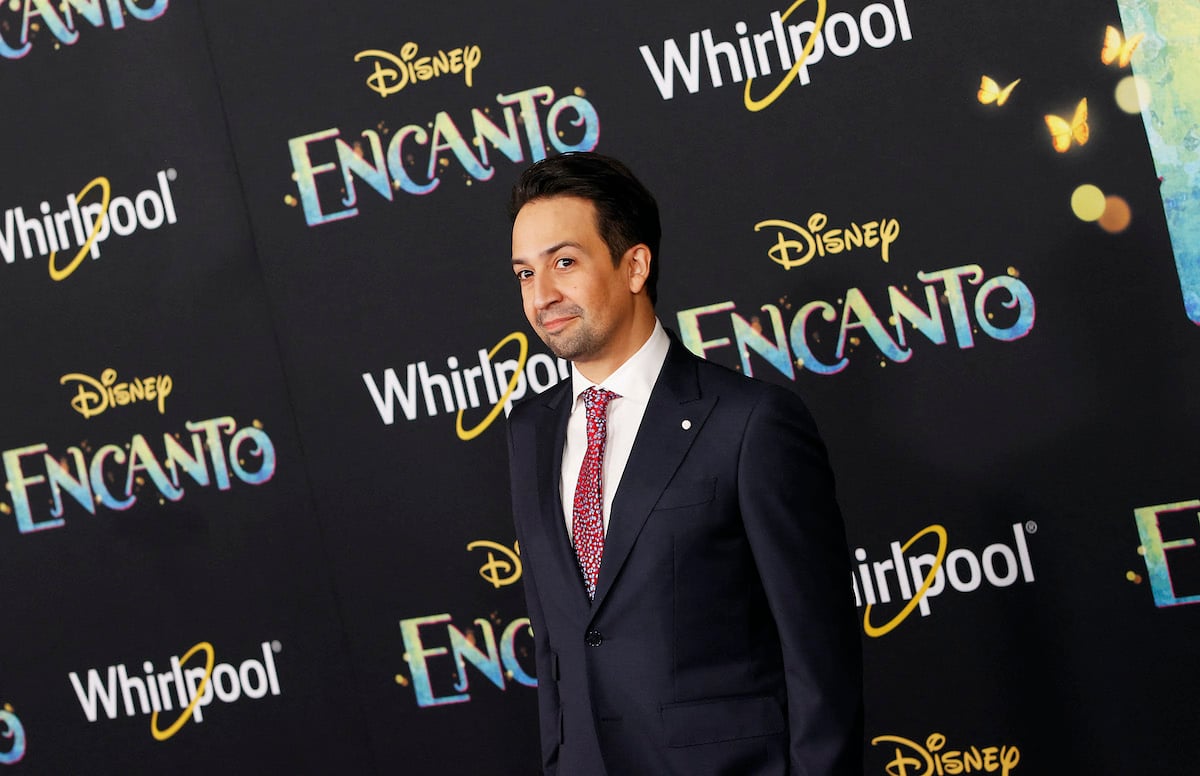 Miranda talked on The Tonight Show Starring Jimmy Fallon about the movie Encanto's success. During the interview, it was also stated that while writing the songs for Encanto, Miranda's children began to learn the words and were spending time singing them around the house.
Although it was Miranda's first indication that the songs for Encanto would be catchy, he still had to have an NDA conversation with his kids. In this little chat, he had to cover the tough subject of how they could sing it if they wanted when at home, but they could not sing it at school or anywhere else "because other kids will not know the song yet."
The song's success has astounded everyone, including Miranda, because it is a "group" song, which generally doesn't get the love that comedic or solo ballads do. Surprisingly enough, though, "We Don't Talk About Bruno" isn't the song that could help Miranda join a very elite group.
'Dos Oruguitas' could land Miranda an EGOT
Recently, Miranda was nominated for an Academy Award for the song "Dos Oruguitas." If Miranda can bring it home, he will achieve EGOT status. This means he will have won an Emmy Award, a Grammy Award, an Oscar Award, and a Tony Award. This will put him among only the most impressive group of people, including:
John Legend for awards won during a 12-year span between 2006 and 2018
Helen Hayes for wins over a 45-year span that lasted from 1932 and 1977.
Audrey Hepburn took 41 years between 1953 and 1994 to bring home the EGOT.
Mel Brooks, Whoopi Goldberg, and Andrew Lloyd Webber are some other big names that have earned this honor.
Watch the Academy Awards on March 27, 2022 to see whether Miranda ends up securing the coveted EGOT.