Lin-Manuel Miranda Says Nothing 'Will Ever Top' This Song From 'Hamilton'
Some know him for his work with Disney and their animated film Encanto. Lin-Manuel Miranda is also the Tony Award-winning actor and songwriter behind Hamilton. In 2020, this artist even revealed his favorite track from his Broadway musical — and it's not one that he sings as Alexander Hamilton.
Lin-Manuel Miranda composed the music for the Broadway musical 'Hamilton'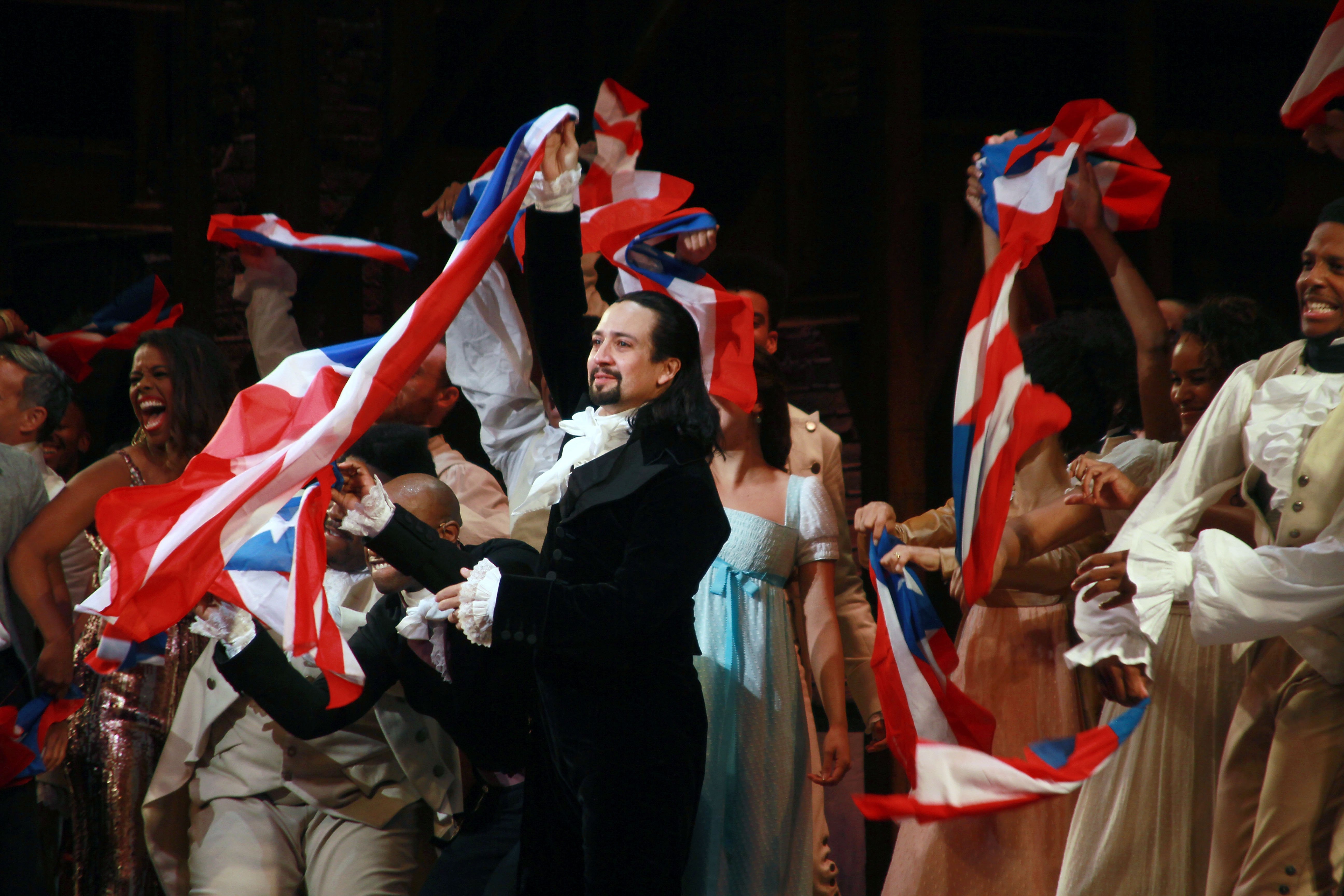 Broadway fans can see history through a modern lens, thanks to Hamilton. This musical, created by In the Height's Miranda, tells the story of the founding fathers and the powerful women of the American revolution. 
Since opening its doors, Hamilton became one of the most popular shows in New York City. In 2016, Hamilton emerged from the Tony Award with 11 wins. 
That includes the awards for Best Book of a Musical and Best Musical. Songwriter Miranda walked away with the Tony Award for ​​Best Original Score (Music and/or Lyrics) Written for the Theatre. For her role as Angelica Schuyler, Renée Elise Goldsberry earned the Tony for Best Performance by an Actress in a Featured Role in a Musical.
Lin-Manuel says that he'll 'never top' the 'Hamilton' track 'Satisfied'
With fast-paced lyrics and even slow ballads, each song offered insights into the Revolution and its characters. One track told the story of Angelica Schuyler and her not-so-secret crush on Alexander Hamilton. When asked on social media about his favorite Hamilton song, Miranda named "Satisfied" as one of his best hits.
"'Satisfied,'" the songwriter tweeted in 2020. "I'll never top it, as long as I live. From idea to Tommy and Andy and Lac's work to Renée's flawless execution. Will never top it."
He mentioned this song in conjunction with Hamilton's Disney+ debut. This live recording featured members of the original cast, including Miranda as Alexander Hamilton. In this version, Goldsberry appeared as the oldest and wittiest Schuyler sister.
"There was always so much pressure and anxiety about it until it was over," Goldsberry said of the musical number during an interview with the Los Angeles Times. "Nothing more powerful than live theater, but what's beautiful about it being on film is you can take the time to really see how many levels of storytelling are going on."
What is the most popular song from 'Hamilton'?
With Hamilton added to Disney+, this historic musical became more accessible to people across the globe. With Broadway reopening in 2021 (still adhering to coronavirus safety precautions), this Miranda original resumed its place as a favorite Broadway musical.
Regarding Spotify streams, "Alexander Hamilton" is one of the most popular songs from this soundtrack. It's also the first song included in Hamilton (Original Broadway Cast Recording).
As of March 2022, this track has over 220 million plays. It's followed closely by "Satisfied," with over 190 million Spotify plays. "My Shot" tells the story of a young, scrappy, and hungry Alexander Hamilton. Since its Spotify debut, this song has earned over 190 million plays.
RELATED: Dolores' 'We Don't Talk About Bruno' Verse From 'Encanto' Got a 'Hamilton' Remix on Social Media