Lin-Manuel Miranda Says Hamilton Didn't Do Enough to Fight Slavery: 'None of Them Did Enough'
Hamilton the musical premiered on Broadway in 2015. The show was awarded a Pulitzer Prize for drama, a Grammy for its original cast recording, and 11 Tony Awards. In 2020, a taped performance of Hamilton (filmed in 2016) was made available on Disney+. Creator Lin-Manuel Miranda calls the recording "a love letter and thank you" to the company.
While the show tells the story of founding father Alexander Hamilton, Miranda remains critical of the man the musical is named after. Hamilton talks (raps) about ending slavery several times throughout the 2-hour-and-40-minute musical, but Manuel brought up in a 2020 interview that that's all he does. All of the founding fathers should have, could have done more.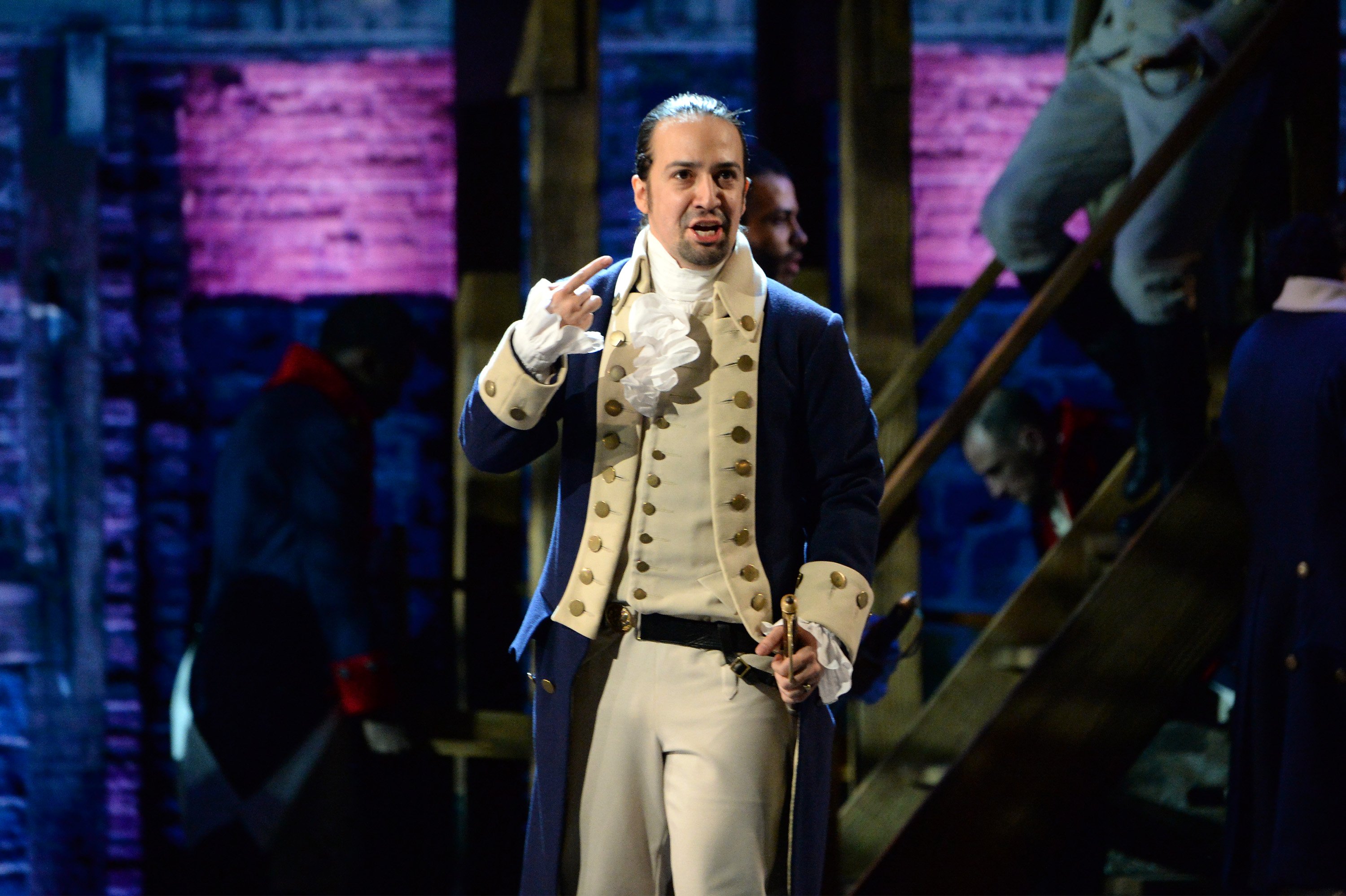 Hamilton 'remained complicit in the system'
As Miranda points out in his interview with NPR, slavery is brought up in the third line of the show. It's a central theme in the story.
"Hamilton — although he voiced anti-slavery beliefs — remained complicit in the system," said Miranda. "And other than calling out Jefferson on his hypocrisy with regards to slavery in Act 2, doesn't really say much else over the course of Act 2. And I think that's actually pretty honest. … He didn't really do much about it after that. None of them did. None of them did enough. And we say that, too, in the final moments of the song."
Miranda goes on to say that every character in the show is "complicit in some way or another."
'Hamilton' and the Black Lives Matter movement
Miranda said he was glad to see the lyrics of Hamilton printed on so many Black Lives Matter protest signs this year. Lyrics like "I'm past patiently waiting" and "History has its eyes on you" can be spotted at protests around the country.
"When you write a musical that brushes against sort of the origins of this country, it's always going to be relevant," he said. "The fights we had at the [country's] origin are the fights we're still having. … I've always said that slavery is the original sin of this country."
"So that hits differently now because we're having a conversation, we're having a real reckoning of how do you uproot an original sin?" he continued.
Especially in the midst of this ongoing conversation, history—how we got here—cannot be ignored. And that includes the role the founding fathers played.
"The past isn't done with us. Ever, ever, ever," said Miranda.
Diversifying Broadway
One of the reasons Miranda became a composer in the first place was to create more diverse opportunities for performers.
"Listen, I'm a musical theater composer because I couldn't be just a musical theater actor," he said. "If I'd settled for being a musical theater actor I'd be hopefully auditioning for a bus-and-truck [production] of West Side Story somewhere. … The realization landed on me early, like there's no life for you in musical theater because there are no parts. And In the Heights [Miranda's first Broadway production] really came out of a result of seeing [and] writing what I saw as missing in the musical theater canon for Latinos, and really as simple as: Can we not be holding knives in a gang in the '50s? Because that exists. And like, what do we have to show for it nearly 50 years later?"
The work is nowhere near done. In 2020, Miranda knew the shows that were coming out in 2021 and he said they were "whiter than this year was."
"I never bought into the illusion that the Obamas being in the White House ended racial issues in our country," he said. "Just the same way I used to get the question all the time in that first year of, 'Now that Hamilton's here, do you feel like Broadway will be more diverse?' And I was like, no, because shows take years to develop."
At the time of the interview, Miranda was not currently diving into his next project. In June 2020, the world was just beginning to grapple with the realities of the coronavirus pandemic, Miranda included.
"I'd love to be able to tell you that I am writing King Lear or the sonnets now that the plagues have closed all the playhouses," he said. "I'm afraid I can't, because I'm as worried about the world as anyone else. I think I wake up with stomachaches more often than I don't, because I worry about what's going on. I worry about my city reopening too soon and having a second spike. I worry about the protesters and hoping they're OK. I worry about all the things everyone is worried about.
"And I find that because I'm home, it is harder to …distance myself from those thoughts. … And I think that's OK. Like, the world is being remade in a fundamentally different way because of this pandemic, and just because of where we are. And artists have to give themselves the latitude to acknowledge that. So give yourself a break if you're not writing right now."
Since then, Miranda is cautiously back to doing what he does best. As he told NPR's Terry Gross, there is still so much to do.