'Little People, Big World': Amy Roloff and Chris Marek's Wedding Photos Are the Sweetest
Amy Roloff and Chris Marek got married on Aug. 28, 2021, and their wedding photos are the sweetest.
Little People, Big World follows the Roloff family, which originally included Amy and Matt Roloff and their children, Zach, Jeremy, Molly, and Jacob. Amy and Matt, as well as Zach, have dwarfism, and the couple decided to start the show in 2006 to increase awareness and educate the public about the condition. Ultimately, Amy and Matt divorced, but the Roloff matriarch recently remarried — and Amy Roloff and Chris Marek's wedding photos have provided the internet with a cuteness overload. 
'Little People, Big World' has followed Chris and Amy's relationship from the beginning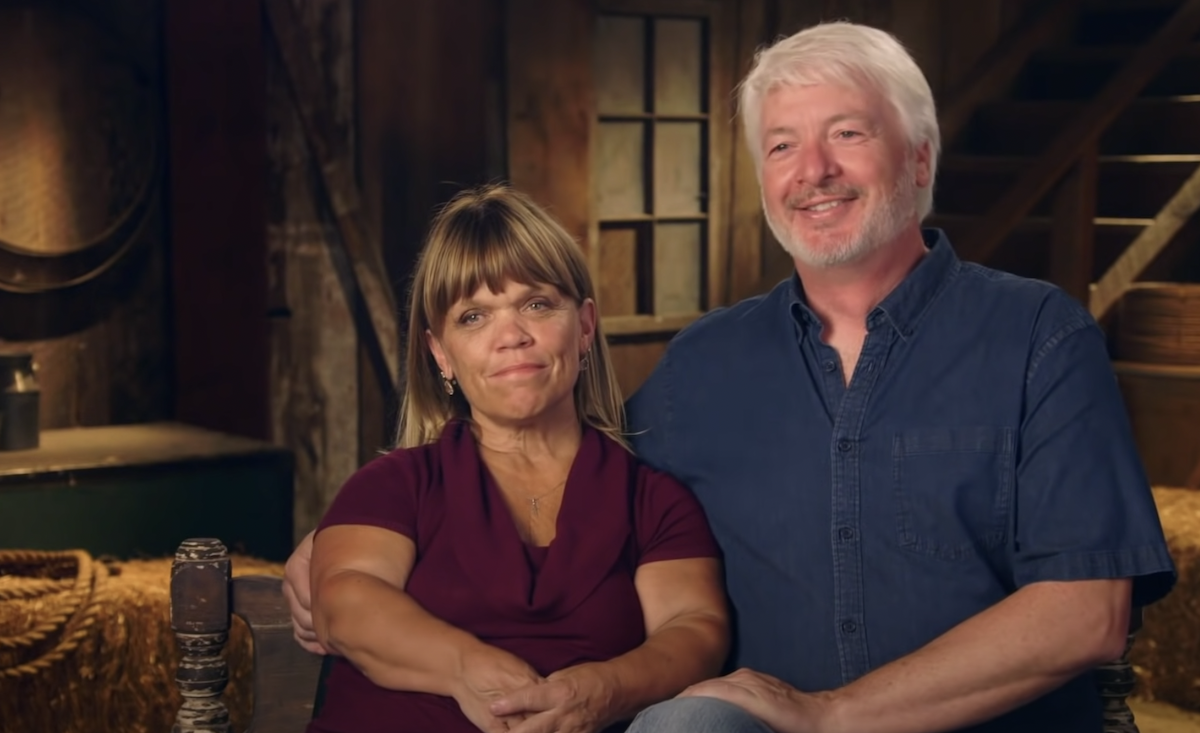 On Aug. 28, 2021, Amy married Marek in a beautiful ceremony at Roloff Farms in Hillsboro, Ore. According to People, Roloff and Marek first met at a pool party in 2016, shortly after she and Matt filed for divorce. She recalled that she and Chris chatted at the blind dating event before he invited her to go on a motorcycle ride. 
In an episode of the show, Roloff told her friends that she never thought she would end up with someone of average height. The star stated, "I just never thought someone of average size would be interested in me. I just really wanted him to never question or doubt the relationship because I'm a little person."
The wedding was not originally supposed to take place at Roloff Farms, which is now owned fully by Matt, but COVID-19 threw in plenty of logistical challenges that made it the best option. 
Amy Roloff and Chris Marek's wedding photos are adorable
According to Entertainment Tonight, 146 guests were in attendance at the wedding, which included Amy's children and grandchildren, as well as some extended family members and close friends. Chris was dressed in a dapper black suit and Amy wore a beautiful wedding gown from the Justin Alexander Sincerity Collection. 
Photos of the event can be found on People, including one of the couple sharing a smooch in the middle of a gorgeous flower field, while Amy holds a bright bouquet of flowers. Another shows Amy and Chris in front of a gazebo with their hands raised in the air, presumably after they exchanged vows and wrapped up the ceremony. Still other photos of Amy Roloff and Chris Marek's wedding have been shared by Amy's kids via social media.
A fan favorite is the photo of the newlywed couple sharing a dance on the dance floor, with Amy's dress fanning out and both sporting adorable smiles. Other photos include various family members and friends — but one person you won't find pictured at the ceremony is her ex-husband Matt.
Amy chose not to invite Matt to her wedding
Despite the fact that Matt allowed the couple to use the farm for the wedding, Chris and Amy decided against inviting him and his girlfriend Caryn Chandler to attend. According to People, Chris stated on the show, "Initially when Matt offered us the farm, I thought it was just a given that we invite him and Caryn to join us, if they'd like to, you know, no obligation. But then I saw where it could be awkward for some people that were going to be at the wedding and especially maybe for Amy," while sitting next to Matt.
Matt remarked, "We had a conversation and he goes, 'Are you going to be offended if we don't invite you to the wedding?' [I said,] 'Absolutely not, let's take it off the table, make it simple." Matt then joked, "I am going to be on the honeymoon."
There doesn't appear to be any hard feelings between Chris, Amy, Matt, and Caryn, and Matt reportedly worked around the clock to get the farm up to snuff for the wedding he would not attend. 
Season 22 of Little People, Big World wrapped up in late August, but there is no word yet on whether it will continue for a 23rd season.