Lizzo and Megan Thee Stallion Use the Same Trick to Keep Their Confidence High
Megan Thee Stallion and Lizzo are a couple of the most confident women in hip-hop and rap today. While they are both known for their abundance of confidence and strong personalities, both women have stated that they actively work on gaining and keeping their self-confidence.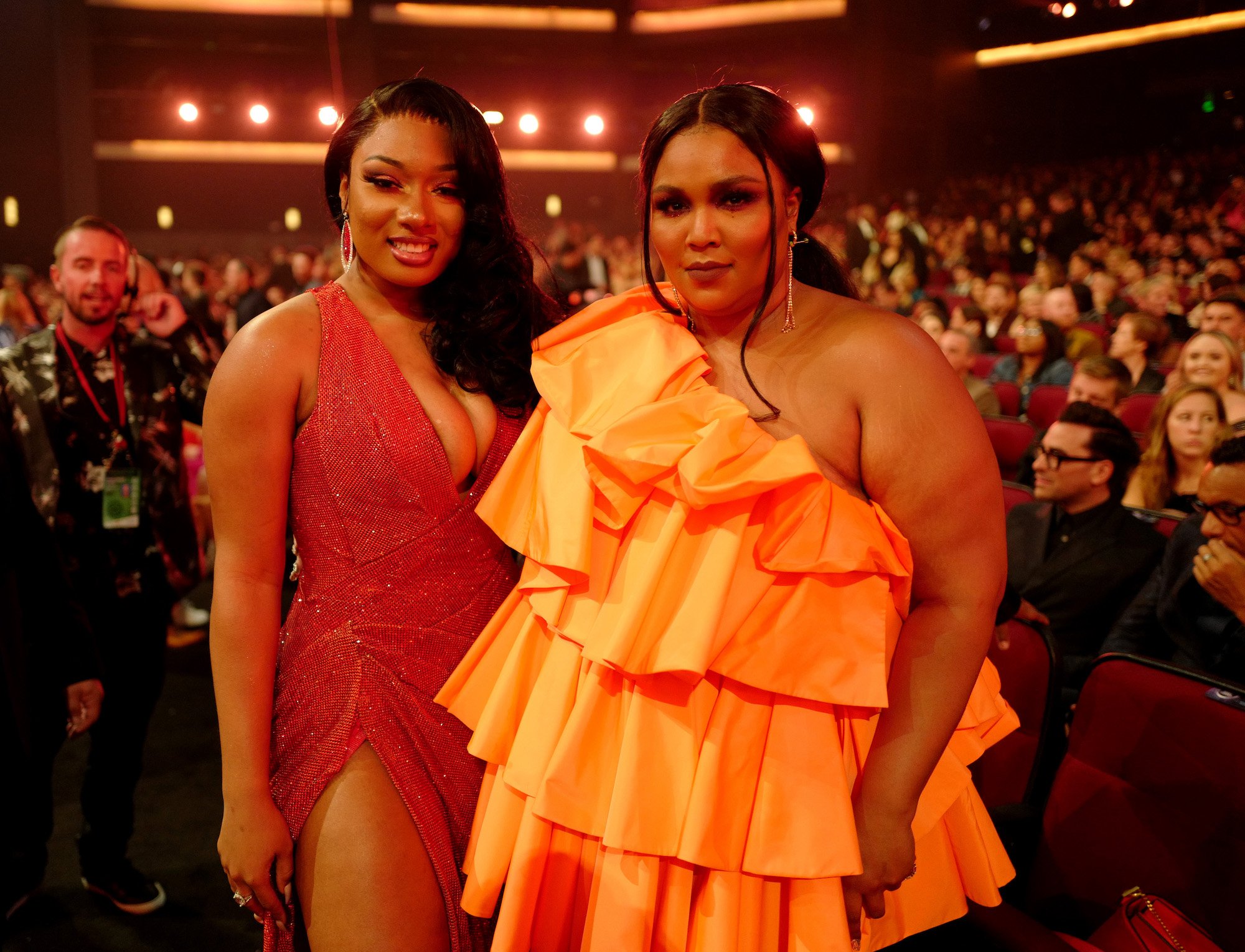 Megan Thee Stallion went from shy to bold
Stallion, whose real name is Megan Pete, grew up in Houston, Texas. Her mom, Holly Thomas, was a Houston based rapper who supported and inspired Stallion to find her voice and express herself. Stallion grew up around other rappers and musicians, but she was a pretty shy kid. It wasn't until she began college that her confidence began to grow.
A college friend heard her rapping and encouraged her to film it. It didn't take long for the bold and talented rapper to go viral and start trending on social media. As her confidence grew, she and a group of friends got reprimanded by Houston's Prairie View A&M University for their twerking videos. She transferred colleges shortly after that. Despite enduring the devastating loss of her mother and grandmother in recent years, her focus hasn't wavered. She continues to pursue higher education at Texas Southern University as a part-time student and simultaneously juggles her growing success as a rapper.
The brash and confident rapper isn't afraid to take on anything. The 25-year-old rapper took the music industry by storm with "Hot Girl," "Captain Hook," and "Girls in the Hood." Stallion trademarked the phrase "Hot Girl Summer" and encourages other women to be confident and live their best life.
Lizzo exploded onto the hip-hop scene in 2019
Lizzo, whose real name is Melissa Viviane Jefferson, grew up playing the flute and even earned a college degree in Classical Studies with a focus on the flute. She always loved to perform; however, she used to prefer playing in a group. Her journey as a solo artist officially began in 2013 when she released her first album, Lizzobangers. Her rise to fame didn't happen quickly, she spent years working hard to climb to the top. Her second album Big Grrrl Small World, earned her a deal with Atlantic records. When she released her newest album, Cuz I Love You, on April 19, 2019, the album soared to the top of the charts.
Lizzo was dealing with depression and low-confidence just before she became a hip-hop sensation. On the day that her song "Truth Hurts" debuted, Lizzo recalls that she felt like a failure, and she was ready to call it quits. She had an excellent support team in place, and they all rallied behind her and encouraged her to keep moving forward in the music industry. Lizzo now views that day as a turning point, "Truth Hurts" ended up being the song that launched her into stardom. Lizzo recalls, "Now the song that made me want to quit is the song that everyone's falling in love with me for, which is such a testament to journeys: Your darkest day turns into your brightest triumph."
Lizzo's self-confidence and ability go beyond playing the flute and performing pop/hip-hop; she also acted alongside Constance Wu, Keke Palmer, Lili Reinhardt, Jennifer Lopez, Julia Stiles, and Cardi B in the 2019 dramedy, Hustlers.
What's the trick to Lizzo and Megan Thee Stallion's confidence?
Self-confidence and self-love permeate everything Lizzo and Stallion do. Both artists state that they actively work on growing and maintaining their confidence daily by doing mirror-work. Mirror-work is a popular technique of boosting self-confidence and inner strength. The concept is simple, look at yourself in a mirror, really see yourself eye-to-eye, and speak to yourself positively, as you would talk to a friend. Lizzo explained how she does mirror work, "I practice self-love. I look in the mirror and say, 'I love you. You're beautiful. You can do anything.'"
In an interview with Rolling Stone, Stallion stressed the importance of mirror work and building yourself up, "Because once you get in the mirror and you start finding s*** that you do like about yourself, you're going to stay in the motherf****** mirror trying to perfect that. That's how I am. Like, 'OK, what do you got going on? Bi***, you look good as f**k today! "
Build yourself up with positive statements of self-love. The benefits of mirror-work go beyond boosting self-confidence, it can also help you develop inner strength and resilience that can make it easier for you to engage in difficult conversations, such as asking for a raise.
Mirror-work is definitely working for these two rising stars!