Lizzo Thinks Jimin of BTS Is 'Hilarious'
Lizzo and BTS are two of the biggest music acts in the world, and their music contains similar messages of acceptance and self-love. Jin, Suga, J-Hope, RM, Jimin, V, and Jungkook of BTS have made it clear they are fans of Lizzo.
Lizzo has returned the love by openly supporting BTS on numerous occasions. In a recent Instagram Live, Lizzo shared she is a fan of BTS and thinks Jimin is "hilarious."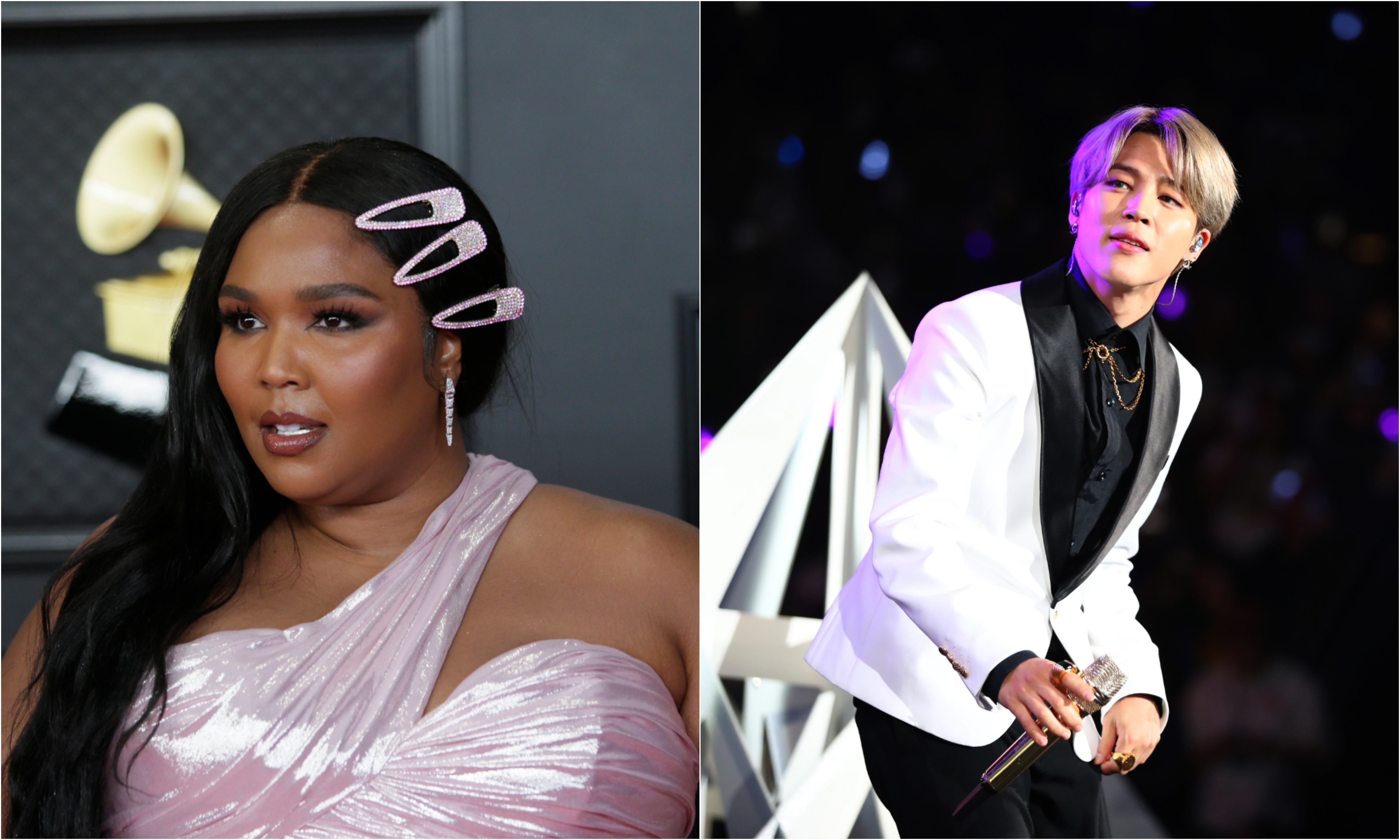 Lizzo loves Jimin in BTS
On April 4, Lizzo answered fans' questions during an Instagram Live. During the livestream, Lizzo was asked if she was a fan of BTS.
"'Do you like BTS?' I do like BTS," she said. "My sister loves, my sister is in the ARMY and she introduced me to BTS."
Lizzo continued, "I think they're extremely talented. It's mind blowing. And funny when you like really get to know everyone's individual personalities."
The singer-songwriter then gave a shout out to Jimin, praising him being funny and for his overall personality.
"I love Jimin," she said. "I think Jimin is hilarious. And like, fierce. And beautiful."
Lizzo wants to collaborate with BTS
This is not the first time Lizzo has praised the members of BTS. In August 2019, the singer sat down for a special video segment for CBC Music. During the interview, Lizzo listened to BTS for the first time.
"If I could collaborate with BTS, I mean that sounds fun," she said at the start of the video.
Lizzo then listened to "Boy With Luv," the lead single from BTS' 2019 EP Map of the Soul: Persona.
"It's beautiful. It's a jam… Now I know why people sleep outside in tents for days," she said. "That was sexy, that was sexual. Actually, let's say it was sexual. And I don't even know if that's considered a jam anymore. It's probably… it's beyond a jam. I would say it's a groove. That was a sex groove."
The members of BTS were nominated for a 2021 Grammy Award for Best Pop Duo/Group Performance, but the band was not nominated for any 2020 Grammy Awards despite their record-breaking year.
In an interview with The Associated Press, Lizzo defended the group and shared her hope that the music industry would become more inclusive.
"There's always a lack of diversity, that's the issue in general," she said. "So, the world I would like to see, of course, has an even playfield: I think there are more women, more black people, more brown people, more people from other countries where you just don't put them in a foreign category, you put them in THE category. Someone like BTS."
What the K-pop group thinks of Lizzo
Of course, the feeling between Lizzo and the members of BTS is mutual. In a 2019 interview with Audacy Music, RM shared that the band loved Lizzo's album Cuz I Love You.
"We listen to her whole album while doing all the exercises," RM said. "It's like one of the best albums for fitness. We get power and energy. Please try it while you're on the treadmill — listen to the album Cuz I Love You, and you could do it like for an hour."