'Loki': Is Agent Peggy Carter in TVA Custody Along with Loki?
The series premiere of Loki finds the 2012 version of the God of Mischief in the custody of the Time Variance Authority. But Loki might not be the only Marvel hero there. In one brief scene, someone who looks like agent Peggy Carter is in TVA custody as well. 
[Spoiler alert: This article contains spoilers for the Loki series premiere.]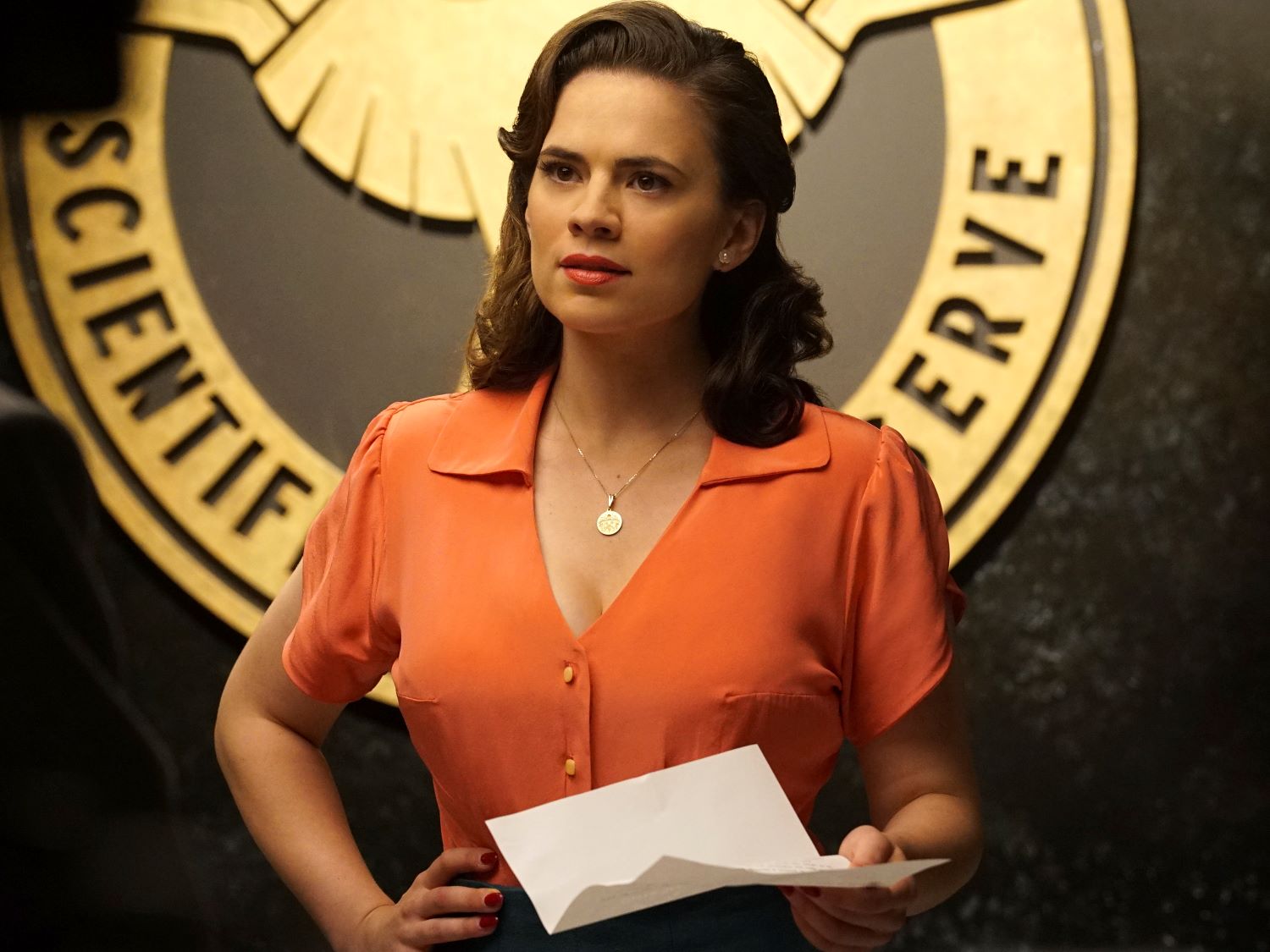 Peggy Carter is Steve Rogers' one true love
Agent Peggy Carter (Hayley Atwell) made her Marvel Cinematic Universe debut in the 2011 film Captain America: The First Avenger. She also appeared in the TV series Marvel's Agent Carter and Agents of S.H.I.E.L.D. And Carter was featured in multiple MCU movies, including Captain America: The Winter Soldier and Avengers: Endgame.
Peggy Carter is Steve Rogers' (Chris Evans) one true love. He misses out on spending his life with her after being frozen in ice for 66 years. But when he emerges, he reconnects with an older Peggy and forms a friendship with her until her death. 
Steve takes a drastic step in Avengers: Endgame when he goes back in time to return the Infinity Stones and winds up staying in the past — potentially with Peggy. We see the two of them sharing a dance after he stays in the past.
A scene in 'Loki' Episode 1 shows someone who looks a lot like Peggy Carter at the TVA 
The Loki TV series picks up with Loki (Tom Hiddleston) in the custody of the TVA. When the Avengers traveled back in time to find the Infinity Stones, they inadvertently created a Loki "variant" who should not exist. 
The TVA plans to kill Loki to keep the Time Keepers' "Sacred Timeline" intact. But Agent Mobius M. Mobius (Owen Wilson) recruits the antihero and tries to convince him to help catch a more dangerous Loki variant.

While in custody, Loki manages to escape the room he's being held in. He winds up outside in the hallway. And as he figures out what to do next, a portal opens nearby.
A guard emerges from the portal, along with a woman who looks a lot like Peggy Carter. She could be in TVA custody or just accompanying the guard on a mission. 
When Loki sees her, he looks pensive for a moment. The scene comes at the 34:11 mark in episode 1.
Some 'Loki' fans think Peggy Carter might be in TVA custody
After seeing that thrilling scene, some Loki fans think Peggy Carter might be in TVA custody because she's a variant who Steve created when he went back in time. 
"My theory is if that is Peggy, it's the same as how Loki gets punished, but not the Avengers," one Reddit user wrote. "It was Steve's destiny to grow old with her, but not her destiny to grow old with him, making her the variant and not him."
Another fan wondered whether this Easter egg was a way for Marvel to address the Captain America time travel paradox created in Avengers: Endgame. 
"This seems to be Marvel's answer to time travel paradoxes," the Redditor added. "I wonder if TVA is how Cap got back to the original timeline."
Hopefully, as the season continues, fans will get a clearer picture of what the TVA's role is in the MCU. New episodes of Loki air Wednesdays on Disney+.