'Loki': Things are About to Get Really 'Intense' for Ravonna Renslayer
Loki introduces Marvel fans to the Time Variance Authority and the employees that keep its "Sacred Timeline" intact. We briefly met the TVA judge, Ravonna Renslayer, in the first two episodes.
But according to series star Gugu Mbatha-Raw, fans will see a lot more of her as the season continues. And when they do, she'll be facing some pretty intense moments.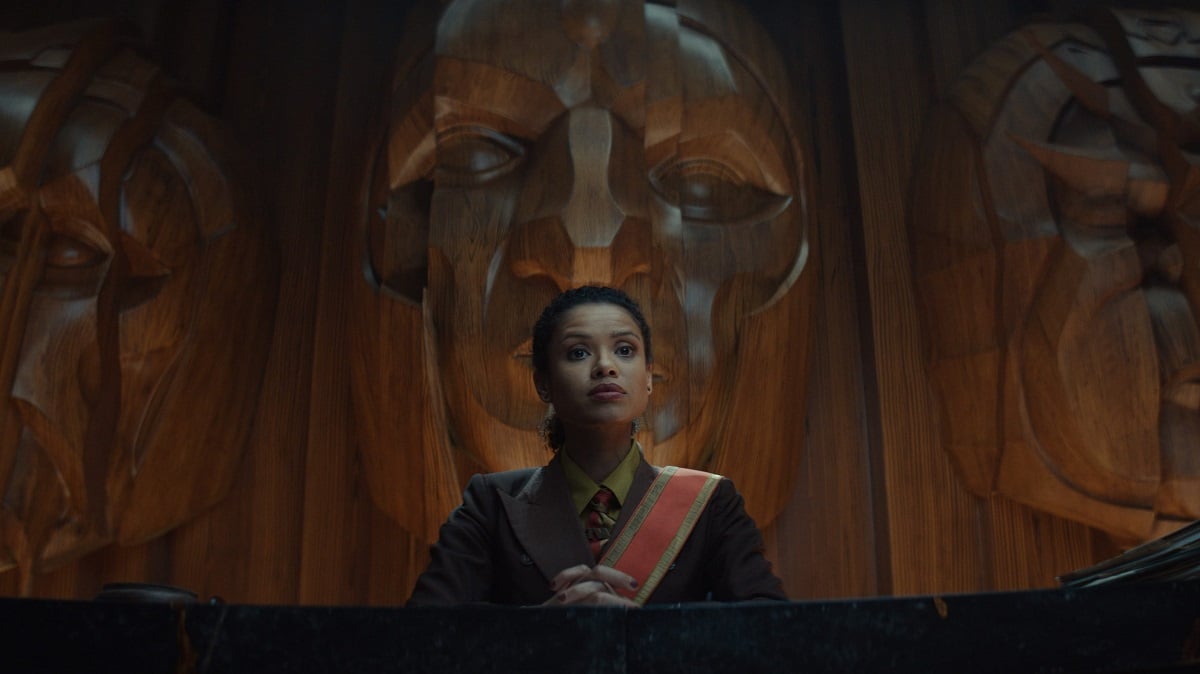 Who is Ravonna Renslayer in 'Loki'?
Judge Ravonna Renslayer is a high-ranking employee at the TVA who works directly under the Time Keepers. In episode 1, she is ready to hand down a harsh sentence for Loki (Tom Hiddleston) but is convinced otherwise by Agent Mobius M. Mobius (Owen Wilson).
In the second episode, it becomes clear that Renslayer and Mobius are old friends. He has a meeting in her office and again tries to convince her that Loki is an asset that will help the TVA catch his "Variant."
RELATED: 'Loki': How Old are Agent Mobius and the Other TVA Employees?
But Renslayer is a company woman who's working hard to keep the Time Keepers' agenda running. And with Loki and the Variant's escape causing significant rifts in the Sacred Timeline, she will likely have a tough road ahead.
'Loki' star Gugu Mbatha-Raw says things will get intense for Ravonna Renslayer
In a recent chat with TV Line, Mbatha-Raw talked about the pressure Renslayer is under working at the TVA. "She's in a position of power, she doesn't grab her time stick from her mantelpiece very often, unless it's absolutely necessary," the actor suggested. "The stakes are very high for her."
Without giving away any spoilers, Mbatha-Raw also revealed that Renslayer would face many challenges as the season continues. And at one point, she'll have much explaining to do.
RELATED: How Many Episodes of 'Loki' Will We Get?
"She has a huge amount of responsibility on her shoulders," Mbatha-Raw teased. "It's going to come down on her, and she's the one that's going to have to explain herself to them. Things really get more intense for Renslayer as the show goes on. It gets more and more complex and layered for her, the deeper we get into the season."
Ravonna Renslayer is a major Marvel comic book character
Unlike the buttoned-up version we see in Loki, in Marvel Comics, Ravonna Renslayer is a fierce princess who battles Kang the Conqueror, the Avengers, and the Fantastic Four. She wears a weaponized suit of armor and has superhuman abilities. And with her futuristic tech, Ravonna can time-travel, change her appearance, and create duplicate versions of herself.
RELATED: 'Loki': Is Agent Peggy Carter in TVA Custody Along with Loki?
In an interview with Elle, Mbatha-Raw hinted her character is more like the comic book version.
"I felt happy taking on Renslayer because she is powerful in her own right," the actor said. "She's not a love interest, she's not a damsel in distress, she's worked her way up — I like the fact that there's a complexity to her."
It will be exciting to see what else Marvel Studios has in store for Renslayer as the season progresses. New episodes of Loki air Wednesdays on DIsney+.