'Long Island Medium' Theresa Caputo Said Her Relationship With Ex-Husband Larry Is 'Fantastic'
We've been watching Theresa Caputo as the Long Island Medium for years. From her big hair to her thick New York accent, fans adore her personality just as much as they love her gift — and that's that she can talk to the dead. Theresa is seen approaching strangers on the street when their deceased loved ones try to get her attention, and it certainly makes for captivating television.
While Theresa's business as a medium is thriving, she's dealt with a few difficult family situations over the years. She and husband Larry Caputo, who was also a staple on the show, divorced — though according to Theresa, her relationship with Larry still remains strong. Here's what she recently said.
Theresa and Larry Caputo divorced after nearly 30 years of marriage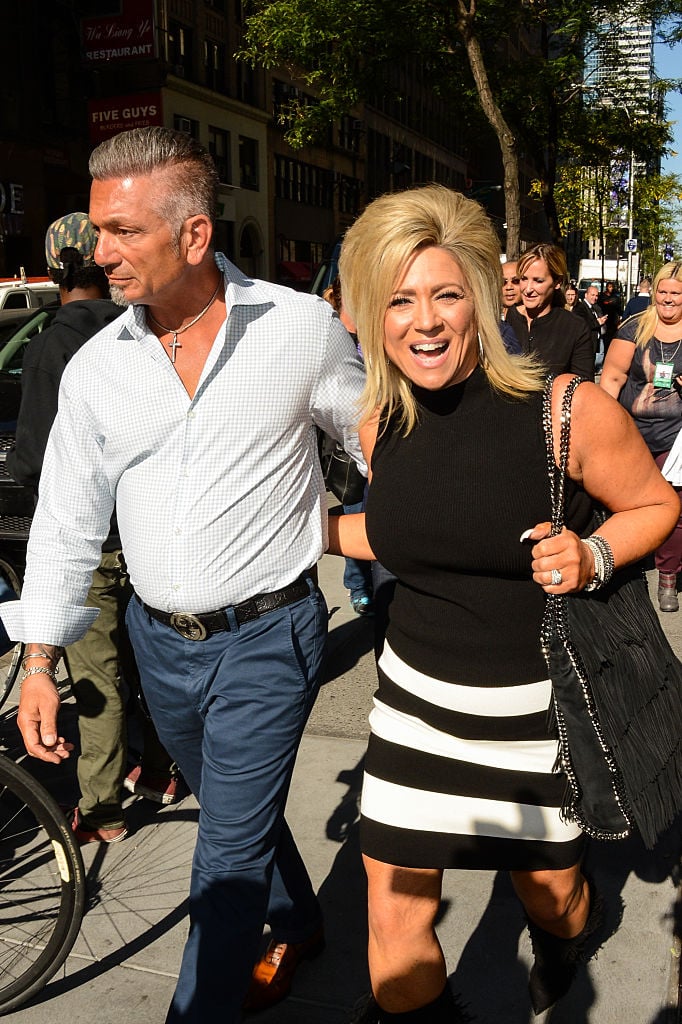 Theresa and Larry seemed to be the perfect couple, but it seems the fame from the TV series may have driven them apart over the years. People explains Theresa filed for divorce in 2018, and before they officially announced their legal separation, they were living on opposite coasts. The couple told the publication in a joint statement, "After 28 years of marriage, we have decided to legally separate. We will always love each other and our two wonderful children. We are united in supporting each other and our family."
As for why they decided to part ways, Country Living notes Theresa and Larry both agreed that their lack of quality time together due to busy scheduling caused the drift. "I've changed and he has changed. We're both not happy, and, you know, it's hard to try to work through that," she said on an episode of the show.
Larry moved on with a new girlfriend while Theresa worked on herself
Larry and Theresa seemed to take totally different approaches to their divorce. At the end of 2018, Us Weekly noted Theresa was taking time for herself to explore life as a single woman. "Theresa got married at a really young age and hasn't really experienced life outside of Larry [and] being married," a source told the publication. "Theresa is now living life and exploring solo … she's figuring herself [out] and it's a whole world of adventure." The insider also added that post-divorce, Theresa was "so much happier" and has "no hard feelings" regarding the separation.
As for Larry, he seemed to jump right into a new relationship. As he told TMZ, "I have moved on. I'm fortunate enough to say that I have met someone special. But I'll just leave it for that now." Larry was later spotted with a woman by the name of Connie Stauddy. He has yet to confirm his relationship with this woman, however — though sources claimed the two were looking ultra-close shortly after the divorce.
Theresa just mentioned she currently has a great relationship with Larry
Since the divorce was amicable, Theresa and Larry went their separate ways on good terms. Theresa even mentioned she'd seen Larry and had good conversations with him to Access Live in the fall of 2018. "It was nice not to just, you know, text him or talk quickly on the phone, [but] to actually see him and get together, so, you know, we're in a good place. We're separated, but we're in a good place," she said.
In an interview from May 2019 with Extra, Theresa discussed her daughter's upcoming marriage — and she also added how her relationship with Larry is now that the dust from the divorce has settled. "Fantastic," Theresa said of her relationship with her ex-husband when asked. "We're great, we're planning … our little girl's getting married," the medium added with a smile.
It seems like Theresa is truly in a good place, which is awesome for her and the rest of her family members. We can't wait to see photos and videos of her daughter's wedding day as it approaches, too!
Check out Showbiz Cheat Sheet on Facebook!