'Long Island Medium': Do Theresa Caputo's Kids Like Her Boyfriend?
Long Island Medium Theresa Caputo starred in the show for years. While the reality series showcased her ability to help others communicate with the dead, it also featured her home life and marriage. Unfortunately, she and her ex-husband, Larry Caputo, decided to go their separate ways. But Theresa has a new boyfriend now. Here's what her two kids really think of him.
'Long Island Medium' Theresa Caputo and Larry Caputo divorced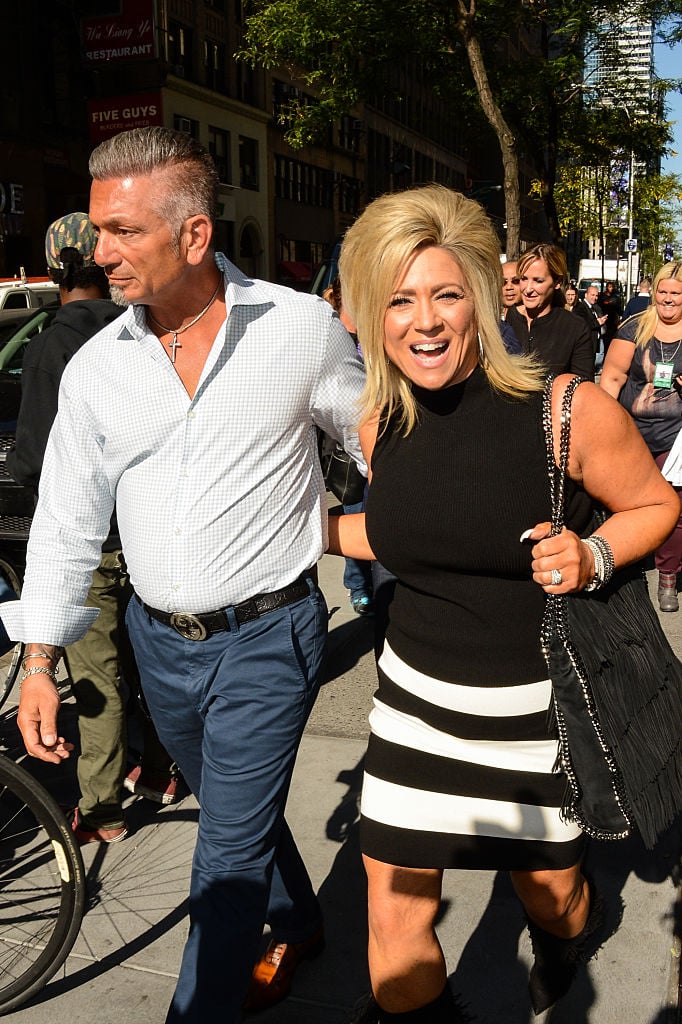 RELATED: Fans Love These Throwback Photos of 'Long Island Medium' Theresa Caputo and Ex-Husband Larry Caputo
Theresa and Larry started the reality series as a happily married couple, and they seemed absolutely perfect for each other. Unfortunately, after several decades of being in love, their union started to deteriorate. They chose to separate in 2017, and they officially divorced the following year.
"We're having a difficult time," Larry explained back in December 2017. "I think a lot of the frustration has to do with us not spending the time together anymore."
At the time, the divorce was heavily highlighted on Long Island Medium, too. Theresa said, "the tension was so bad in the house, it's something that happened over time. It's nothing that happened overnight." Ultimately, it was time that changed them from being the best of lovers to two people who were no longer compatible.
"[We're] working and finding our place," Theresa added. "We've been together for a very long time. And people change. We all change."
Theresa and Larry Caputo's kids say what they think of Theresa's new boyfriend
The divorce was really hard on both Theresa and Larry. But they were able to move forward. And it looks like there's a new man in Theresa's life. The Long Island Medium spoke to People about her love interest. While she didn't name who it was, she discussed what it was like to reenter the dating game.
"[We're] taking it day-by-day and just enjoying and embracing life one day at a time," Theresa noted. "I think this past year has shown us that we never know what life is gonna throw at us and I think I've learned so much over the past several years and, more importantly through my gift, is that we just have to embrace each moment and just be thankful."
So, what do Theresa's kids, Larry Jr. and Victoria, think? It seems they love their mom's new partner. "I got the approval from my children," she told the publication. "Everything's great."
Is Larry Caputo currently dating?
Now that Theresa is out dating again, what about Larry? We're not sure if he's currently seeing anyone, but he was with a woman soon after his divorce from Theresa. In 2018, Larry shared with TMZ, "I have moved on. I'm fortunate enough to say that I have met someone special. But I'll just leave it for that now."
So, who was Larry's mystery woman? It was reportedly someone by the name of Connie Stauddy. The two were photographed shopping together, and Larry later added a photo of him and his girlfriend to Instagram. The photo was later removed, though. We're unsure of what happened between the two of them or if they're together today.
One thing's for sure: While Larry and Theresa aren't rekindling their marriage, they still have immense respect for one another. Theresa said her relationship with Larry is "fantastic," and back in 2018, she said she and Larry were "in a good place" post-split. We're hoping to hear more about both of their lives soon enough.
Check out Showbiz Cheat Sheet on Facebook!