Love and Joe's Relationship Is 'Sad' for This Reason, According To Victoria Pedretti
After You made the switch over to Netflix after Lifetime, it really blew up with its audience. A lot more people saw it and it ensured a Season 2, this time as an original Netflix series. That's where Victoria Pedretti was added to the cast as Love Quinn, Joe Goldberg's (Penn Badgley) new obsession. 
The two characters have such an intoxicating dynamic, and they're both guilty of heinous crimes. But it was important for both Badgley and Pedretti to portray relatable or "real" people. And their love story is a bit of a sad one, according to Pedretti. [Spoiler alert: Spoilers ahead for Season 2 of You].
Joe and Love really just want to love and be loved according to Penn Badgley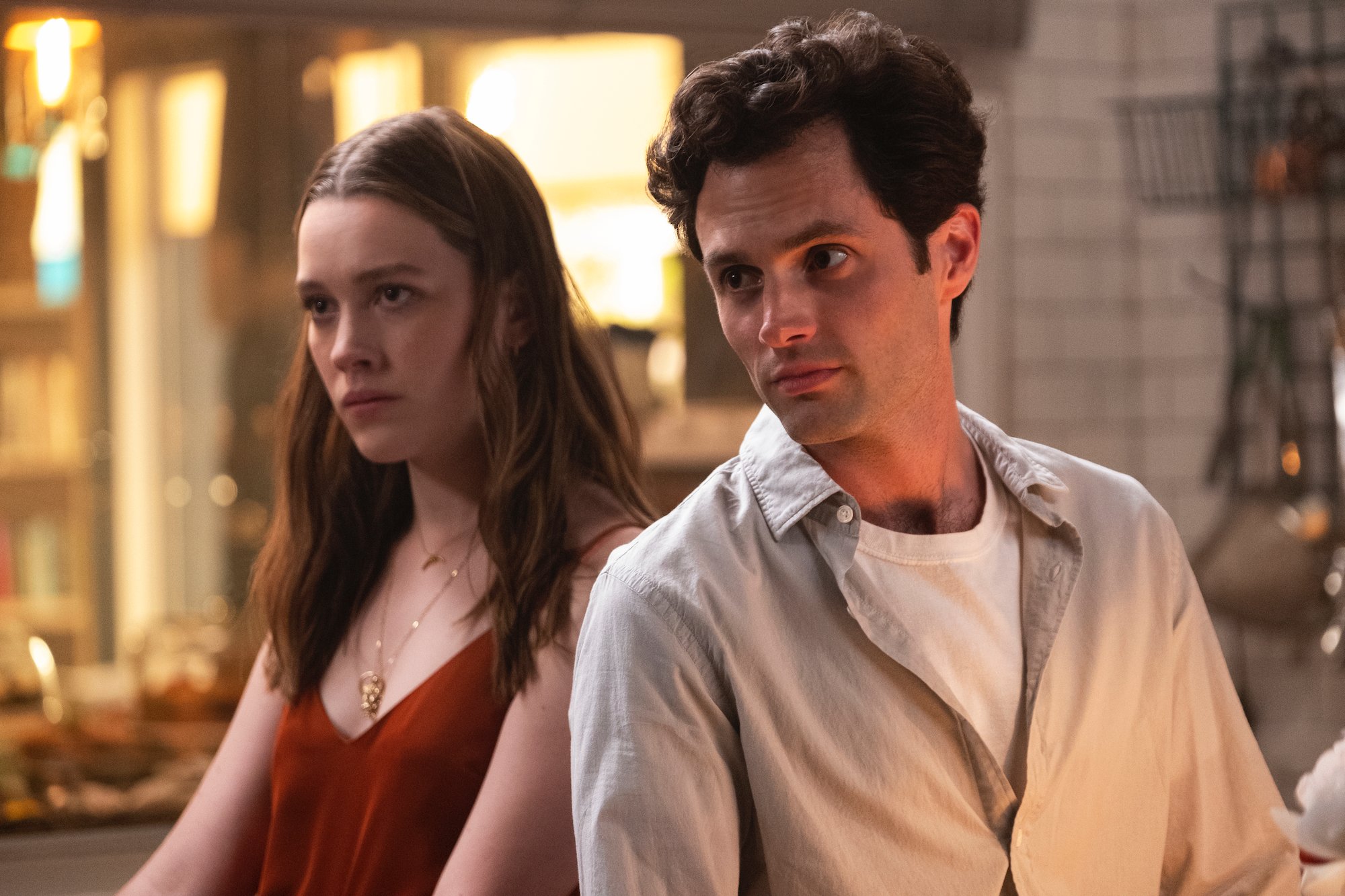 RELATED: Could This Dead Character Actually Expose Joe on Netflix's 'You'?
During their SAG-AFTRA "Conversations at Home" interview on May 20, Badgley, Pedretti, and showrunner Sera Gamble talked about their characters and the season, along with Badgley and Pedretti's methods going into it. While Love and Joe are very different, even in the ways that they're bad, they do find commonality in the fact that they really just want love.  
"There is something to both of these characters where we were able to… really dial into how much they want to love," Badgley said. "Not even necessarily each other. Yeah, they want to love each other. But the truth is, they're obsessed with this idea and this fantasy of love. So you can just throw yourself into that, kind of as the way they do."
Joe grew up with a mother who was abused by his father and he suffered a lot because of that. Not to mention he killed at a very young age, shooting his dad, and ended up in the foster system. Love grew up resenting her parents who were distant and "self-absorbed." She ended up murdering her and Forty's au pair as a teen because the caregiver was abusing Forty. She also had a husband who died, not really adding much good to her quest for love. 
So yes, both of these characters were traumatized and grew up with really bad relationships with the concept of "love." Luckily, though, Badgley commented that he and Pedretti had a "significant creative relationship" that allowed them to come across so well on-screen.
Their twisted idea of what love feels like is 'sad' according to Victoria Pedretti
Going off of that twisted idea of love, Pedretti agreed and also noted that they had to toe the line of telling this story without going into trope territory too much.
"Even though we're exploring these tropes, we still don't want to present stereotypes. We still want to feel like, when you walk out onto the street you can come into contact with these people, you know?" she said. "Obviously, they're very extreme and there is an element of fantasy to all this even in the way they're perceiving the things around them."
Even though it could have come off as stereotypical, it really doesn't and that's also thanks to the massive twist with Love's character. Even though Joe thought he was orchestrating his pursuit of Love, Love was doing it as well. And she finds out Joe's true identity before Joe realizes. And, again, they've both murdered in the past.
But despite all that, they can be relatable at times, as Pedretti said about making them feel "real." And their relationship with possessing love or feeling wanted is kind of tragic.
"I think there is this really beautiful thing between them that they're exploring the concept of love that they've been taught in a way that doesn't really even benefit them," Pedretti said. "Like, do we think that Joe at any moment is, like, content? And feels safe? Probably not. And I think Love experiences a similar thing. And that's sad. So I think that there's something really beautiful to this bond of these two people, really, fighting to understand something very foreign to them."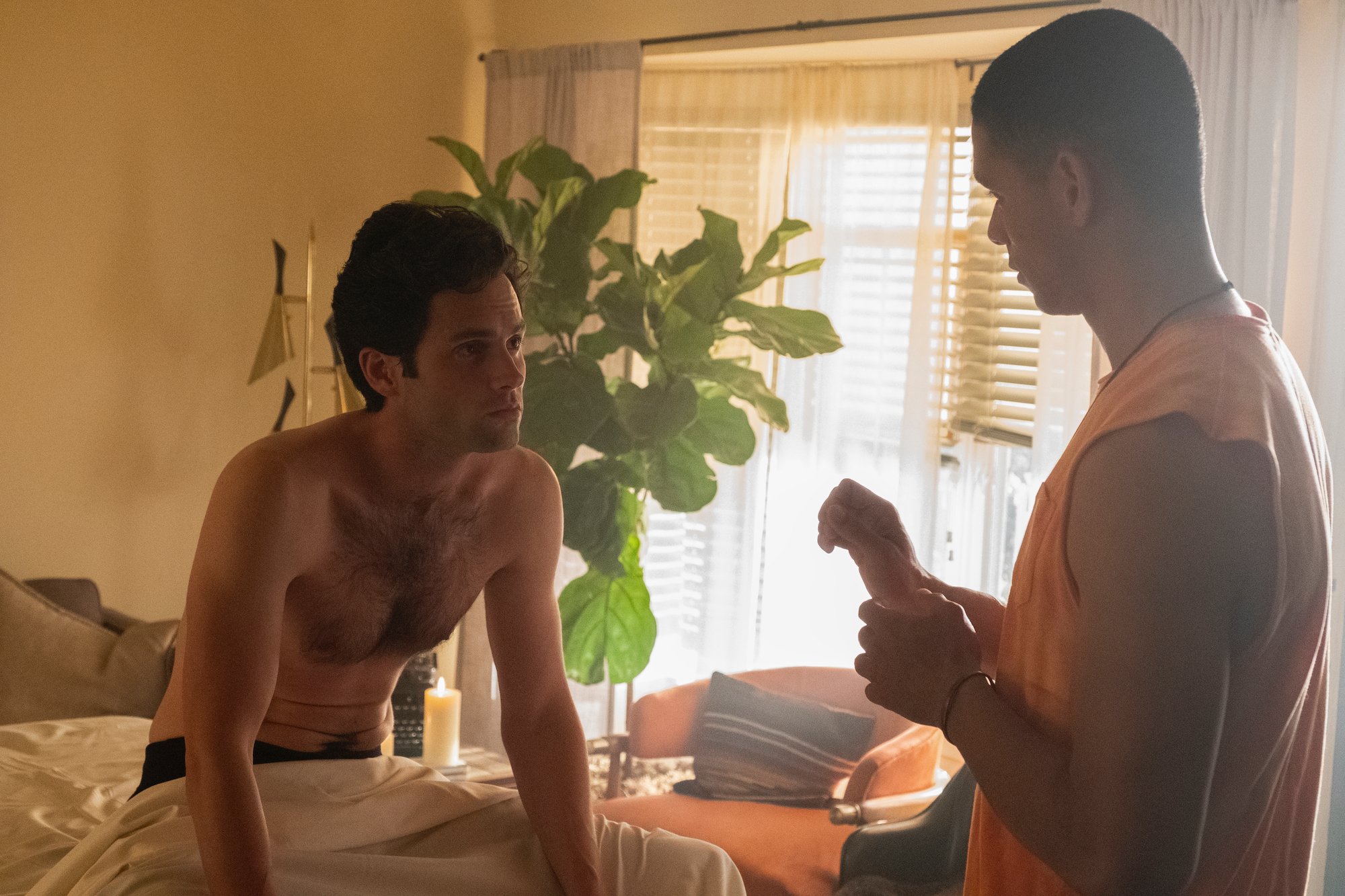 Both Badgley and Pedretti set out to make characters that feel real
Again, these two actors find a way to tell this outrageous story, which has a lot of gasp-worthy moments, while also pulling viewers into their character's plight. Maybe not necessarily making viewers relate to their roles completely, but definitely making them feel real and possibly sympathetic to them. 
Badgley points to a line that Love's friend says to Joe later in the season, which is "You don't feel worthy of love, so you don't feel worthy of Love." And while Love and Joe aren't a good example of a healthy relationship or one that people should seek out, that concept of not feeling worthy of love is definitely relatable to many. And it sums up Joe for Badgley, too.
"At the end of the day this stuff is true for him and it's true for all of us," he said. "And I do think that it's true for all people, no matter what."
This was one of the most important things for Pedretti, too.
"And if you're not playing real people, how are people gonna find themselves within these characters, you know?" she said. "How are they going to relate and empathize?"
RELATED: 2 Upcoming Victoria Pedretti Projects; What Is 'The Haunting of Bly Manor' Star Doing Next?