'Love and Leashes': A Non-Explicit yet Sexy How-to Guide to Dom and Sub Relationships and Love
Actor Lee Jun-young and Girls' Generation Seohyun tackle what it means to embark on a Dom and Sub relationship in 'Love and Leashes.' The movie informs audiences on terminology, acts, and more without feeling overwhelmed.
Netflix released its first Korean movie of 2022, and it did not disappoint. Love and Leashes stars Let Me Be Your Knight actor Lee Jun-young and Girls' Generation idol Seohyun. The Korean movie will immediately capture attention as it deals with the ins and outs of a Dom and Sub relationship. As well as what it means to be accepted for your sexual preference in society and finding someone to love. Love and Leashes tells the story of two office co-workers who embark on the journey together.
[Spoiler alert: This article contains mild spoilers for Love and Leashes.]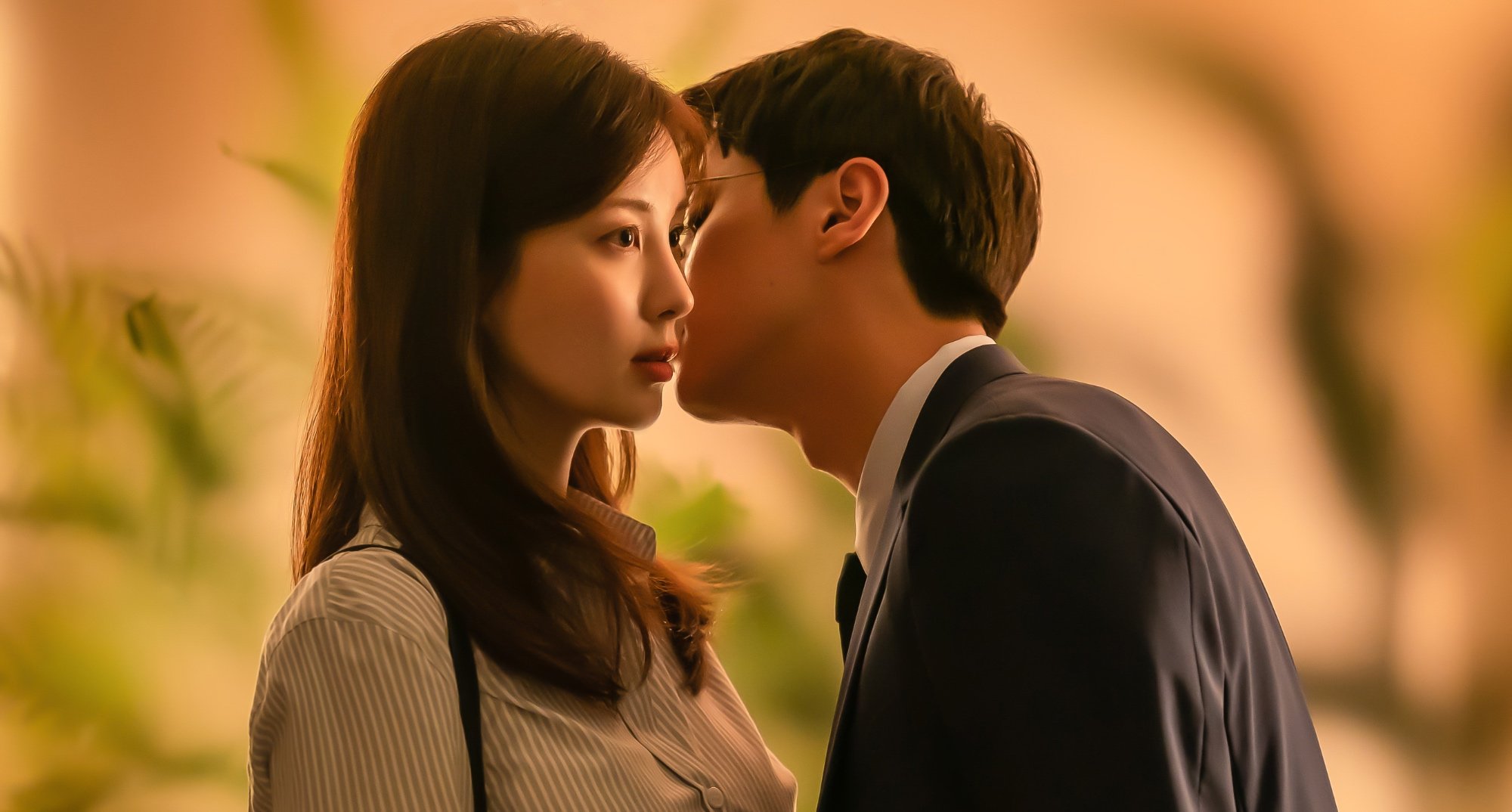 A cold office worker uncovers her new co-worker's dark secret in 'Love and Leashes'
Her peers often regard Jung Ji-woo (Seohyun) as being a bit cold and brazen. When Jung Ji-hoo transfers to her department, she cannot help but be interested in him but refuses to tell him. Their work relationship becomes more when Ji-woo accidentally takes a package meant for Ji-hoo.
As Ji-hoo races to stop her, she opens the package to find a leather studded dog collar. He convinces Ji-woo the collar is for his dog. Ji-woo soon learns Ji-hoo is into S&M (sadomasochism) and being in a Dom and Sub relationship or BDSM. He asks her to be his master. While Ji-woo is hesitant, she cannot help but feel aroused and intrigued.
By becoming Ji-hoo's master, she learns a new side of herself. Along the way, she learns being involved in S&M and a Dom and Sub relationship is not openly accepted by society and hurt Ji-hoo in the past.
'Love and Leashes' finds a way to educate veiwers on Dom and Sub relationships without being overwhelming
One of the unique and welcomed aspects of Netflix's Love and Leashes is its ability to not make the audience feel embarrassed or uncomfortable while watching. While the subject matter is made clear, the movie never dives into unchartered sexual territory. In fact, there is no sex, only suggestive content. This is no Fifty Shades of Grey. As Ji-woo learns about the world of being a master in a Dom and Sub relationship, so is the audience.
Love and Leashes uses defined terms to explain bondage, the roles of a subordinate and dominant, and how to properly embark on the type of sexual and controlling relationship. The movie also focuses on how to make each person involved feel safe and comfortable.
While Ji-woo learns the ropes of her new role, she never forces acts on Ji-hoo that would make him uncomfortable and vice versa. Love and Leashes explores different aspects of an S&M and Dom and Sub relationships. Audiences see dog play, bondage, wax play, whipping, and Ji-hoo's fascination with being stepped on.
Netflix's 'Love and Leashes' explores how S&M and BDSM is accepted in society
As audiences watch Ji-hoo and Ji-woo embark on their newfound relationship together, they learn about two sides of the coin of how accepted it is. Ji-woo never shied away from the idea or judged Ji-hoo for his personal preference. But audiences watch as Ji-hoo becomes worried, ashamed, and embarrassed when Ji-woo learned the truth.
It tackles the issue of private sexual preference being scrutinized by others. In Love and Leashes, Ji-hoo specifically uses the word "perverted." He explains he revealed the truth to his ex-girlfriend. She reacted negatively and called him perverted and asked if he needed psychological help.
His ex's outlook on his sexual preference led her to make him believe he would never find someone to love and accept him for who he is. In Love and Leashes, Ji-woo and Ji-hoo's contract was based on play and not sex. But for Ji-woo, she starts to fall for Ji-hoo but his hurtful past has him not believing in a loving relationship.
The movie tackles how society views S&M, BDSM, and more in conjunction with a normal and healthy relationship. Ji-hoo and Ji-woo's co-workers learn their secret. The event only helps them realize what they do in private is no one's business and does not affect how they feel about each other or how society views them.
Love and Leashes is available to stream on Netflix.