Love Hallmark Christmas Movies? This New Book Is the Perfect Companion to Your Holiday TV 'Obsession'
Every year, Hallmark Channel (and its sister network, Hallmark Movies & Mysteries) churns out dozens of feel-good stories of holiday romance. But not every Hallmark Christmas movie is created equal. Just ask the hosts of the Deck the Hallmark podcast, three guys who've become the experts on Hallmark's never-ending stream of Christmas flicks. 
Brandon Gray, Daniel "Panda" Pandolph, and Dan Thompson started their podcast in 2018. Gray's an unabashed lover of Hallmark movies such as Five Star Christmas. Pandolph is more neutral, and Thompson is the "Grinch" of the group who typically fails to see the charm in Hallmark's cinematic output. Now, the trio has teamed up with The Wrap's Alonso Duralde for their first book, I'll Be Home for Christmas Movies, an unofficial guide to "your holiday TV obsession." 
'I'll Be Home for Christmas Movies' is the 'ultimate guide to the holiday season'  
Gray chatted with Showbiz Cheat Sheet ahead of the book's Oct. 26 release. 
"The goal was for it to be the ultimate guide to the holiday season," he said of the book, which features commentary on 116 of Hallmark's holiday movies to date, from Angel Falls: A Novel Holiday ("a bit boring," admits Gray) to Write Before Christmas ("everything I want from Hallmark," per Pandolph). 
I'll Be Home for Christmas Movies also features behind-the-scenes insights from Hallmark stars such as Jen Lilley and Kristoffer Polaha (who also penned the introduction), instructions for throwing your own Hallmark holiday party — including recipes for on-point appetizers like the "cheeseball plot twist" — and a Deck the Hallmark bingo card that pokes gentle fun at some of the network's most ubiquitous holiday movie tropes. 
"Really, we wanted it to be this guide to the holidays for people to have throughout the season since these movies are on, you know, 24/7," Gray said.
So, what makes the perfect Hallmark Christmas movie?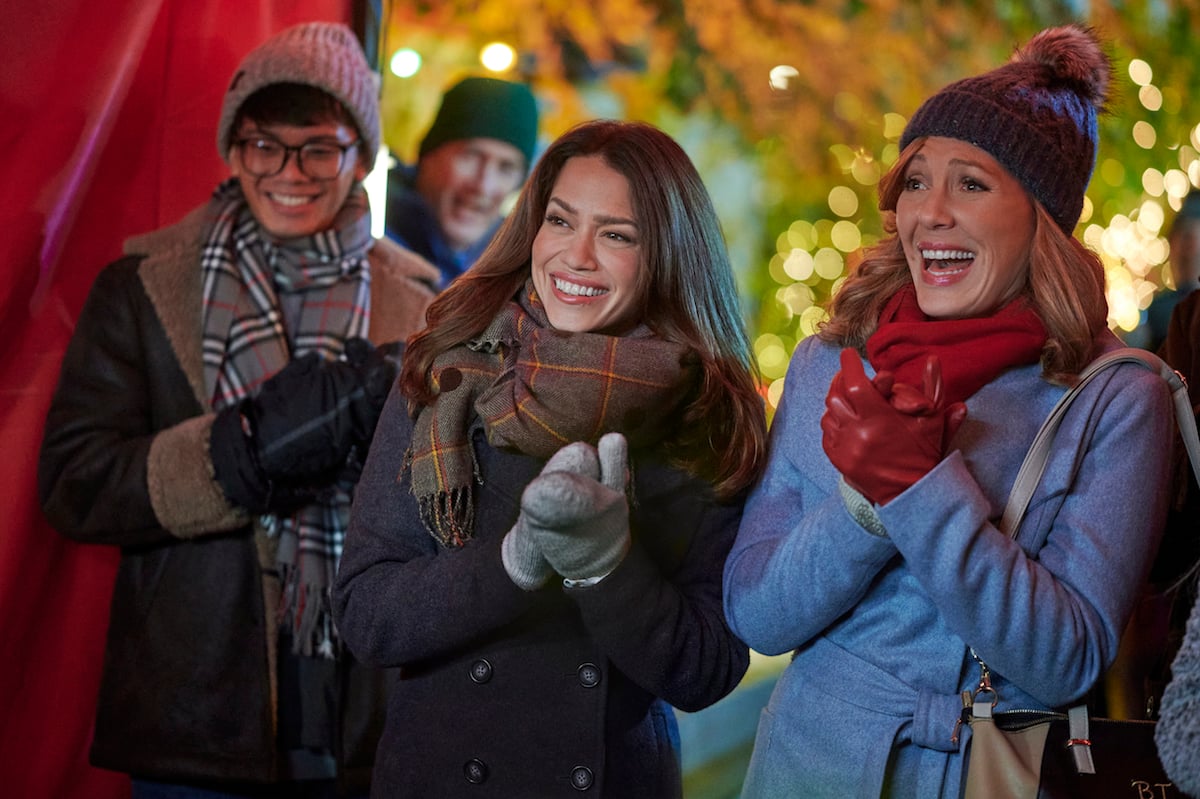 Given that Gray has turned his love for holiday movies into a career, we had to ask: What makes the perfect Hallmark Christmas movie? 
For him, the answer is simple: Go big or go home. 
"If it's going to be a Christmas movie, I want it to be an overwhelming amount of Christmas," he said. "I want to be in the snow and I want it to be all the lights and stuff like that."
But getting the "Christmas feels" is about more than the perfect snowy scene. "I want there to be actual stakes in a movie," he said, adding that he's had enough of some well-worn Hallmark movie plotlines. 
"I'm kind of over the executive that goes back to her hometown and has to plan a party for some reason," he said. "Like, you know, there's only so many things you can do with party planning, and none of those involve real stakes."
But Gray added that he has high hopes for the direction Hallmark seems to be headed.
"I'm happy in the direction that Hallmark's going, where the storylines feel a little bit different and they're not doing the exact same thing, he said. "I'm excited for the future because I feel like we're getting out of the rut."
The 'Countdown to Christmas' movie Gray is looking forward to watching this year 
With Hallmark's 'Countdown to Christmas' kicking off on Oct. 22, the Deck the Hallmark guys are gearing up for a season of holiday movie watching. (You can tune in to their all-day YouTube live stream on Oct. 23, starting at 6 a.m. ET.) 
There are 41 new Hallmark Christmas movies on the horizon, and Gray is looking forward to one in particular. Next Stop, Christmas, which features Back to the Future stars Christopher Lloyd and Lea Thompson along with Lyndsy Fonseca and Chandler Massey. It airs Saturday, Nov. 6. 
"It's a time-traveling train, and Christopher Lloyd's the conductor. Lea Thompson's in it. I mean, I don't even need to watch the movie. I'm already in love with it … man, Back to the Future? He's going to be a conductor on a train? I don't know. It's hard not to be excited about that."   
I'll Be Home for Christmas Movies: The Deck the Hallmark Podcast's Guide to Your Holiday TV Obsession (Running Press) is on sale on Oct. 26. 
Check out Showbiz Cheat Sheet on Facebook!