'Love is Blind' Season 2 Contestants Shake and Kyle Get Into Heated Exchange on Instagram
Love is Blind Season 2 recently premiered on Netflix with a new crop of people ready to try and determine if love actually is blind. While the season started with several different people, the following episodes only focused on the five separate couples who proposed before they saw the person with whom they fell in love. Abhishek "Shake" Chatterjee divided fans the most out of those contestants.
[Warning: This article contains spoilers for Love is Blind Season 2.]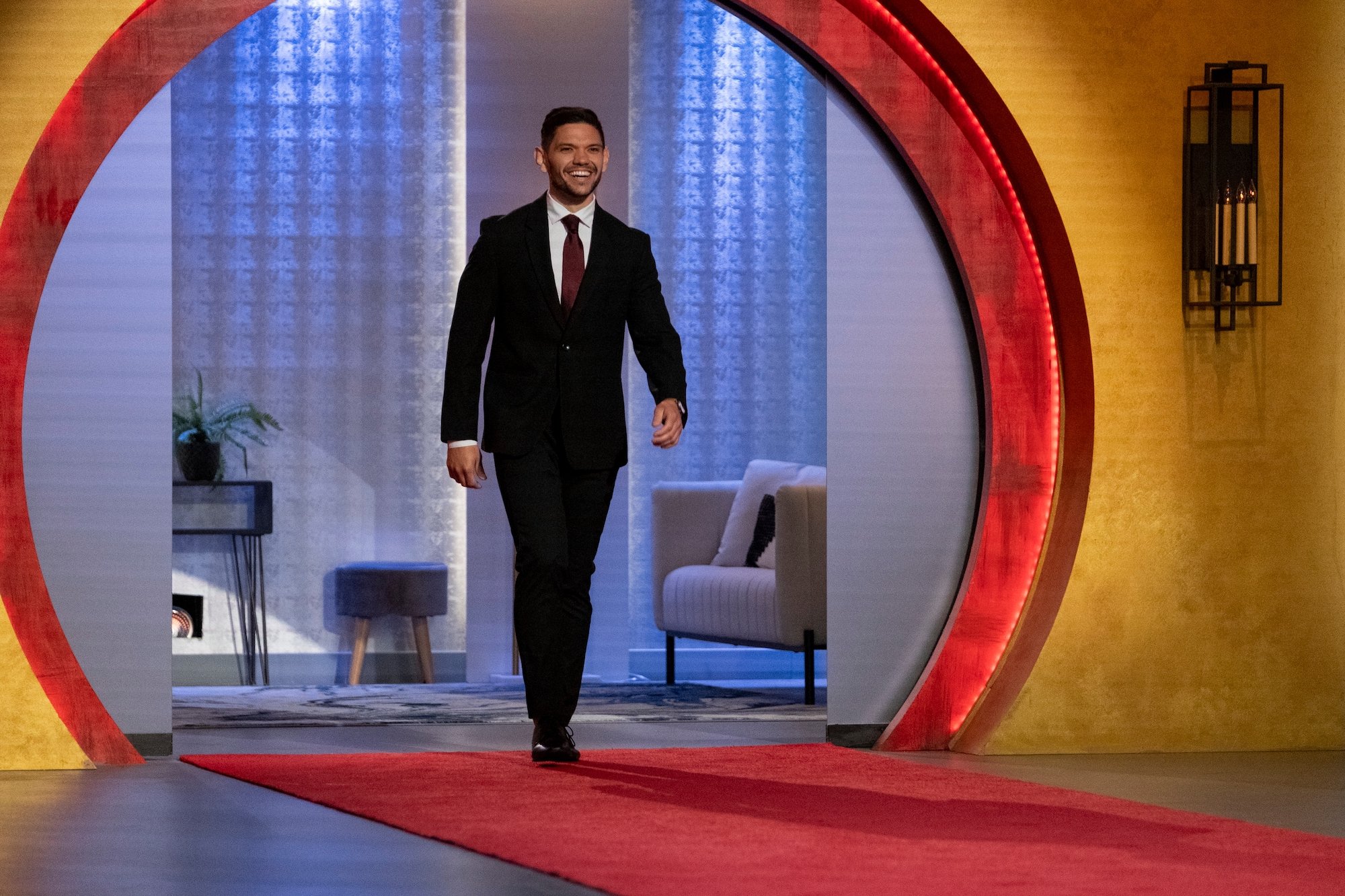 Abhishek "Shake" Chatterjee proposed to Deepti Vempati midway through 'Love is Blind' Season 2
The entire purpose of Love is Blind is to determine if a person can find true love without their partner's looks influencing their decision. To do so, the producers keep the women and men separate. They only speak to each other in individual pods. Everyone takes notes on what they like and don't like about another contestant. From there, they spend time getting to know each other more. Eventually, they decide whether they want to spend their lives together.
However, it was clear Shake didn't understand the assignment from the start. In several different clips, audiences watched as he asked the Love is Blind Season 2 women questions that would give away their looks. At one point, he asked a woman if he would "be able to carry her on his shoulders at a music festival." Despite all of this, Deepti saw something in his personality she liked. When he proposed, she excitedly accepted.
RELATED: 'Love is Blind' Season 2: Someone Other Than Shayne Jansen Proposed to Natalie Lee
Shake and fellow contestant Kyle exchanged heated words on Instagram
Ultimately, Deepti and Shake's relationship fell apart. He continually commented about the lack of sexual attraction he had for her to the other men from the show. At the alter, she knew he wasn't the man for her and did not say, "I do."
Since then, Deepti's Instagram has raised fans' eyebrows. Some wonder if she's now dating another Love is Blind Season 2 contestant. Viewers spotted some flirty comments from Kyle Abrams, whose engagement to Shaina Hurley ended in one of the later episodes of the season. Now, Shake's adding more fuel to the fire by clapping back at Kyle in the Love is Blind Instagram page comments.
In a recent photo posted by the official account for Love is Blind, Kyle left a comment which read, "Just me enjoying the trainwreck." Shake then took it upon himself to respond directly to his co-star.
The veterinarian wrote, "Translation: You're a little bihh [SIC]." He continued his comment, partially in all caps, "Imma warn you. I KEEPS IT REAL AT THIS REUNION."
Kyle apparently plans to stay out of the drama, as he had no response to Shake from that point.
'Love is Blind' Season 2 fans applauded Deepti's decision to turn down Shake at the alter
Many fans expressed their happiness that Deepti chose to focus on herself and walk away from her relationship with Shake. Many of his comments about Deepti in the show implied he had little interest in her. Several fans found his comments about her looks offensive. He told the other cast members she felt more like an aunt to him than a romantic partner. 
Fans can watch all the drama unfold at the Love is Blind Season 2 reunion on March 4, 2022. 
RELATED: 'Love Is Blind': Shake Remains the Season 2 Villain After Instagram Explanation Video — 'I'm Not Sorry'