'Love Island': Cash Admits to Trina Casa Amor Could Make Things 'Easier' and End Their 'Throuple'
The cast members can easily be stuck trying to make decisions on Love Island. Casa Amor could help or hurt them with that problem. The newest episode showed Cashay Proudfoot and Trina Njoroge talking about their feelings for Melvin "Cinco" Holland and how the twist could change that.
[Spoiler alert: Spoilers for the Love Island USA Season 3 episode on July 27!]
Cash and Trina are both interested in Cinco on 'Love Island'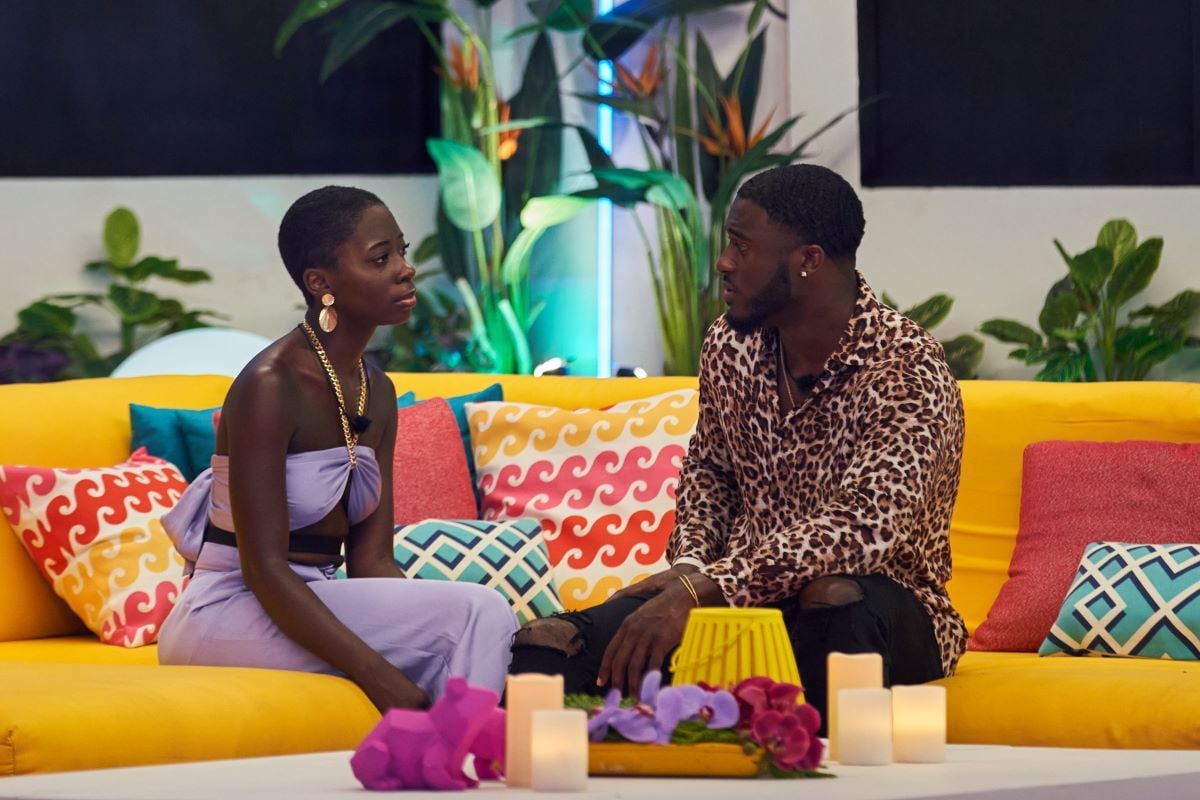 RELATED: 'Love Island': How the Cash, Cinco, and Trina Love Triangle Could Change With Casa Amor
Cash and Cinco were previously coupled up. But he left Cash for Trina. Cash decided to try one more time and tell Cinco that she still has feelings for him.
The delivery driver admitted he does have feelings for her too. "Cash, every time I look at you, I think about the possibility of us. I really do. I think the real thing about it is like, I don't know how to go about it," he told Cash.
Sadly, they were separated before they could come up with a solution. The women went to Casa Amor, and the men stayed behind at the villa.
Cash admits to Trina Casa Amor could make things "easier"
RELATED: 'Love Island' to 'The Bachelorette': Which Dating Shows Are the Most Successful?
The July 27 episode was the second episode of the men staying in the villa and the women being in Casa Amor with new cast members. Cash made a new connection with a man named Charlie Lynch, but she hasn't forgotten about Cinco.
Cash and Trina took a minute to talk about their Cinco drama. "I am really fed up and tired of having a man decide what he wants, you know?" Trina told Cash.
"I don't want you to think that just 'cause I had that conversation with him I'm like all of a sudden in the clear, and I feel good cause I don't," Cash said. "Because it's like how I feel like it's if he really wanted me, then we'd be together. I don't know. I do have such strong feelings for him. But I also think we're not thinking of the fact that he can totally be in there with another girl," she said.
"Like this is just easier. There's no back and forth. There's no throuple. There's no Cash and Trina, just a fresh start. Because that is literally what I'm thinking with Charlie," Cash continued. She said she's thinking about whether to go back to the villa single or give Charlie a chance.
Trina hasn't been getting to know the new men. She told one of them that her heart is still with Cinco.
Will Cinco choose one of the new 'Love Island' cast members?
RELATED: What Is 'Love Island' Winner Amber Gill Up To Since The Split With Greg O'Shea?
Multiple new women were interested in Cinco. Kay Taylor went into the villa saying she was interested in him. Leslie Golden also pulled Cinco aside, and they started kissing.
Leslie later told him he was her favorite kiss, and they had the best sexual chemistry. He admitted that he felt the same way and sees potential in them. 
The episode ended before the cast members could make their final decisions. The next episode will show them choosing to go back to their former partners or choosing someone new. It looks like Cash is considering leaving Cash and Trina behind for Leslie.