'Love Island': Cash and Cinco Reunite After Her Emotional Exit and Fans Want a Spinoff
Cashay Proudfoot reunited with Melvin "Cinco" Holland Jr. after 'Love Island'. Fans share their happy reactions to the video.
Love Island Season 3 has been plagued with love triangles. Cashay Proudfoot was in several of them before being sent off the villa. She reunited with Melvin "Cinco" Holland Jr., and now some fans are calling for a spinoff. 
[Spoiler alert: Spoilers for the Love Island USA Season 3 episode on Aug. 6!]
Cashay Proudfoot had an emotional exit on 'Love Island'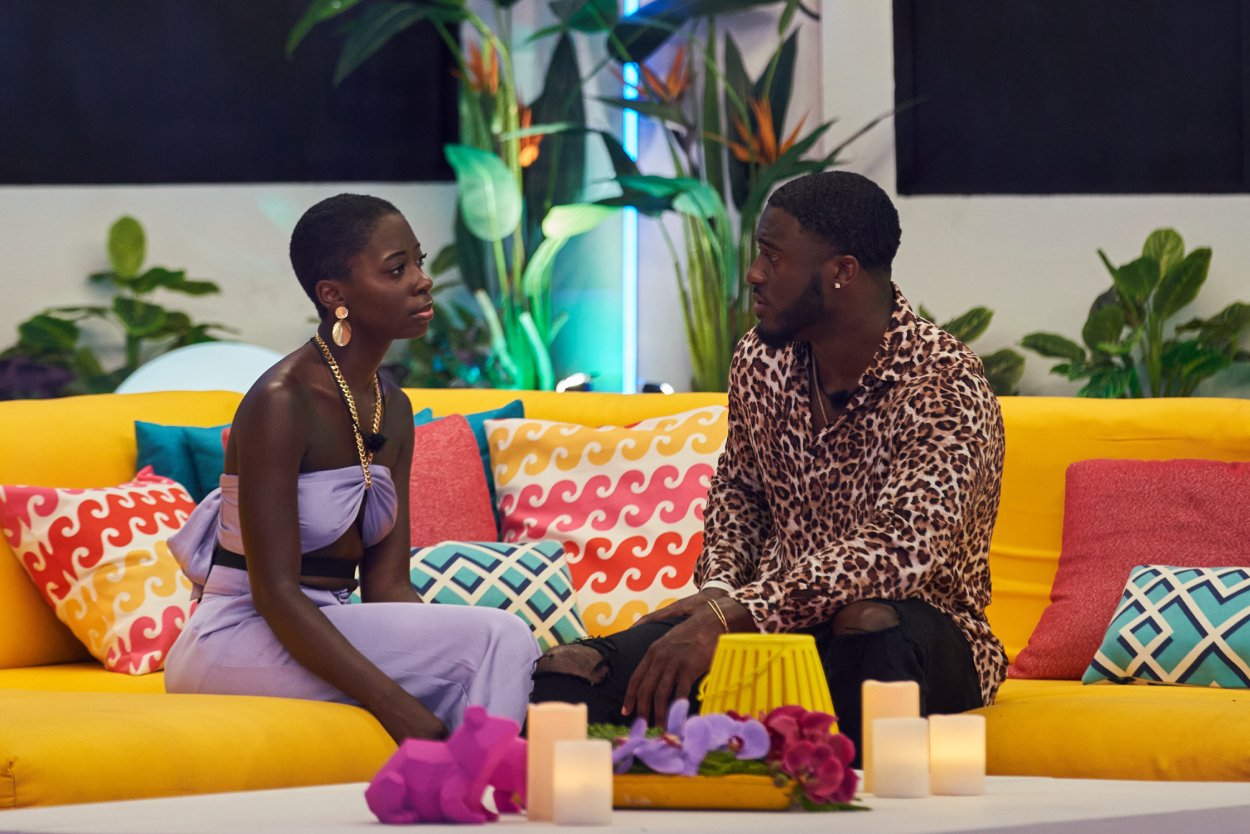 Cash decided to pick Charlie Lynch after a long off-and-on-again journey with Cinco. However, it wasn't easy for the women to cut Cinco loose, and that upset Charlie at first. It still looked like he was going to try to move on with Cash.
But then new women came to the villa. Charlie was having more conversations with Alana Paolucci, and there was a question of whether he'll leave Cash for her. Charlie did end up telling Cash he wasn't sure if he wanted to continue their relationship.  "I could only overlook something for so long," he told her.
The Aug 6 episode showed the men choosing women to couple up. Charlie decided to pick Alana, and no one else picked Cash, meaning she was sent home. Most of the cast was in tears over her exit.
Cash and Cinco reunite after her emotional 'Love Island' exit
Cash and Cinco seemed surprised to be in a video chat together in a video shared by the show on Instagram. Cinco said she's now part of the "boot crew," but it doesn't look like she's upset about it.
"I'm ready. It was my time," she told him. "No, I feel you. I felt the same when it was me," he said. Cash said she's ready to be out and talk to him. They also playfully jabbed at each other.
"You did hurt my feelings a little bit. But it's OK. I'll be alright," Cinco said. "How did I hurt your feelings? If we're talking about feelings, you hurt mine. What?" she asked. "You hurt mine first, though," he said. Cash pointed out that he did pick Trina Njoroge over her.
It looks like their in-person reunion might be very soon. Cinco said she should come to New York. "It's an easy train right for me," he explained. "I actually have a 2-hour layover in D.C.," she told him.
Cash said within the last few days she would accidentally say Cinco's name instead of Charlie's. She said the other girls told him to go find Cinco. Cinco said he already texted her.
'Love Island' fans want a Cash and Cinco reunion
Fans left their reactions in the comments of the post. "Not me cheesing the whole time," another fan commented. "They would've won that 100k easily had she left casa amour single. Charlie didn't deserve at all. Smh man," someone else wrote.
It looks like fans didn't get enough of Cinco and Cash in the villa and are hoping for more.  "Not a Outside the Villa spinoff," one person wrote. "I want a Cash & Cinco reality show!" another fan wrote. "This spinoff would get more views than the remaining episodes of the show," someone else wrote.
For now, it looks like Cinco and Cash will be watching the finale of Love Island from their homes. Hopefully, they'll share if they do meet in person and if they pursue a relationship with each other.