'Love Island': Cash Makes Her Decision Between Cinco and Charlie
Love Island hasn't made it easy to find love.  Cashay Proudfoot found herself stuck in multiple love triangles. But she has finally ended that by choosing between Melvin "Cinco" Holland and Charlie Lynch.
[Spoiler alert: Spoilers for the Love Island USA Season 3 episode on Aug. 1!] 
Cash and Cinco had a complicated history on 'Love Island'
Cash used to be coupled up with Cinco. But Trina Njoroge had feelings for him, so Cinco left Cash for Trina. Eventually, Cash revealed to Cinco that she still had feelings for him.
The women and men were split up for Casa Amor. Cash met Charlie there and decided to go back to the villa with him. Meanwhile, Trina and Cinco decided to stay together. But that didn't last long. Cinco finally admitted he has feelings for Cash and wants to choose her. 
Cash wasn't willing to take him back and asked him to fight for her. He said he was going to as a single person in the villa.
Cash makes her decision between Cinco and Charlie
The Aug. 1 episode showed the stars playing a game of Kiss, Marry, Pie. Many women chose to throw a pie in Cinco's face for being so indecisive between Cash and Trina. Cash and Charlie both said they would marry Cash. Cash chose to marry Charlie.
Cinco later revealed he felt hurt by the game. "After the pie challenge, I've seen everybody in a whole different way. It was kinda two-faced," he said. He understood why Trina and Cash pied him, but he was surprised everyone else saw him as a player. 
Cash later finally decided to choose between the two men. "I think I just need to like just put my focus on Charlie," she told Cinco. Cinco said he understands. Cash told him that Charlie feels like he's on the back burner, and she doesn't want anyone to feel that way.
Cinco was sent home from 'Love Island'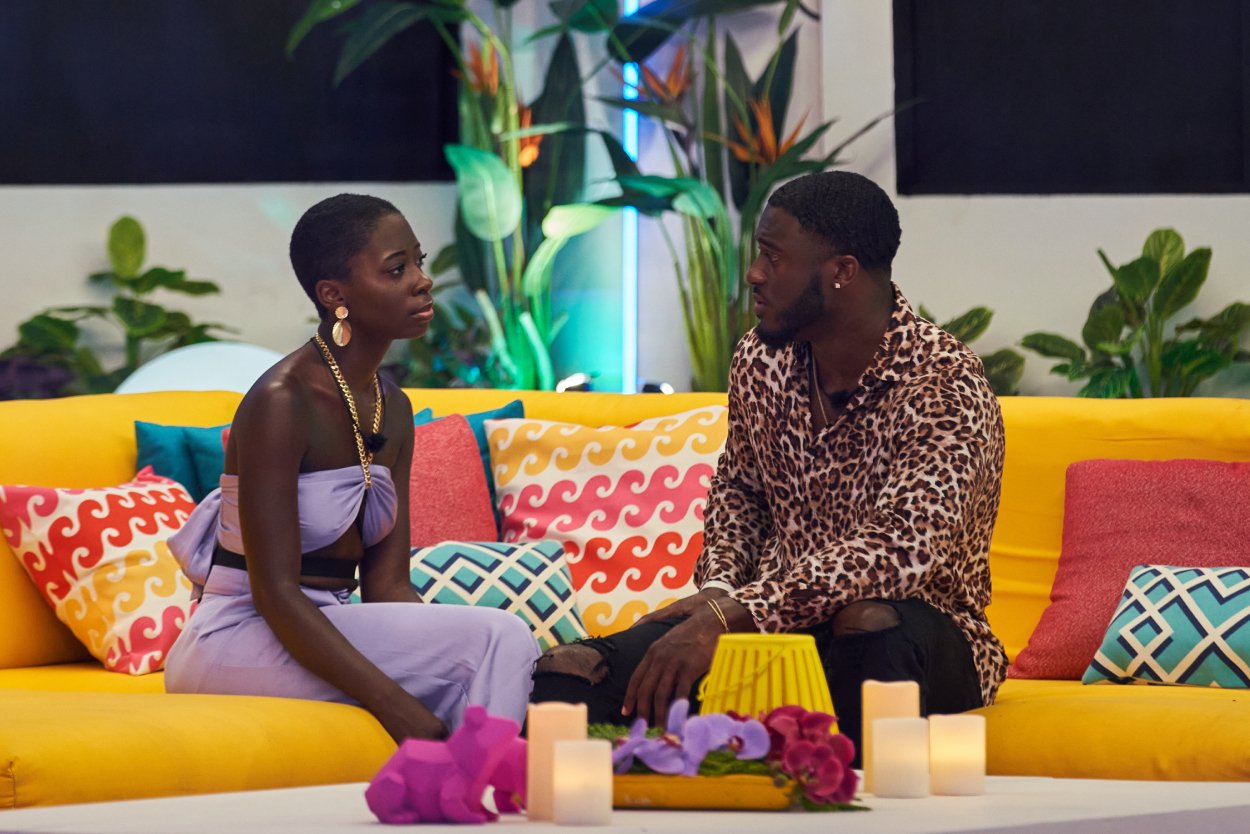 The episode then revealed America's votes. The islanders had to choose who to keep. In the end, Cinco and Genevieve Shawcross were voted out.
Cinco said this was all a learning curve, and he has no regrets. He hugged Trina and said, "It's been cool." Cash told him, "You're gonna forget all about me. You'll be fine." She admitted it's hard to see him go. Cinco tried to pull her in for a kiss, but she stopped him. "I do wanna kiss you, but I can't," she whispered.
Charlie wasn't happy after the ceremony. He believed Cash wanted to keep Cinco because of their history, and Cash denied it. After their heated talk, Charlie claimed he isn't holding a grudge and has moved on.
It looks like Charlie and Cash are free to explore their relationship without Cinco. Only time will tell if it'll last.