'Love Island': Why Some Fans Are Calling Cash 'Two-Faced'
'Love Island' fans aren't happy with how Cash handled her love triangle and are now calling her two-faced.
Love Island fans have been rooting for certain stars to find love. One of them is Cashay Proudfoot, but the newest episode left a bad taste in some people's mouths. This is why some fans are now calling her "two-faced."
[Spoiler alert: Spoilers for the Love Island USA Season 3 episode on Aug. 1!]
Cash was in hot water with Cinco and Charlie on 'Love Island'
The Aug. 1 episode showed Cash juggling a lot of drama with Melvin "Cinco" Holland and Charlie Lynch. Cinco was distant with her, and they later talked about it.
He revealed that he was surprised by the women throwing pies in his face during the kiss, pie, and marry game. "After everybody else talking trash and like that's literally how ya'll see me? 'Oh, he's a player. Oh, he's been lying. He hurts my girls'. Blah, blah, blah. I'm like damn, that's really how they see me?" he asked. Cinco also pointed out that no one checked on him afterward. Cash said it wasn't malicious, and she claimed Cinco didn't let them check on him.
Cinco said he still wanted to be with Cash. But she later pulled him for another conversation. She decided to focus on her relationship with Charlie.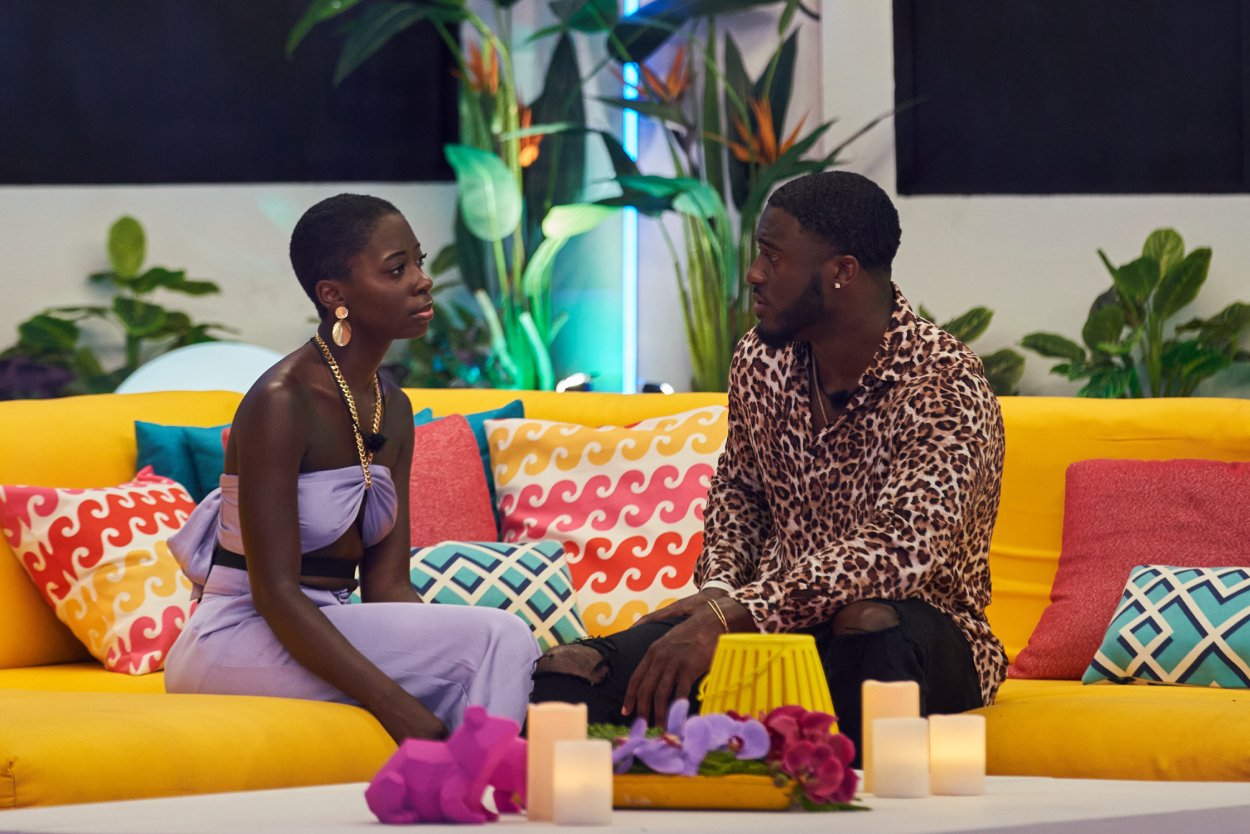 Cash revealed this later to Charlie, but he didn't look happy. "My first thought is back and forth," he told her. "But I'm not back and forth. I've always been all in on you," she told him. "He expressed his feelings to me. I never said anything. I've always been focused on you."
There was an elimination ceremony afterward, and the women had a tough time choosing between Cinco and Will Moncada. Ultimately, they chose to save Will.
Cinco pulled Cash in and kissed her on the cheek. She whispered, "I wanna kiss you, I do, but I can't." Cash then had one more tense conversation with Charlie. He was upset that she was still considering keeping Cinco to potentially keep her options open. "If I wanted Cinco, then I would be Cinco," she told him. She also claimed when Cinco tried to kiss her goodbye, she said no.
Some 'Love Island' fans are calling Cash 'two-faced'
Fans weren't happy with Cash's actions in the latest episode. One fan made a Reddit thread calling out Cash. The original poster pointed out that Cash turned the situation back on Cinco after he said it bothered him that everyone singled him out. The poster also mentioned when Charlie said all they talk about is Cinco, she turned it on him, saying it's always been him and not Cinco.
"Maybe it's editing, maybe it's real, but Cash is coming off as increasingly two faced this season," one person wrote. "And Cinco definitely was picked on in the pie challenge. It wasn't totally undeserved but it's valid he would want some support after Cash was so adamant that be [sic] fight for her."
"In my view, she's a total hypocrite and pretty two-faced as well," another fan wrote. "She has literally been doing the exact same thing to Charlie that cinco [sic] supposedly did to her. And don't even get me started on a couple of episodes ago when Trina was crying over cinco and Cash is all 'you deserve better', meanwhile she's clearly trying to get closer to him… I find her extremely hard to sympathize with lately! I kind of wish they had eliminated her instead of Genny."
Another fan also pointed out a shocking moment in the episode. "Let's not forget she told Charlie 'he tried to kiss me and I said no'………..the only thing she didn't say was no……….she said something much worse confirming she wants to kiss Cinco and would consider leaving with him," someone wrote. "Charlie may not have the best intentions with Cash (or he may, can't tell at this point) but Cash is not telling the whole truth."
It looks like Cash has lost some support from fans and might even lose Charlie. The teaser for the next episode shows him flirting with one of the new women.