'Love Island': How the Cash, Cinco, and Trina Love Triangle Could Change With Casa Amor
There is a lot of drama on Love Island between three people. Melvin "Cinco" Holland, Jr. is caught between Cashay Proudfoot and Trina Njoroge. But the newest episode showed the women leaving for Casa Amor, and it's probably going to change things between the reality stars.
[Spoiler alert: Spoilers for the Love Island USA Season 3episode on July 26!]
Cash, Cinco and Trina are stuck in a love triangle on 'Love Island'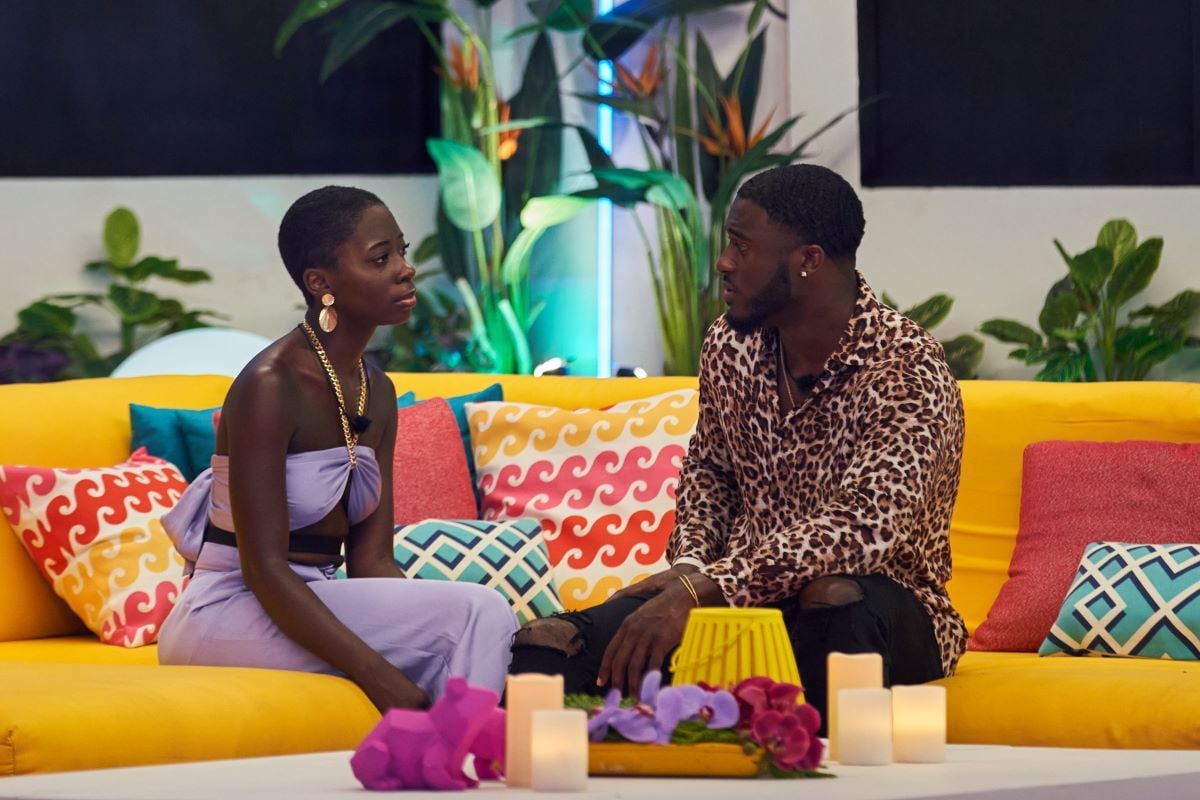 Cash and Trina are friends, but they also have been interested in Cinco for some time. Cinco and Trina are currently coupled up. But Cash decided to tell Cinco she still has feelings for him in the July 23 episode. They talked about it again after Cinco talked to Trina about it.
"Cash, every time I look at you, I think about the possibility of us. I really do. I think the real thing about it is like, I don't know how to go about it," he told Cash.
"You guys literally don't have half of what we have, and she even sees it," Cash claimed. "If you were here telling me, 'I'm so happy with Trina.' I wouldn't say any of this. I would keep to myself and cry. But you're not saying that to me," she said.
The episode ended with the love triangle not settled. But the new episode had a twist that could affect the love triangle. 
New men are interested in Cashay Proudfoot in Casa Amor
The July 26 episode started with Trina talking to Will Moncada. She said the love triangle is bringing up trauma for her because of her past experiences. Part of her wants to take herself out of the situation, and another wants to talk to Cinco. Will convinced her to try to fight for Cinco.
Cash later told the other girls that Cinco said he told Trina about their talk and how he still has feelings for her. Trina claimed she wouldn't be interested in the new guys, but she was worried about the new girls coming into the villa.
The new men and women were then introduced. Charlie and Raul showed interest in Cash. Charlie talked to Cash and said he loved her personality. She said she likes his vibe and is intrigued by him. 
Charlie asked her if she wants kids, and she said she was told it'd be hard for her to have kids physically. Cash got emotional because it was the first time having that conversation with a man. Later in the night, they kissed as part of a game, and Cash said it was sexy.
Cash also talked to Raul, and they talked about where they're from. They bonded over their love for dancing and danced together. She did criticize his hugging skills in the end.
Kay and Leslie are interested in Cinco on 'Love Island'
The new ladies weren't afraid to flirt with Cinco despite his messy situation. Cash talked to Leslie, and they bonded over their connections to the south. He told her that he's intrigued by her. 
Cinco talked to Kay, who said she was physically attracted to him. He said he felt like his relationship with Trina had been stagnant. He claimed he wasn't trying to play with anyone's emotions, but sadly his situation with Cash and Trina wasn't settled before Casa Amor. 
The episode left with a cliffhanger. It looks like Cash might have already made a strong connection with Charlie, which could change things. Cinco also had new options. It doesn't look like Trina made any new connections, so she'll probably still be focused on Cinco when they reunite.