'Love on Iceland': Real-Life Couple Colin Donnell and Patti Murin Co-Star in New Hallmark Movie
There was some off-screen romance happening on the set of the latest Hallmark movie. Real-life couple Colin Donnell and Patti Murin co-star in the network's new original film Love on Iceland, premiering Sat. Jan. 18. But the pair of married actors don't fall in love in the movie, which is part of the channel's Winterfest programming event. 
Ex-college sweethearts reconnect in 'Love on Iceland'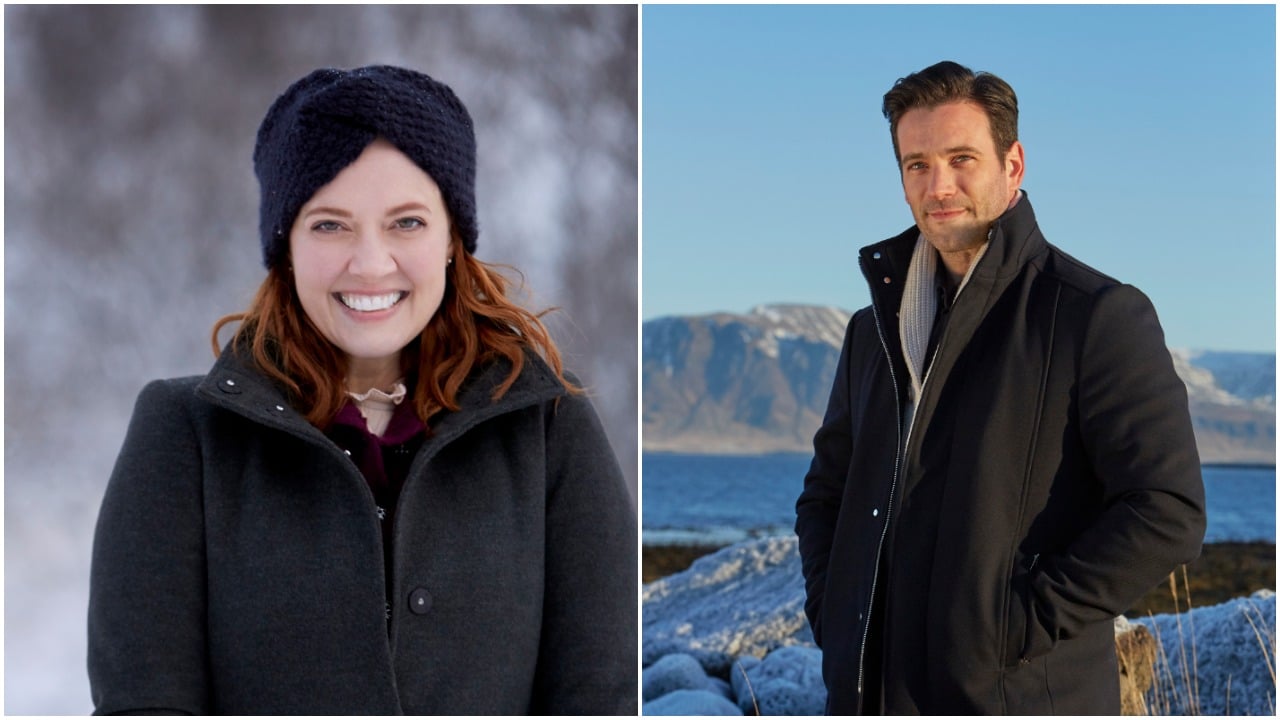 In Love on Iceland, Kaitlin Doubleday plays Chloe, a podcast producer in need of a break from her crazy life. She and her friends Isabella (Murin) and Kenneth (Preston Sadleir) take a trip to Iceland. But to Chloe's surprise, there's a fourth person in their group: her ex-boyfriend Charlie (Donnell), a travel photographer. While the exes try to steer clear of each other on the trip, they can't avoid each other completely. As they take in Iceland's stunning landscape, they find themselves falling for each other again. 
The movie was filmed on location in Iceland — a first for Hallmark. "It was gorgeous," Doubleday said in an interview with Hallmark's Home & Family.  
Colin Donnell and Patti Murin also worked together on 'Chicago Med' 
Love on Iceland isn't the first time that Donnell and Murin — who married in 2015 — have worked together. They fell in love while appearing together in a musical production of Shakespeare's Love's Labour's Lost. They also shared the screen in Chicago Med. Donnell played Dr. Connor Rhodes on the NBC series until last year. And Murin had a recurring role on the series as Dr. Nina Shore from 2016 to 2019. 
However, even though Donnell and Murin were working on the same show, their characters didn't really interact. They only spoke to each other once, according to One Chicago Center, in a brief scene when Shore gave Rhodes the autopsy report on his father. Even though they don't play a couple in their new Hallmark movie, it seems likely they'll share a bit more screen time this time around. 
Murin plays Anna in 'Frozen' on Broadway 
In addition to her work in television, Murin has a high-profile role on stage. She's currently playing Anna in the Broadway production of Disney's Frozen. She originated the role in the musical, though she'll be leaving it behind come February 2020. 
Murin — who has been open about her experiences with anxiety and depression — has said that she loves that Anna has given her a platform to talk about real-life struggles. 
"The great thing about Anna is that she is socially awkward but she is also incredibly determined and incredibly optimistic, and so just embodying that character that's already touched so many lives is incredible," the actress told Deadline. 
"[I]t also means so much when people say, I love how open you are with your struggles and with your life, showing that princesses and Disney characters and people who are lucky enough to star in a Broadway show are still human," she added.
After leaving Chicago Med, Donnell also returned to the stage. His played rock star Russell Hammond in a musical production of Almost Famous at San Diego's Old Globe theater in the fall of 2019.
Love on Iceland airs Saturday, Jan. 18 at 9/8c on Hallmark Channel.