Love 'Sister Wives?' Binge-Watch These 12 Other Polygamy Shows and Movies
Many fans of TLC's Sister Wives have found themselves more than a little obsessed with the practice of polygamy, or plural marriage. Getting a glimpse of the ins and outs of this relatively rare form of marriage—which includes both polygyny, or marriage between a man and more than one woman, and polyandry, or marriage between a woman and more than one man—is fascinating for many viewers.
Now that the 2020 season of Sister Wives has wrapped, where are we polygamy-obsessed fans to go? Here are some other polygamy shows (including one-off documentaries and fictional movies as well as reality TV series) you can binge-watch or find online to get your plural marriage fix, even if they've been cancelled or already concluded.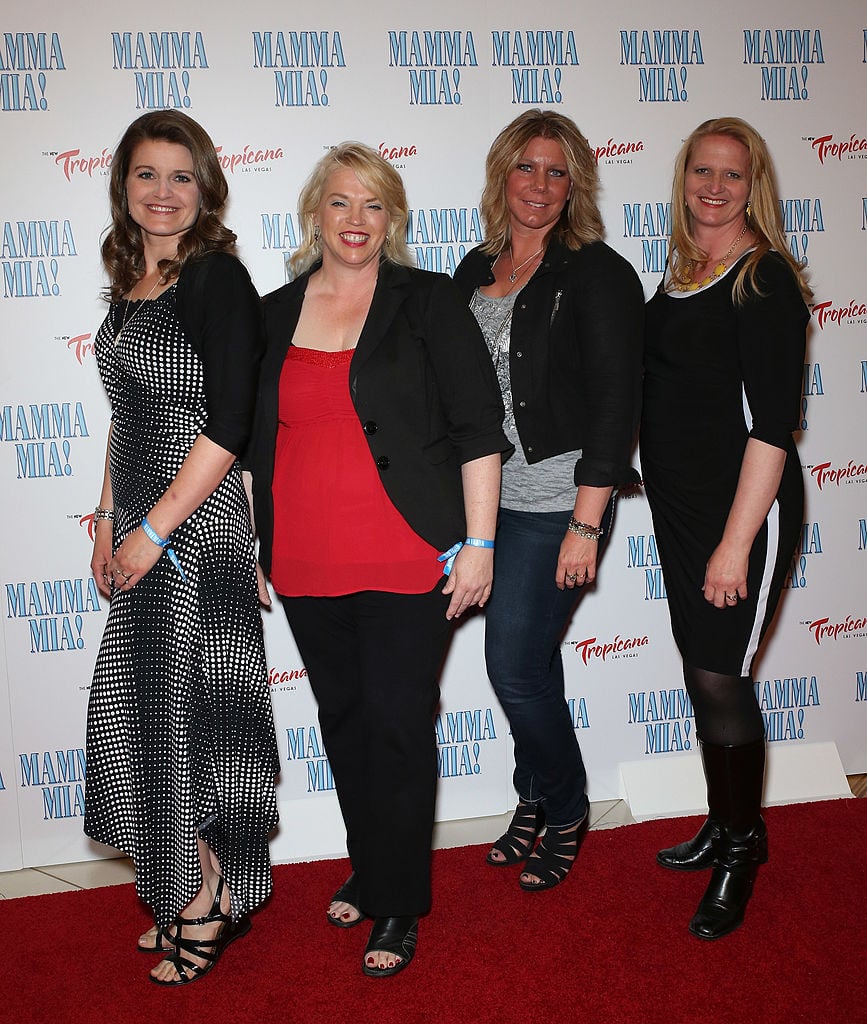 'My Five Wives'
My Five Wives had two seasons on TLC in 2013 and 2014. This reality TV series followed a Utah dad of 24, Brady Williams, and his wives, Paulie, Robyn, Rosemary, Nonie, and Rhonda. The Williams family stood out to many Sister Wives fans because the family had actually left their fundamentalist Mormon religion. Still, they stayed together, as they all remained close as a family.
'Seeking Sister Wife'
TLC's Seeking Sister Wife had two seasons from 2018-2019. It's unclear as to whether or not the show will continue. The reality series followed several families as they sought to add new wives into the mix. Families like the Brineys, the McGees, the Winders, and the Alldredges looked for sister wives for religious reasons, while the Snowdens looked for a sister wife for more personal and spiritual ones.
'Polygamy, USA'
Many fans of shows centered around plural marriage have raved about the slightly lesser-known series, Polygamy, USA, which aired on the National Geographic Channel in 2013.
The series followed fundamentalist Mormon polygamists in Centennial Park, Arizona, and had a more serious and educational tone than some of the other shows on this list. In addition, this sect's religious teachings suggested that women received divine inspiration about which man to marry, which made their stories play out differently than many others'.
The Centennial Park group was also highlighted on OWN's Our America With Lisa Ling.
'Escaping Polygamy'
The docu-series Escaping Polygamy premiered on A&E and moved to Lifetime over the course of its four seasons (so far). Three adult sisters who left the polygamist sect known as The Order, or the Kingston clan, in Utah, helped remaining members to leave polygamy themselves.
'Warren Jeffs: Prophet of Evil'
Many polygamous families might be happy with each other…but there's a dark history related to some plural marriages, too. This 2018 two-hour A&E special on Warren Jeffs, the now-incarcerated former prophet of the Fundamentalist Church of Jesus Christ of Latter-Day Saints (FLDS), showcases that darker side with insider interviews and details about Jeffs' life in prison.
'Prophet's Prey'
Prophet's Prey, a detailed documentary on Warren Jeffs and the FLDS, aired on SHOWTIME in 2015. Interviews with children, wives, and both former and current members rounded out the in-depth investigation.
'Sons of Perdition'
Many stories about polygamy and the FLDS focus, understandably, about the women involved. But the 2010 documentary Sons of Perdition takes a different angle, highlighting instead the stories of the teenage boys and young men who have escaped or were abandoned by the FLDS. The harrowing film shows three young men trying to rebuild their lives after leaving the church.
'Brother Husbands'
We couldn't write a list like this and not include at least one story about polyandry!
TLC aired a special, Brother Husbands, about Amanda Liston and her then-husbands, Chad Liston and Jeremy Johnston, in 2017. The trio was raising their five children together and living in the same home as a single nuclear family unit. Many viewers hoped the special would launch a series, which didn't end up panning out—but you can still watch the one-hour episode online.
Liston has also appeared on TBS' King of the Nerds and MTV's Engaged and Underage.
'Three Wives, One Husband'
This four-episode Netflix series aired in 2017, featuring Enoch Foster, his 16 kids, and his two (soon to be three) wives. The fundamentalist Mormon family lived in Rockland Ranch, a secluded polygamist community in the Utah desert.
'Escaping the Prophet'
TLC's Escaping the Prophet had only half of a season in 2014, but you can still find all six episodes of this docu-series on Amazon. The show featured Flora Jessop, a former member of the FLDS who has since become an anti-FLDS, anti-abuse, and anti-polygamy activist, advocating for other runaways and victims in the group.
'Breaking the Faith'
TLC's 2013 miniseries Breaking the Faith showcased the complicated lives of young people who had left the FLDS or were in the process of leaving the controversial sect. Eight men and women fled to Salt Lake City after leaving their secluded community.
'Big Love'
If you're in the mood for something fictional, HBO's popular series Big Love offers a make-believe look at the world of polygamy.
The incredibly well-received, well-reviewed show ran from 2006 to 2011 and starred Bill Paxton, Chloë Sevigny, Ginnifer Goodwin, and Jeanne Tripplehorn.