Love 'Yellowstone'? Try Out These Other Kevin Costner Westerns
Yellowstone creator Taylor Sheridan wanted an A-list actor to lead his Paramount Network drama — and that's exactly what he got. Kevin Costner plays patriarch John Dutton on the popular western, which dominated cable ratings during season 3 last year.
If you love Yellowstone and are suffering from Costner withdrawal while waiting for season 4 — we recommend trying out some of his other westerns.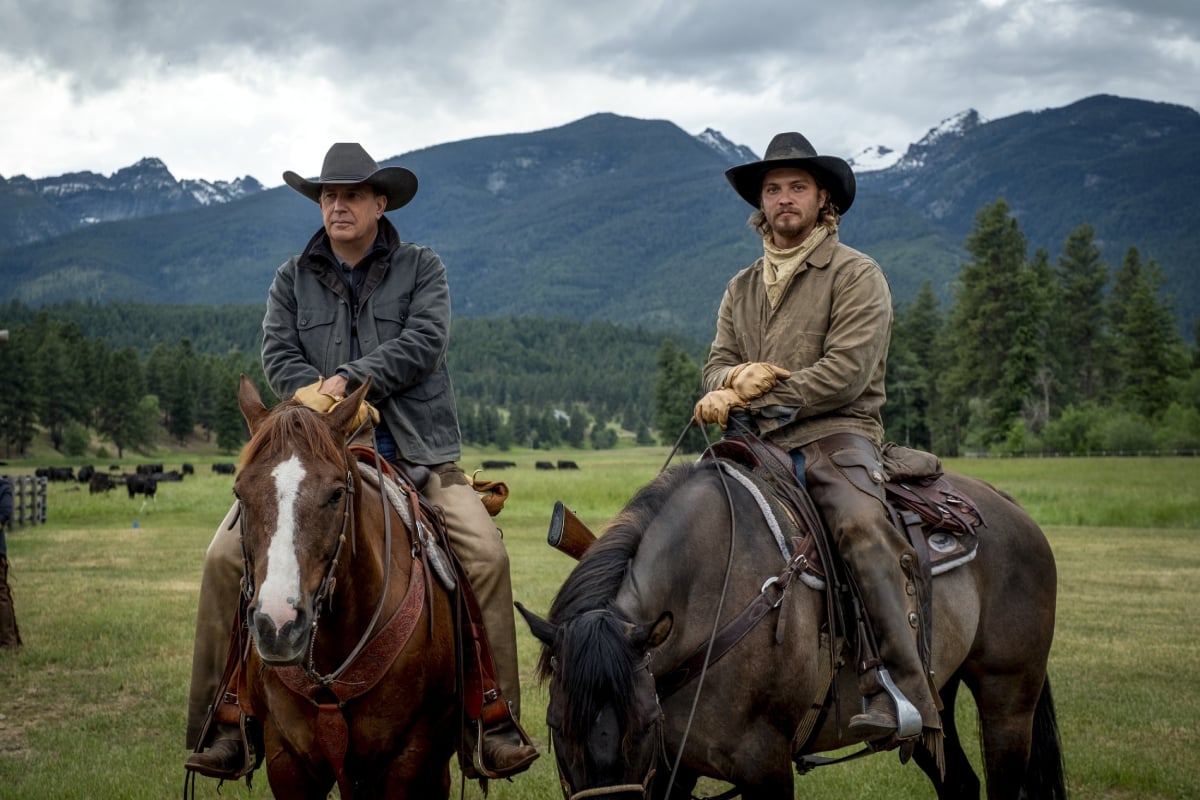 The 'Yellowstone' star won two Oscars for 'Dances with Wolves'
Costner was already an A-lister in the late 1980s, thanks to his roles in The Untouchables, Bull Durham, and the movie that makes every grown may cry — Field of Dreams. But he took his career to the next level in 1990 when he directed, produced, and starred in the epic western film Dances With Wolves.
In his feature directorial debut, Costner adapted the book by Michael Blake that tells the story of Union Army Lieutenant John J. Dunbar in the western frontier of 1863 and his interactions with his Sioux neighbors. Much of the dialogue is spoken in Lakota with English subtitles, and the cinematography is breathtaking.
Dances with Wolves was nominated for 12 Academy Awards and won seven. Costner took home two of those trophies — one for Best Picture and the other for Best Director. The movie also received the rare "A+" audience grade from CinemaScore.
Dances With Wolves is available on Netflix. You can rent it on YouTube, Amazon Prime Video, Vudu, Google Play, and AppleTV
'Open Range' is based on a western romance novel
Costner grew up reading Lauran Paine's western romance novels. Which inspired him to make 2003's Open Range, based on Paine's 1990 novel Open Range Men. According to screenwriter Craig Storper, this is a movie about "the evolution of violence in the West."
Costner stars alongside Robert Duvall and Annette Benning in this authentic, old-fashioned epic about Boss Spearman and his open-range cattleman in 1882 Montana. Costner plays Charley Waite, a former soldier who served in the Civil War as part of a "special squad."
Part action, part adventure, and part romance, Open Range is all about cattlemen in the Old West. The script doesn't tell you specifically where the story takes place, but there are plenty of wide-open spaces. According to AMC, Costner insisted on "finding landscapes where you couldn't see a fence, road, or another person."
Like Dances With Wolves, Open Range is a beautifully shot movie with great characters, soft-spoken dialogue, and amazing period recreation. It also features Costner wearing an awesome Stetson and falling for a girl named Sue.
Open Range is available for streaming on Hulu. You can rent it on YouTube, Amazon Prime Video, Vudu, Google Play, and AppleTV
'Silverado' was the 'Yellowstone' star's first western
When Costner was still a relatively unknown actor, he starred alongside Kevin Kline, Scott Glenn, and Danny Glover in the 1985 western Silverado. But the cast doesn't end there. The supporting players include Jeff Goldblum, John Cleese, Brian Dennehy, Linda Hunt, and Rosanna Arquette.
Written and directed by Star Wars writer Lawrence Kasdan, Silverado was his attempt to revive the western in Hollywood during the 1980s. It features every element of a cowboy movie you can think of — gunfighting scenes, stampeding cattle, covered wagons, galloping horses,  a duel straight out of High Noon, and endless creaking leather.
RELATED: Inside Kevin Costner's Staggering 'Yellowstone' Paycheck
Costner plays Jake, who's parthttps://www.cheatsheet.com/entertainment/kevin-costner-yellowstone-paycheck.html/ of a group of misfit cowboys led by rambling man Emmett (Glenn). They arrive in the town of Silverado to find their fortunes, but the town is in the hands of a corrupt sheriff and a greedy rancher.
Silverado is available to rent on YouTube, Amazon Prime Video, Google Play, and AppleTV. It's free to watch on PlutoTV, and also airs on Encore Westerns.
'Wyatt Earp' is a star-studded western biopic
Four years after Dances With Wolves, Costner starred in the western biopic Wyatt Earp. Once again, Kasdan was the director/writer, and Costner played the titular character. The film covers Earp's life from his childhood on a farm in Iowa during the Civil War all the way to the shootout out the O.K. Corral in Tombstone, Arizona.
Starring alongside Costner is an incredible cast that includes Gene Hackman, Mark Harmon, Bill Pullman, Dennis Quaid, Michael Madsen, Jim Caviezel, JoBeth Williams, and Mare Winningham.
RELATED: 'Yellowstone' Announces Major Cast Shake-Up Amid Season 4 Delay
Those of us who were around in the 90s may remember the movie Tombstone starring Kurt Russell and Val Kilmer. Which hit theaters about six months before Wyatt Earp. This odd phenomenon ended up hurting Wyatt Earp's box office returns and caused many moviegoers to skip it.
However, for Costner fans who love Yellowstone, Wyatt Earp is definitely worth checking out. Just make sure you have about three-and-a-half hours to spare.
Wyatt Earp is available to rent on YouTube, Amazon Prime Video, Google Play, and AppleTV. SlingTV premium subscribers can watch it for free.
Yellowstone season 4 is expected to premiere in November on the Paramount Network.