'LPBW': Amy Roloff Shut Down a Follower Who Suggested She's Putting Negative Energy Into Ex Matt Roloff
Amy Roloff from 'Little People, Big World' just quietly shut down a follower who suggested she should take her aggression out on Matt Roloff.
The new season of Little People, Big World begins on March 31, and fans can't wait to see what the Roloffs will be getting into next. Last season followed Amy Roloff's journey post-divorce from Matt Roloff. While the two went their separate ways and became involved in new romances, Amy was also trying to decide what to do about her living situation. Ultimately, we know she chose to leave Roloff Farms — and the new season will detail her adventure with her new home
Now, Amy's keeping her followers updated on how she's practicing social distancing amidst the coronavirus (COVID-19) outbreak. It seems she's taking up some physical activity — though one follower joked that Amy's likely imagining getting her rage out on Matt. Here's how Amy responded.
Amy Roloff seemed to rush into her marriage with Matt Roloff
When Amy and Matt first started the show, they seemed like the perfect couple. They had four children together and ran the family business on Roloff Farms together. But over the course of 30 years, their relationship unraveled. And Amy later discussed how she and Matt seemed to rush into their marriage when they were first dating, too.
On an episode of LPBW when Amy was first starting to date her fiancé, she noted, "I met Matt at a conference. I saw him four times, [then] we were married. So dating Chris, I'm calling up my girlfriends and I'm like, 'What is dating?! I don't even know what the hell that is.'"
It seems Matt and Amy weren't on the same page in terms of their commitment to each other, either. "While Amy puts commitment at or near the top of her list, I would put it further down," Matt wrote in their book, Little People, Big Values. "Amy tends to be more of a committed-to-a-fault kind of person, while I see most commitments — with some very notable exceptions — as flexible and negotiable."
Amy slammed Matt in her memoir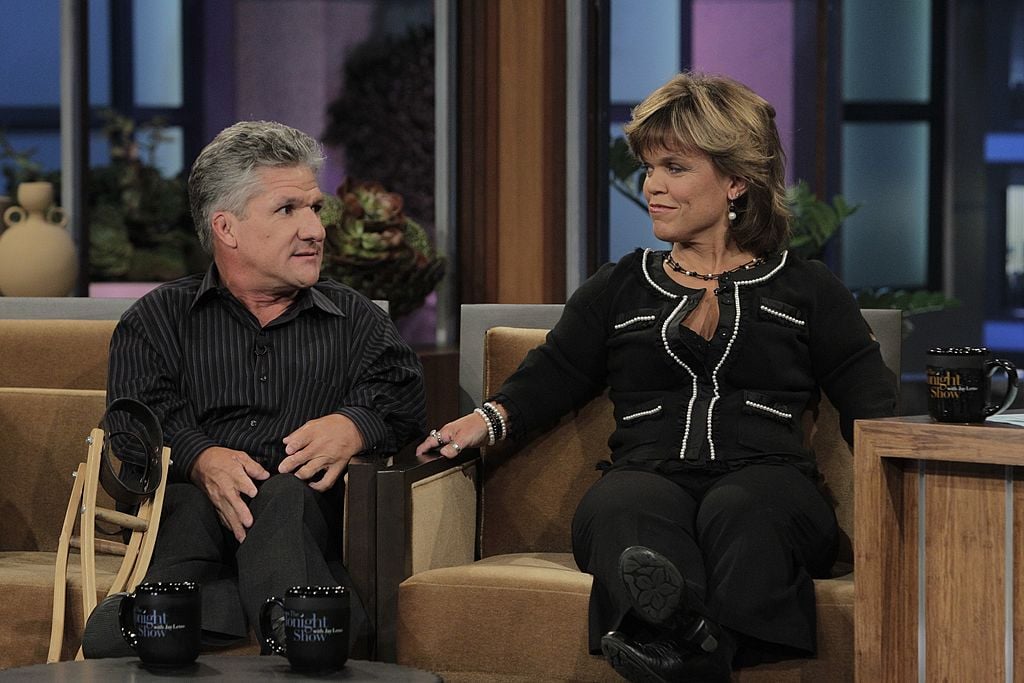 After Amy and Matt divorced, Amy wrote a memoir titled A Little Me. She noted that Matt's relationship with a "farm manager" (who many assume to be Caryn Chandler, his current girlfriend) got in the way of their relationship.
"I saw messages, pictures, and other things that should not have been shared between people who just worked together and were still married to other people. I was devastated," Amy wrote. And on the show, she's also mentioned that being around Chandler is "unhealthy" for her.
Not only did Amy give scathing details about Matt's personal life, but she also noted some of his controlling behaviors. "It would be best if everyone in the family went through Matt about everything, and he would communicate with the production staff on our behalf and take care of everything," she explained. "Matt would get upset if, after filming and off camera, I'd be talking to the producers."
She clapped back at an Instagram follower who joked about hurting Matt
Amy is keeping herself busy around her home, and it seems she's taken up some physical activity. On March 24, she posted a video of her practicing some boxing. "Staying in … so it's a good time to get my head and body back into a workout routine. No better time than right now. What are you doing now… while stayin… that you may have had to put off before?" Amy captioned the post. 
To that, one follower commented, "Matt bang Matt bang Matt bang Matt bang bang bang," along with a crying-laughing emoji face.
It seems Amy didn't think this was funny. She wrote back, "nah… I'm thinking about all the other stuff I need to do."
We're loving Amy's positive comeback to the negativity. It's clear she's busy and doesn't have time for any nonsense. We'll have to wait and see how Matt and Amy interact during the new season of LPBW starting on March 31!
Check out Showbiz Cheat Sheet on Facebook!