'LPBW': Audrey Roloff Keeps Dealing With the Same Infection Post-Pregnancy
We can't wait for the new season of Little People, Big World to air in March 2020. For the last several months, fans have relied on Instagram to see what's going on with Amy and Matt Roloff. And we also love seeing what Zach and Tori Roloff, as well as Jeremy and Audrey Roloff, are up to as well.
There are two new babies in the Roloff family who've been introduced to Instagram. And Audrey Roloff is sharing her post-birth journey regarding her and Jeremy's new son, Bode. While Audrey loves kids and is excited to have a little boy, she's getting super real with her followers about her health difficulties post-birth. And it seems she's continually fighting off the same type of infection she dealt with after her first pregnancy with her daughter.
Audrey Roloff got real about recovering from her second pregnancy
Pregnancy is tough — and the post-birth journey might be even tougher. While many women share their trials they go through while carrying a child, few talk about the real struggles that they go through while their body heals from giving birth to a baby. And Audrey isn't shying away from the harsh realities other moms can relate to.
On Jan. 15, Audrey posted a photo of her with her newborn son while showing off her bare, stretched belly. She explained that her "milk comes in fast and furious, both my babies chomped my nipples to shreds on day one, and my milk is the brevé kind so engorgement is at least 5x my normal bra size."
She also added that she's experiencing "the stitches and other pains 'down there,' the body aches/light headedness (I hemmoraged pretty bad this time) the pelvic bones that feel broken, the postpartum contractions (so much worse with second baby) sore muscles from labor, etc." This is resulting in a lot of resting and healing.
She's struggled to breastfeed since having her first child
While Audrey seems to be dealing with some new pains after her second baby, there's one reoccurring issue she's facing — mastitis. This condition causes breast tissue to become inflamed, often resulting in infection. And Audrey has talked at length at her difficulties dealing with it and attempting to keep it at bay.
Back in 2018, Audrey detailed how it felt when she first dealt with mastitis, In Touch Weekly reports. "Since delivering Ember, I struggled with mastitis on and off. I was severely engorged," the new mom wrote on Instagram. "On top of that, Ember had a really severe tongue tie that we had to get surgically fixed about two or three weeks after she was born. Before that, I was having a lot of blistering and bruising."
Thankfully, her condition got better after a few months of breastfeeding. "I was only able to pump MAYBE one ounce the first two months after having Ember," she wrote to her Instagram Story in 2018. "I fed 15 hours of my day and it hurt and was so hard. But here we are at five months pumping eight ounces like it's nothin."
Her followers have mixed feelings about her post-birth journeys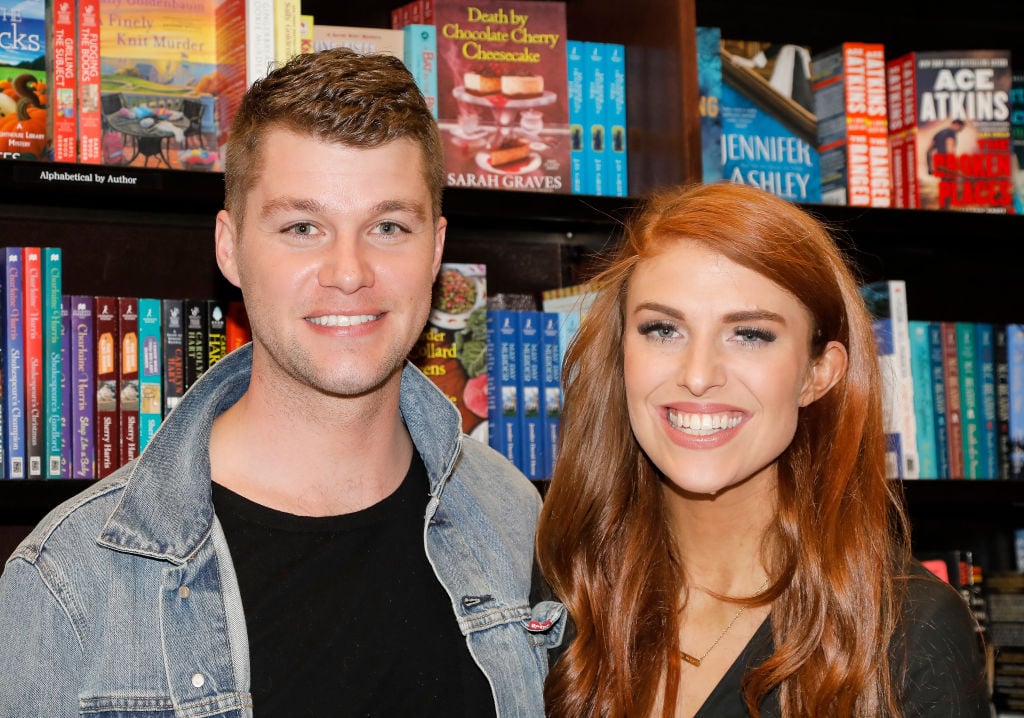 In Touch Weekly reports on Audrey's Behind the Scenes podcast, she noted she's "a professional at fighting this beast now" when it comes to mastitis. And many thanked her for sharing her struggles via the comment section on her Instagram photo of her with Bode. But her followers haven't always been grateful for her honesty. In the past, many critiqued Audrey for sharing how her health difficulties robbed her of her time with her daughter, Ember.
"Audrey has an idealized view of motherhood and anything that deviates from that is unique to her and is 'robbing' her. No. This IS motherhood," one follower tweeted.
"Audrey, you weren't 'robbed' of anything. This is what parenting is," another tweeted. "Life has a way of humbling you. I hope you are learning and growing from this. You are not a victim, you are simply a mother. More fortunate than most in fact."
We hope Audrey can get over the most difficult post-pregnancy humps quickly, though we don't expect to see much of her on LPBW this coming season.
Check out Showbiz Cheat Sheet on Facebook!