'LPBW': Audrey Roloff's Ultra-Religious Ways Are Already Rubbing Off on Her 2-Year-Old Daughter
The Roloffs have graced our television screens via Little People, Big World for nearly 15 years. And the last season showcased the changing dynamic between Matt and Amy Roloff and the lives of Zach and Tori Roloff. There are a few members of the family fans are deeply missing, however, like Jeremy, Jacob, and Molly, as all three of them chose to take a step back from production. And while Molly and Jacob don't post too much of their personal lives to Instagram, Jeremy and Audrey are quite active with their followers, as they're also best-selling authors and have plenty of projects they're excited to share with the public.
Recently, Jeremy and Audrey's daughter, Ember, turned 2. And Audrey wrote a lengthy post celebrating the big day. In the post, she even subtly mentioned how she and Jeremy's religious views are rubbing off on their daughter, too. Here's what she wrote.
Jeremy and Audrey Roloff seem to be the most religious of all the Roloffs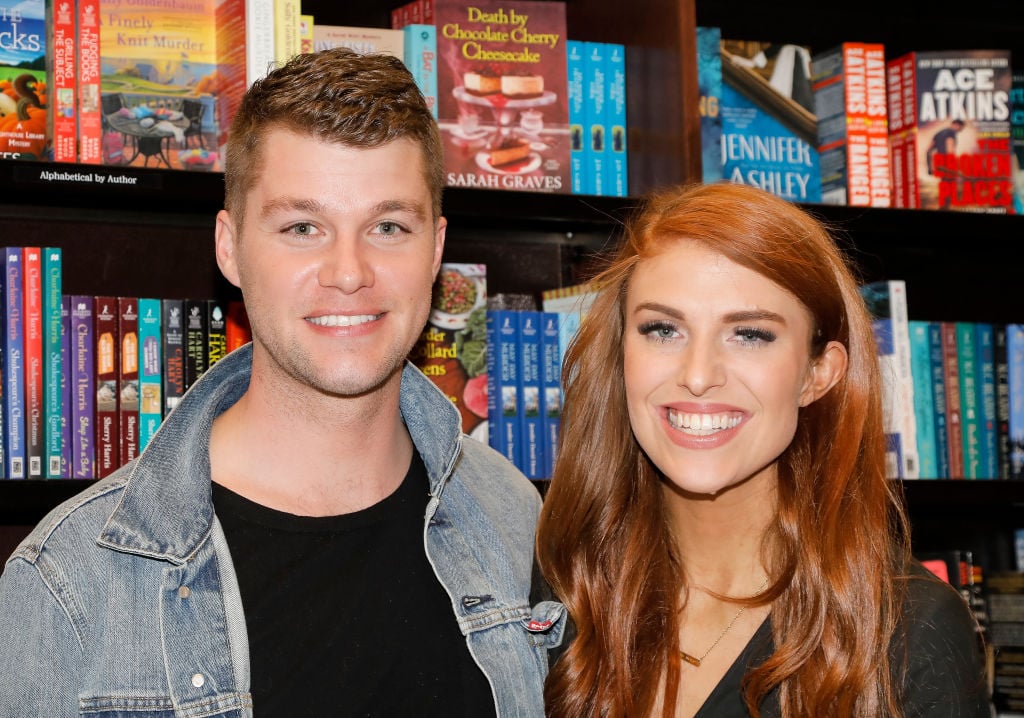 Matt and Amy Roloff have briefly discussed religion in the past, but it's Jeremy and Audrey who incorporate their Christian beliefs into their everyday life. The couple has a blog titled Beating 50 Percent that's dedicated to helping other couples attain covenant marriages that follow Christ. As they explain on the site, "Mission: To inspire covenant marriages to beat average, to encourage husbands and wives to give more than 50% to their spouse, and to revive marriages that are indispensable – marked by fixing instead of throwing away."
On the Beating 50 Percent website, Jeremy and Audrey also explain their core values, which are creation, the Bible, Jesus, the church, and the holy spirit. "We believe that faith in Christ, conviction of sin, salvation, and Christian growth, are all evidence of the Holy Spirit. The Holy Spirit is the reason we birthed this blog," they wrote. Not only that, but they even sell a Marriage Journal that incorporates their Christianity to help other couples accomplish exactly what they want out of their relationship.
Audrey discusses her relationship with God frequently on Instagram
Jeremy and Audrey don't just talk about religion on their blog — they also mention it on their Instagrams. When they were promoting their book, A Love Letter Life, Audrey frequently made posts about how she'd love for couples to read her and Jeremy's love story and follow their tips for the ideal marriage. And of course, many of their tips were rooted in following Jesus Christ and incorporating religion into their lives.
"If you want a love story that is creative, intentional, and faithful, then grab your copy of A Love Letter Life today! We cannot wait to hear how it inspires, empower, and equips you to live a love story that you would want to have read back to you one day," Audrey explained on her Instagram.
A Love Letter Life aside, Audrey has also introduced "the God Squad" to her Instagram. This post shows Audrey with her closest friends she's known for 23 years, and they're all interconnected thanks to their love of Christ. "So many of you messaged me after my insta stories today and asked HOW we stayed friends throughout all these years. The simple answer? Jesus," Audrey wrote on the post. "We learned to be follow Jesus together and loved each other with the same truth, grace, and compassion that Jesus loves us [sic]."
Audrey Roloff wrote about how her daughter is already saying prayers
It's clear Audrey and Jeremy are raising their daughter to be religious as well. "Our little Ember Jean girlsie is T W O today. She lights up any room with her warm and fiery presence," Audrey captioned this sweet post for her daughter's birthday. And while the excited mother added plenty about Ember's sweet personality, she also wrote about how the child is already learning how to pray. "She loves to pray for her friends at night before bed and goes through the list of 'thank you mama, thank you dada, thank you papa, and two papas, thank you gigi, thank you mimi… etc,'" Audrey continued.
Audrey and Jeremy are currently expecting baby No. 2, so we're all awaiting more updates as her due date gets closer. Until then, we're excited to hear more about Ember and if she'll be even more involved in religion at such a young age.
Check out Showbiz Cheat Sheet on Facebook!