'LPBW': Matt Roloff's Girlfriend, Caryn Chandler, Threw Major Shade at Amy Roloff
'Little People, Big World' is back, and Matt Roloff's girlfriend, Caryn Chandler, already subtly fired shots against Amy Roloff.
The new season of Little People, Big World is finally here, and we're all excited to get every detail of what's occurred with the Roloffs. The premiere shows Amy Roloff making her first moves to leave Roloff Farms completely, which is the major decision she made the season prior. But it's still tough for Amy to move forward, as she's spent over three decades on the farm with her now-ex-husband, Matt Roloff.
Fans also got a glimpse into how Matt and his girlfriend, Caryn Chandler, are fairing. It seems their relationship is closer than ever — though Chandler did manage to throw major shade Amy's way during the premiere. Here's what she said about 'never' wanting to live in the home Amy's leaving behind.
Amy Roloff made scathing claims against Matt Roloff and Caryn Chandler in her memoir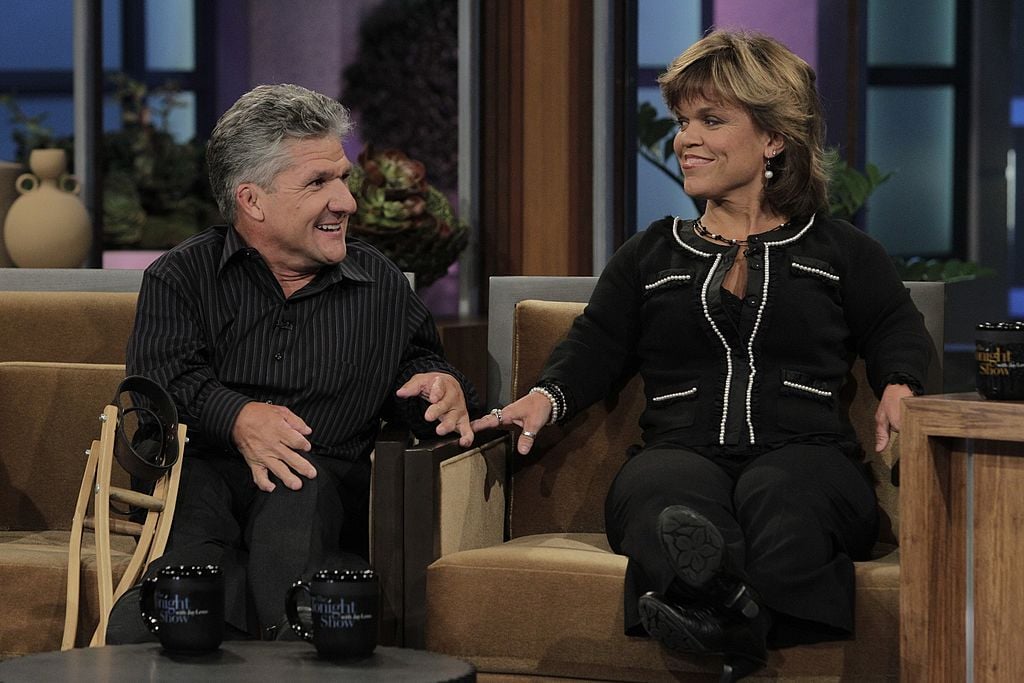 Those who keep up with LPBW know of the tension between Amy and Chandler. Amy's made it known that Chandler's presence on the farm and at family events has made her uncomfortable for years.
While many fans suspected Amy just didn't want to see her ex interact with his new girlfriend, it seems there's more than meets the eye. Amy claimed in her memoir, A Little Me, that Matt was cheating during his marriage with someone who worked on Roloff Farms — and it's assumed Amy's speaking about Chandler.
"I saw messages, pictures, and other things that should not have been shared between people who just worked together and were still married to other people. I was devastated," Amy wrote. "I've never felt so alone, hurt, and betrayed in my life."
Caryn Chandler noted her relationship was affected by Amy
In the LPBW premiere, Chandler speaks to the cameras about her relationship with Matt. While we know Amy was working on packing up her things and moving forward, it seems she's not moving at a very quick pace. And Chandler told the cameras that Amy dragging her feet with her move is really affecting her and Matt's relationship.
"When Matt was waiting for Amy to make all these decisions, you know, it affected our relationship, I think more than either one of us or anybody realized," Chandler noted. "I think since Matt owns his side of the farm he's just happier. But Matt still owns that side of the farm with Amy, so we're not done yet."
Matt also expressed that he's starting new projects on Roloff Farms — and he noted that he's happy he can go about his business without having to inform or get approval from Amy. Chandler also added that she's happy Matt's able to get joy from Roloff Farms again.
Chandler said she'd 'never' live in the farmhouse Amy lived in
We know wedding bells are ringing in the future for Amy, as she shared her engagement with her followers via Instagram. As for Matt and Chandler, they're letting Amy have her moment before really discussing settling down. And Chandler discussed the possibility of her moving on to Roloff Farms full-time to the cameras during Episode 1 of the new season.
"I might live on the farm one day," Chandler stated. "If he builds, you know, all that's up for negotiation." But she then subtly shaded Amy when referencing the farm's "big house," as this is where Matt's ex-wife lived post-divorce.
"I would never live in the big house," Chandler noted in a serious tone. "Ever. Put a pin in that." Matt then appeared to chuckle nervously, and Chandler rolled her eyes.
"I'm sure it'll be healthier in many ways when Amy buys her home and settles elsewhere just because there won't be any of that friction," Chandler added.
Given Chandler's delivery regarding her living situation, it's clear she's not a huge fan of Amy. We'll have to see if there's any more tension between Chandler and Amy in future episodes.
Check out Showbiz Cheat Sheet on Facebook!