'LPBW': Zach Roloff Subtly Shaded His Father, Matt Roloff, After They Discussed Amy Roloff's Engagement
Zach Roloff seemed to throw some shade at Matt Roloff regarding Matt's divorce with Amy Roloff on 'Little People, Big World.'
Season 20 of Little People, Big World is here, and we're more excited than ever to see what the Roloffs are up to. So far, we've heard more about Amy Roloff's plans to move off of Roloff Farms post-divorce from Matt Roloff. And Amy's partner of over three years, Chris Marek, also got down on one knee to propose.
Amy's ecstatic to be engaged, of course. And she shared the news with her son, Zach, his wife, Tori, and Matt on the show. After Amy's announcement, Matt and Zach talked about the news. And Zach seemed to throw shade toward Matt's past behaviors. Here's what he said.
Matt Roloff said he's learned how to be a better partner to his current girlfriend, Caryn Chandler
Amy threw major shade at Matt in her memoir, A Little Me. And it seems Matt's learned a lot since his marriage ended. Now, he's in a relationship with Roloff Farms manager Caryn Chandler. The two have been together for years, and it seems marriage is certainly in their future. And Matt claims he's learned how to be much more attentive to others' needs now that his marriage with Amy ended.
"I try to work at it. I've made mistakes in the past, and you have some regrets and stuff, so I try to realize that you gotta work at it. You gotta keep up the pressure," Matt told Us Weekly during an interview with Chandler by his side. "I've redoubled my efforts this time around to make sure that I'm … don't let my guard down and I don't let time slip away and don't forget the important moments and the communication. That's a lesson that I've learned over time."
Zach Roloff and Matt talked about Amy's engagement on 'Little People, Big World'
When Amy told Zach about her engagement on Season 20 Episode 5, he didn't seem too thrilled — and she wasn't all that surprised by his aloof reaction. According to Zach, he asked Matt and Amy to tell him any major news regarding their relationships off-camera. And Amy claimed she "forgot" that this was her son's preference. Ultimately, this led to a lot of tension between them — but Amy's confident Zach will come around.
Matt appeared happy that Amy found someone that seems to fit her quite well. And he and Zach talked about the engagement on the show.
"It's always a little bit of a surprise. But, at the same time, I was surprised and then not surprised," Matt told Zach of the news while on Roloff Farms.
"I think we're all welcoming it. Like, that's great. But I don't think we're necessarily, like, jumping and celebrating it," Zach added.
Zach shaded Matt due to past behaviors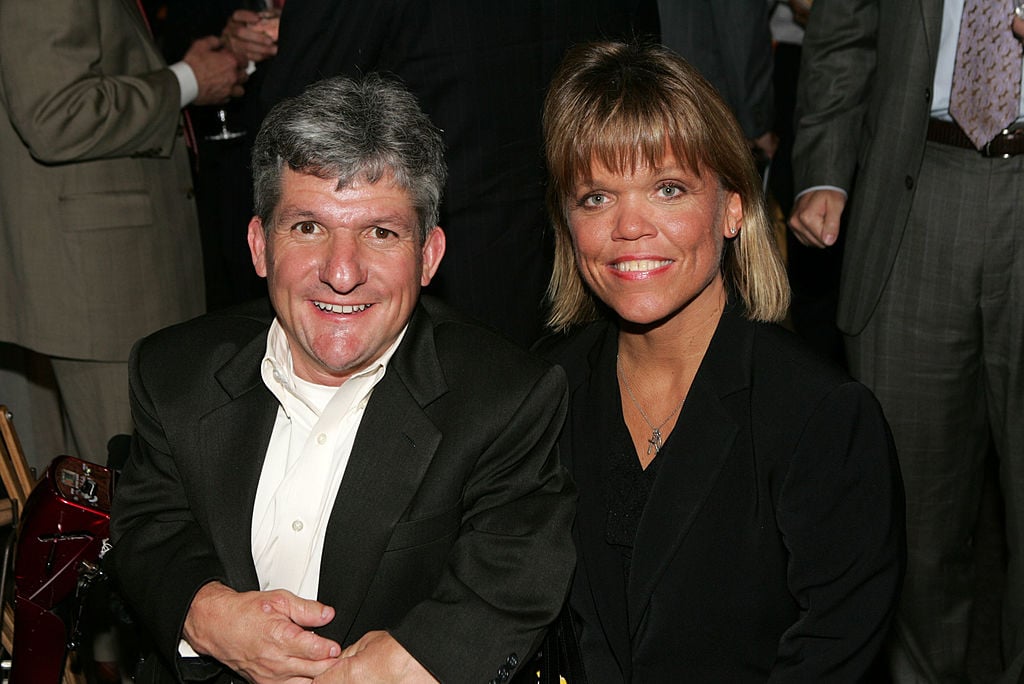 While Zach and Matt's conversation started about Amy and Marek, it quickly shifted to Matt and Amy's divorce and the impact their separation had on the family.
"I 100% understand," Matt expressed to Zach. "Nobody's gonna celebrate when your parents go through divorce." Matt then talked to the camera about the challenges his own kids have faced due to his divorce from Amy. "It's a tough process. It's never easy. I'm happy for her and I feel like it'll be good for her," he added.
"My dad had some nice things to say about my mom and Chris and the engagement," Zach noted on the show. "Chris is a good guy, I think, for my mom." Then, Zach seems to throw shade at Matt, as he tells the camera, "Dad, you were that good guy for mom. So, if you put all the history in the past behind us, yeah, sure, it is great. Why couldn't you be as agreeable 25 years ago?"
It seems Zach may still hold some animosity toward Matt. But we're sure Zach will get more used to his mother being engaged as the season progresses!
Check out Showbiz Cheat Sheet on Facebook!