'Lucifer': The Best and Worst Episodes of Season 2, According to IMDb
Lucifer recently ended its six-season run on Netflix, but the show's earlier seasons aired on Fox. They set the stage for the end of Lucifer (Tom Ellis) and Chloe's (Lauren German) journey — and for their long-spanning, will they/won't they relationship. Lucifer Season 2 ramps up the romantic tensions between its main characters while introducing new celestial storylines into the show. And the episodes that focus on Lucifer and Chloe were more well-received than the rest — at least if IMDb reviews are anything to judge by.
[Spoiler warning: This article contains spoilers for Lucifer Season 2.]
What happened during 'Lucifer' Season 2?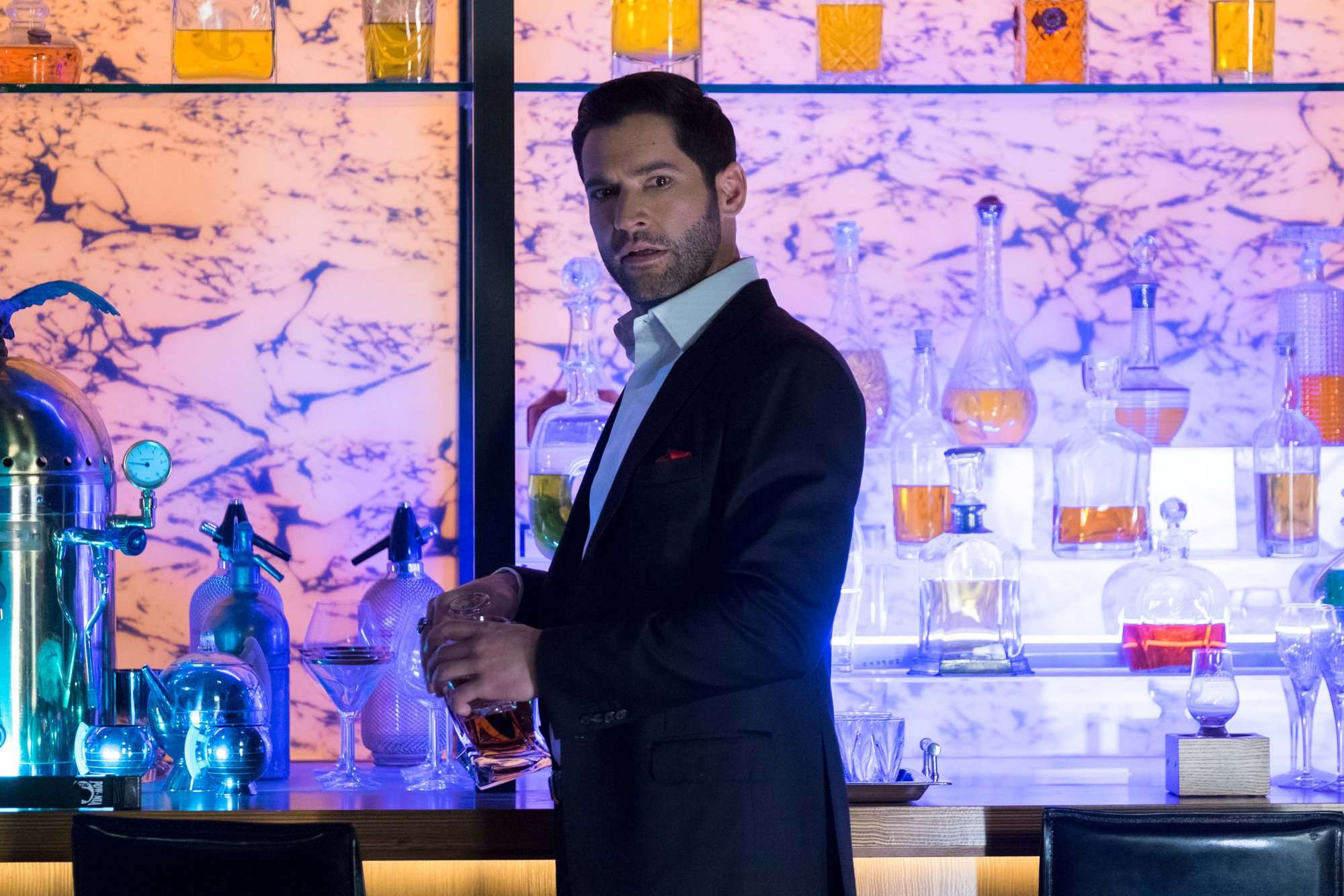 RELATED: 'Lucifer' Star Tom Ellis Reveals His Reaction After Reading First Script: 'I Have to Play Him'
Much of Lucifer's sophomore season focuses on his and Amenadiel's (D.B. Woodside) mother coming to Earth in the body of Charlotte Richards (Tricia Helfer). The first season finale ends with Lucifer receiving instructions to find the Goddess of Creation, and season 2 opens with her falling into the dead body of the defense attorney.
Of course, while Lucifer's mom dominates the season's overarching plot, his relationship with Chloe evolves as the pair solves the episode-to-episode mysteries. Lucifer also struggles with the arrival of one of his brothers and the fact that God purposely put Chloe in his path — two important subplots for his character growth.
And it seems the episodes that focus on Lucifer's growth and his bonds with his loved ones were the most well-received of season 2. Which was the highest-rated?
The best episodes of season 2 focus on Lucifer and Chloe
RELATED: 'Lucifer': This Season 6 Episode Was Inspired by 'Avatar: The Last Airbender'
Lucifer Season 2 ends with Chloe and Lucifer kissing after an entire season spent building their slow-burn romance. Naturally, the finale is one of the highest-rated installments, bringing in a 9.2-star rating on IMDb. However, "The Good, the Bad, and the Crispy" isn't the highest-rated episode. That honor goes to another installment — one which demonstrates just how far Lucifer will go for his partner.
According to IMDb reviews, Lucifer Season 2 Episode 13, "A Good Day to Die," is the best installment of the season. "A Good Day to Die" sees Lucifer returning to Hell after Chloe's been poisoned, all to seek out the only person who knows how to create an antidote. Dr. Linda (Rachael Harris), Maze (Lesley-Ann Brandt), and his mom help him in this endeavor.
Not only do the events of this episode highlight Lucifer's dedication to Chloe, but they zoom in on his guilt over Uriel's (Michael Imperioli) death. Ellis gives an emotional and memorable performance. In fact, two reviewers went so far as to call "A Good Day to Die" the best episode of not just season 2, but of the first four seasons. One wrote on IMDb:
"There are so many outstanding scenes in this episode. Lucifer having a LOT of guilt because of him killing his brother and almost not getting out of hell was a really good story. They all played super good and I cried when I saw the hell scene."
"This one has it all!" another fan wrote on IMDb. "The climax is amazing and the soundtrack with 'Unsteady' from the X Ambassadors is simply perfectly combined with the moment. All the main characters take part in it, and it's really breathtaking."
'Sin-Eater' is the lowest-rated of all the episodes
RELATED: 'Lucifer' Stars Tom Ellis and Lauren German Recall 1 of Their Favorite Episodes to Film
While the most popular episodes of Lucifer Season 2 seem to include the entire cast and focus on Lucifer and Chloe's bond, the lower-rated episodes see the gang separated — and Lucifer and Chloe focused on more episodic problems.
Of all the installments in season 2, "Sin-Eater" appears to be the least-loved — though fans didn't specify why. The third episode of the season received an 8.2 rating on IMDb, which doesn't place it too far below the others. It sees Lucifer and Chloe tracking a serial killer committing a series of disturbing murders. They eventually determine the killer is exacting revenge on the victims, all of whom posted embarrassing videos of other people online.
Perhaps it's the gruesome murders that turned fans off about this episode, but it could also be the lack of celestial shenanigans. While Lucifer, Amenadiel, and their mom share a reunion at the end, not much happens in the main plot. That's always a bummer for fans hoping for answers and big developments. Fortunately, they get them later in the season.
All six seasons of Lucifer are currently streaming on Netflix.