'Lucifer' Music: Don't Miss Each Character's Curated Spotify Playlist, Courtesy of Netflix
Lucifer is currently on hiatus after dropping season 5B in May, giving fans a chance to ready themselves for the sixth and final season. In true Luci style, the show delivered the goods in humor, romance, family drama, and music. A side benefit of binge-watching the series is the musical path that accompanies each installment. Season 5 had its own soundtrack, and thanks to G-O-D, a karaoke episode.
But Lucifer fans know that every character on the series has their own flavor and vibe, and therefore, a matching playlist. Recently, Netflix tapped its social media audience to ask for Lucifer playlist suggestions for each character to round out a special project.
In the vein of Netflix TV shows such as Stranger Things and The Queen's Gambit, the streamer linked up with Spotify to create individual playlists for your favorite Lucifer characters. Here's a sampling of what's on rotation.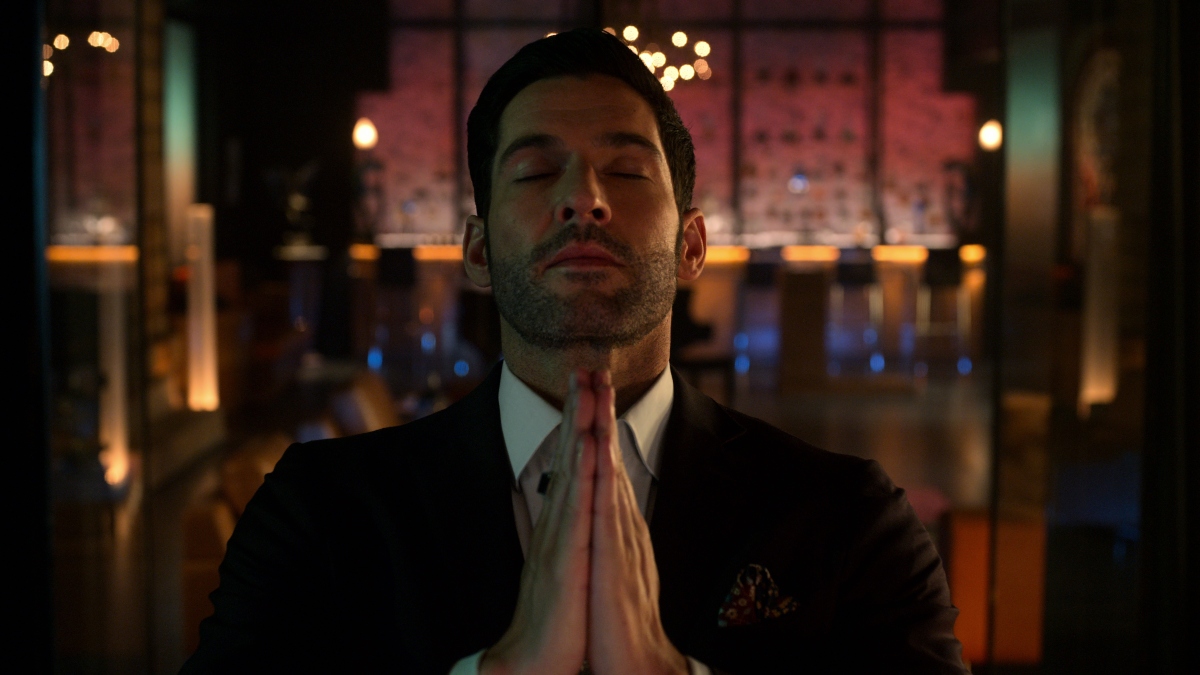 Lucifer loves devilish themes
He may be into classic rock, but Lucifer also digs Taylor Swift's "False God," Drake's "Best I Ever Had," and Bananarama's "Cruel Summer." Tune in to the Lucifer 39-song playlist and one will find artists like Amy Lee, the Rolling Stones, The Weeknd, Johnny Cash, David Bowie, and original songs from the show.
Chloe is into the '90s
Who knew the de-tec-tive was into Biz Markie? Along with some hip-hop, listeners can get into Chloe's sounds with *NSYNC, TLC, Taylor Swift, ABBA, Madonna, Whitney Houston, and more. There are 28 tracks on her list.
Maze loves Rihanna
Of course, Maze has RiRi's "S&M," "Work," and "Desperado" on deck, but she's also into Queen, M.I.A., Aerosmith, Janet Jackson, and Kendrick Lamar. Track #20 on her list is "Hot Girl Summer" by Megan Thee Stallion and Nicki Minaj.
God is all about the divine
Though it would have been funny to find "S&M" on this list too, Dennis Haysbert's God probably has the most on-theme playlist out of everyone. Songs like Journey's "Don't Stop Believin'," "God's Plan" by Drake, and Phoebe Bridgers' "I Know the End" pepper his playlist. Stream all 21 songs, including those from Pink, MC Hammer, and Radiohead because "Creep" is a classic.
Amenadiel favors cool classics
Current artists such as Taylor Swift and The Weeknd made Amenadiel's cut, but most of the songs on his playlists are classics, especially the love songs. Find Whitney Houston, K-Ci and JoJo, Mariah Carey, Creed, Roy Ayers, George Michael, and Kool & The Gang blaring from his speakers. Get into it.
Ella has upbeat bops
Sweet, bubbly Ella doesn't disappoint with her party sounds. Doja Cat, Dua Lipa, Rihanna, Ariana Grande, Harry Styles, and BTS are among her choices. The closer on her playlist is Pharrell's "Happy," which is not surprising.
Linda sticks with what she knows
Linda is not veering too much into contemporary pop or hip-hop territory. Instead, her list consists of artists such as Coldplay, Jeff Buckley, R.E.M., Jackie Wilson, The Staple Singers, and The Fray.
Dan rocks and rolls
When Netflix asked fans about songs for Dan, most chimed in with "Highway to Hell." Ouch. It's on there! Along with that AC/DC joint, there's some Avril Lavigne, Adele, Led Zeppelin, Red Hot Chili Peppers, Maroon 5, and more. Check out the 32 songs on his list here.
Not every song on these playlists were handpicked by fans, but they certainly provided input on the process. Visit Netflix's Spotify page to hear more tunes from the platform's popular shows and films.