'Lucifer' Season 5: Tom Ellis Says He and Dennis Haysbert Sobbed and Couldn't Get Through Their Lines in 1 Scene
Lucifer Season 5 sealed up its second half by forcing Luci to confront his daddy issues, and it happened face-to-face with his almighty father. It was a necessary part of his journey — and Chloe's too — so that he can finally have a healthy relationship with himself and others in his life. Tom Ellis and Dennis Haysbert brought the laughs, tension, and tears as celestial father and son, but there's one season 5B scene in the show that moved both actors emotionally.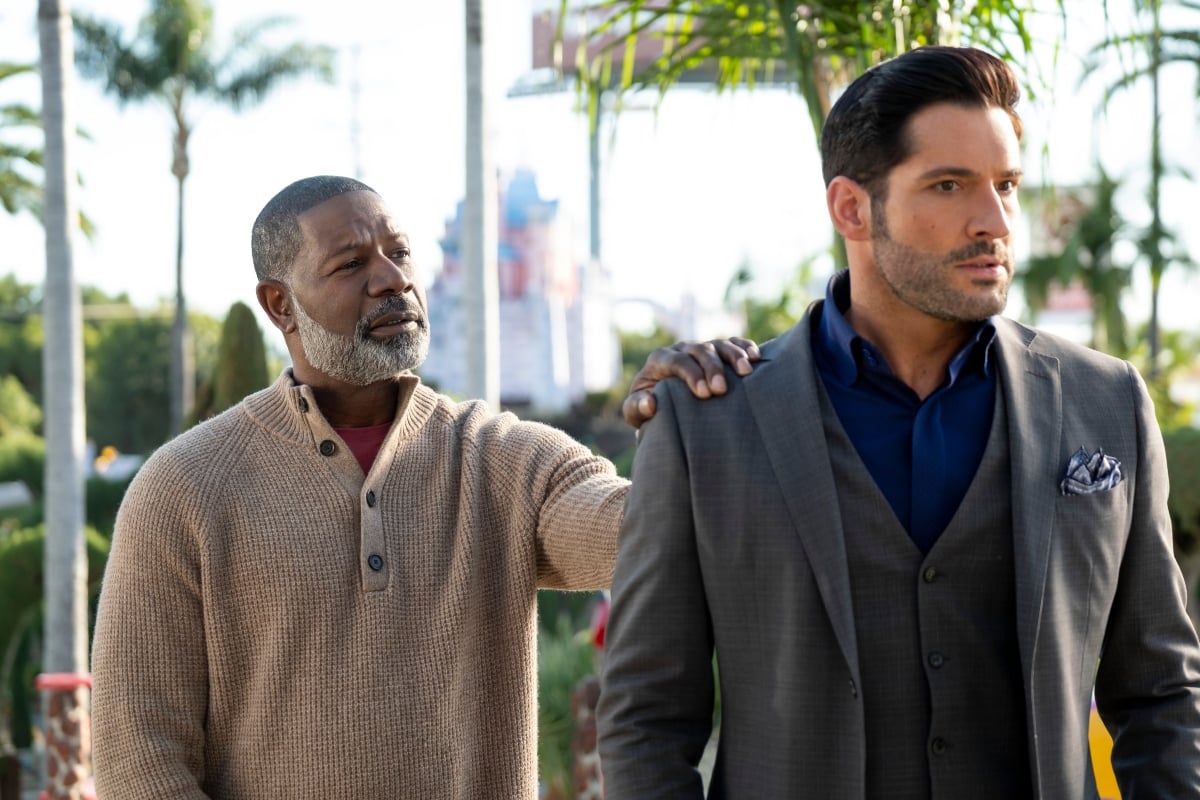 Tom Ellis says Dennis Haysbert really felt like his dad in 'Lucifer'
Off camera, the Lucifer team made it clear they cultivated a family atmosphere on set among cast and crew. That camaraderie is palpable on screen, and Tom Ellis talked about working with Dennis Haysbert in a June interview with In Creative Company.
He noted that when he first started playing Lucifer, he wanted to approach the character with a human perspective. "I wanted to forget when I was thinking about Lucifer that he was the devil," said Ellis.
When Haysbert joined the show, the pair had a conversation about God and Lucifer's dynamic and decided to focus on a normal father-son relationship. It's relatable. But Ellis expressed that it was nearly effortless for them to make it work.
"The lovely thing about working with him [Haysbert] is that it was really easy. Dennis felt like my dad from the moment I met him. Now, maybe that's because I have a huge amount of respect for him as a performer, as an actor, and as the president, but it was not difficult to think of him as my dad," he explained.
Tom Ellis recalls sobbing with Dennis Haysbert in 'Lucifer' rehearsal
Because it was so easy for them to get in sync, Ellis believes that Haysbert viewed him as a son as well. They had a moment during filming when they couldn't even get through their lines.
"There were moments when we looked into each other's eyes on the set — I remember the first time we rehearsed 'I Dreamed a Dream' and the scene surrounding that," said Ellis.
"I think we both as performers had been really looking forward to doing that scene. But I don't think we counted on how much emotion we both kind of stored up — in general… Suddenly, it was just unleashed in this first rehearsal. We were looking at each other trying to get through our lines and we were just both sobbing."
Ellis attributed it to knowing how much Lucifer wanted to be loved and accepted. "It felt very real when we were doing it."
Fans can watch the scene in episode 10
There were quite a few heartstring-pulling events in Lucifer 5B, but Ellis is referring to the exchange between Luci and God in episode 10, "Bloody Celestial Karaoke Jam." Lucifer tearfully belts out "I Dreamed a Dream" from Les Misérables as the two speak about their issues.
Once father and son put the karaoke stuff behind them, they seemed to find some semblance of peace in their rocky relationship. With God in another universe with Mom, the kids must now work through things on their own in season 6. But, at least Lucifer understands the nature of selfless love.
RELATED: 'Lucifer' Season 6: Showrunners Reveal What's in Store for Bonus Season