'Lucifer' Season 6: Tom Ellis Instagram Post Drives New Fan Theory
As Lucifer prepares to release Lucifans from waiting game purgatory with season 6, the time is right for another round of fan theories. From Dan to Michael to Deckerstar, viewers have ideas about where things are headed for some of their favorite characters. But Tom Ellis has people's wheels turning thanks to a recent social media post. Could he be holding the key to a major plot point for season 6 of the show? Some fans think so.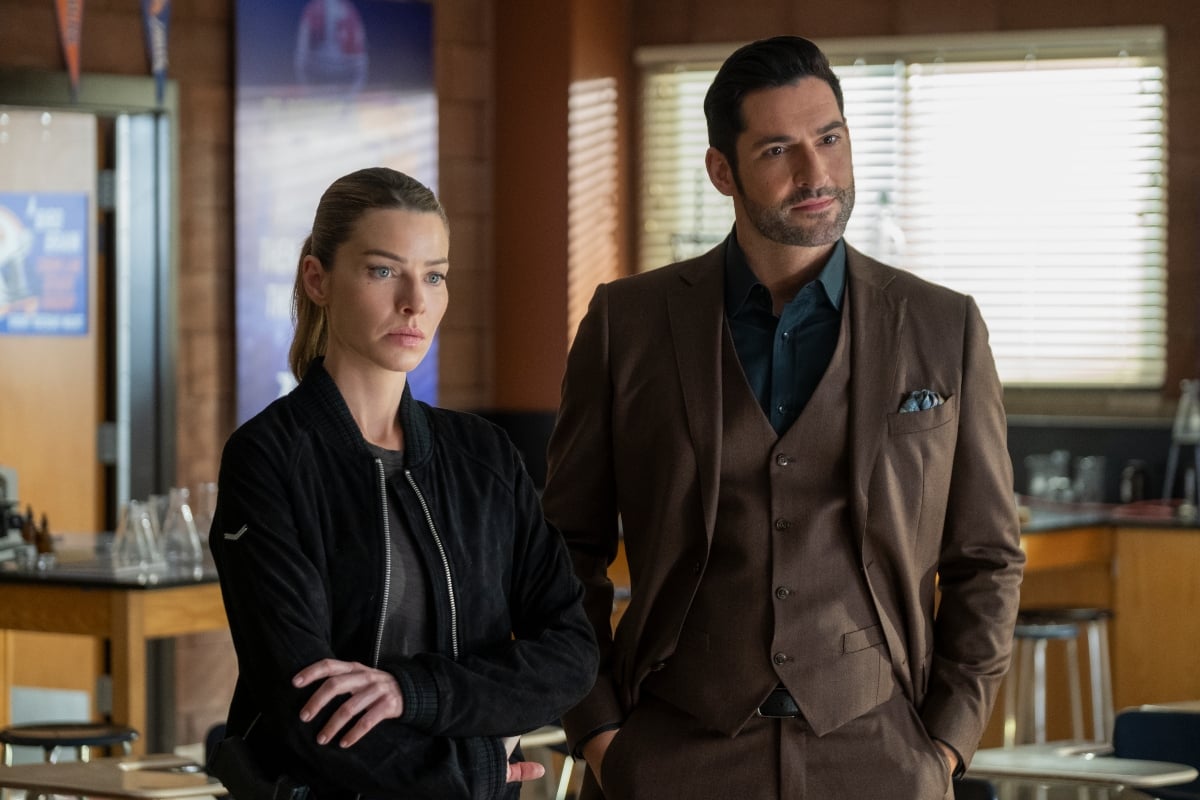 Tom Ellis' 'Lucifer' post features a famous car
Those who keep up with Tom Ellis on Instagram noticed an interesting tease on one of the star's latest posts. And no, it has nothing to do with his physique. Rather, there's a photo that features Ellis — dressed as Lucifer — leaning on a DeLorean.
That car has become synonymous with Back to the Future, the classic blockbuster movie about time travel. Though there's no clock tower lurking in the background or a flux capacitor, there's a newspaper at dapper Lucifer's feet. Ellis' simple caption, "Good times are coming," holds no clues, but his hashtags do. He mentions "teaser," "season 6," and "behind the scenes." And eagle-eyed fans peeped a cool detail in the photo.
Lucifans spot a time travel nod to Chloe Decker's mom
Chloe's mom showed up in season 5 and went on a date with God, but she didn't spend that much time reminiscing about the glory days of her career. However, Lucifer fans know that Penelope Decker was once an '80s sci-fi screen queen, and Ellis' post is a reminder.
On the marquee behind him is the title of one of Penelope's movies, Althea: Queen of the Quarks. Fans recall the film being namedropped in the show as one of her acting credits, and it has many wondering if Lucifer is going to travel back to the '80s. John Decker was still alive when Penelope worked on the film, and Chloe has memories of that time too.
Back in December, Lucifer fans in Italy discovered a similar photo that had older, non-DeLorean cars driving past the theater. A video shows a close-up for the faux film's poster with Penelope in her full purple alien costume.
The whole scenario has some viewers believing that Lucifer will jump around the timeline now that he's God. But does this have anything to do with Chloe? Or is he working on a case? A few Redditors wonder if Luci is cooking up a way to save Dan by traveling back in time. All signs point to time travel, however, and the theory is the DeLorean equates to a Marvel-like storyline.
'Lucifer' Season 6 arrives in September
Confirming this time travel theory won't take long, as Lucifer Season 6 drops on Sept. 10. Netflix and Lucifer cast and crew announced the news during Comic-Con @Home and on social media. Fans can look forward to 10 episodes with more Lucifer, Amenadiel, Maze, Chloe, Linda, Ella, and even Dan when the show returns. And Deckerstar is central to the plot.
While we don't expect to see Christopher Lloyd's Doc or Michael J. Fox in the upcoming season, one never knows what tricks the devil has up his sleeve.