'Lucifer': Tom Ellis Guesses the Fate of Lucifer's Corvette After Season 6
Wonder Woman has her invisible jet, Batman has his Batmobile, and Lucifer owns a vintage Corvette. Comic book heroes, villains, and anti-heroes typically have a primary mode of transportation, and Los Angeles-dwelling Lucifer famously drives a black convertible. With the TV show wrapping up after season 6, what will happen to Satan's sweet ride? Tom Ellis thinks he has an idea.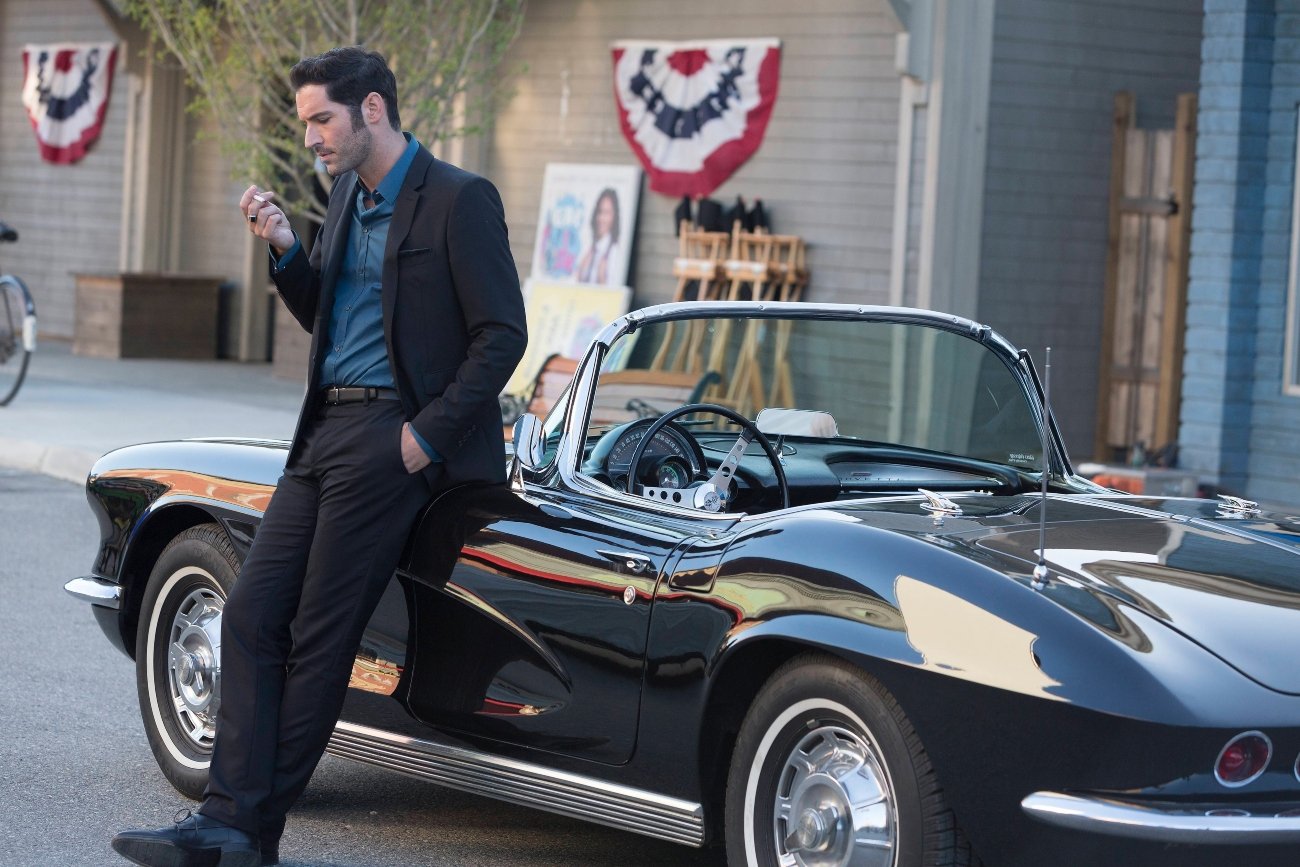 Tom Ellis thinks Lucifer's car may go in a museum
Smackdab in the middle of quarantine 2020, Tom Ellis appeared on Creation Entertainment's live virtual Lucifer panel. He did a long round of fan Q&A, and a viewer asked about the post-production fate of Lucifer's car. Ellis stated he asked someone on set the same question because he assumed he filmed his last scene with the car — ever. He called it "a sad event."
"I believe it will probably be held at Warner Brothers, because Warner Brothers own the show. There is a Warner Bros. studio tour that happens, and it's part of that Warner Bros. studio tour," said Ellis. He thinks that once tours open back up again, the Corvette may appear.
"I believe there is a motor museum part of that tour where the Batmobile is and the Mystery Machine from Scooby-Doo — I believe is there as well. I wonder whether Lucifer's Corvette might be there as well."
Ellis added that he plans to keep an eye out to see if the 'vette goes up for sale because he would love to buy it. "It is absolutely gorgeous, but it's a beast to drive. Just FYI."
What kind of Chevrolet Corvette does Lucifer drive?
Rather than use his wings to travel or own a car with a diabolical name, Lucifer opted for a black 1962 C1 Corvette. Roughly 14,000 C1s were manufactured that year, and according to Corvette Pacifica, 1962 produced the fastest and last of the first generation models.  
While most that came off the line were white, other models were black, red, blue, silver, maroon, and beige. It's noted in one episode, Lucifer drove a red version of the car in an alternate reality. It's become synonymous with the character, and in the series' early aughts, Ellis had a memory of cruising around the city in the car.
When speaking with Content Mode, he said the experience helped set a certain tone for the show. "There's a certain 'Noir' feel to Hollywood at night and driving around it in Lucifer's car during the pilot shoot gave me a real sense of how our show would look and feel."
Tom Ellis also drove a convertible in another show
Before immortalizing the role of Lucifer, Ellis starred in USA's Rush. Its premise may sound a little familiar. A party-loving doctor in Los Angeles loses his position as an emergency room physician and turns to concierge medicine. Ellis played Dr. William Rush, a character with his own secrets and desires, and a vintage automobile.
Rush drove a Mercedes convertible, a 1970 Mercedes-Benz 280 SL to be exact. The show never made it past its first season, so there's no telling where the car wound up after production.
Lucifer fans should stay tuned for updates on prop auctions to see if the Corvette magically pops up in a listing, fulfilling one's greatest desire.