'Lucifer' Stars Tom Ellis and Lauren German Recall 1 of Their Favorite Episodes to Film
Lucifer Season 6 dropped on Netflix last week, bringing the beloved series to a close after five years of devilish fun. Tom Ellis and Lauren German have stuck with the show since the very beginning, bringing the titular Lucifer and his partner Chloe Decker to life for 93 episodes. With so many adventures under their belts, it can't be easy to choose a favorite. However, both actors cite one episode from season 1 as being the most fun to film.
[Spoiler warning: This article contains spoilers for Lucifer Season 1.]
After 6 seasons of 'Lucifer,' the stars found the ending 'bittersweet'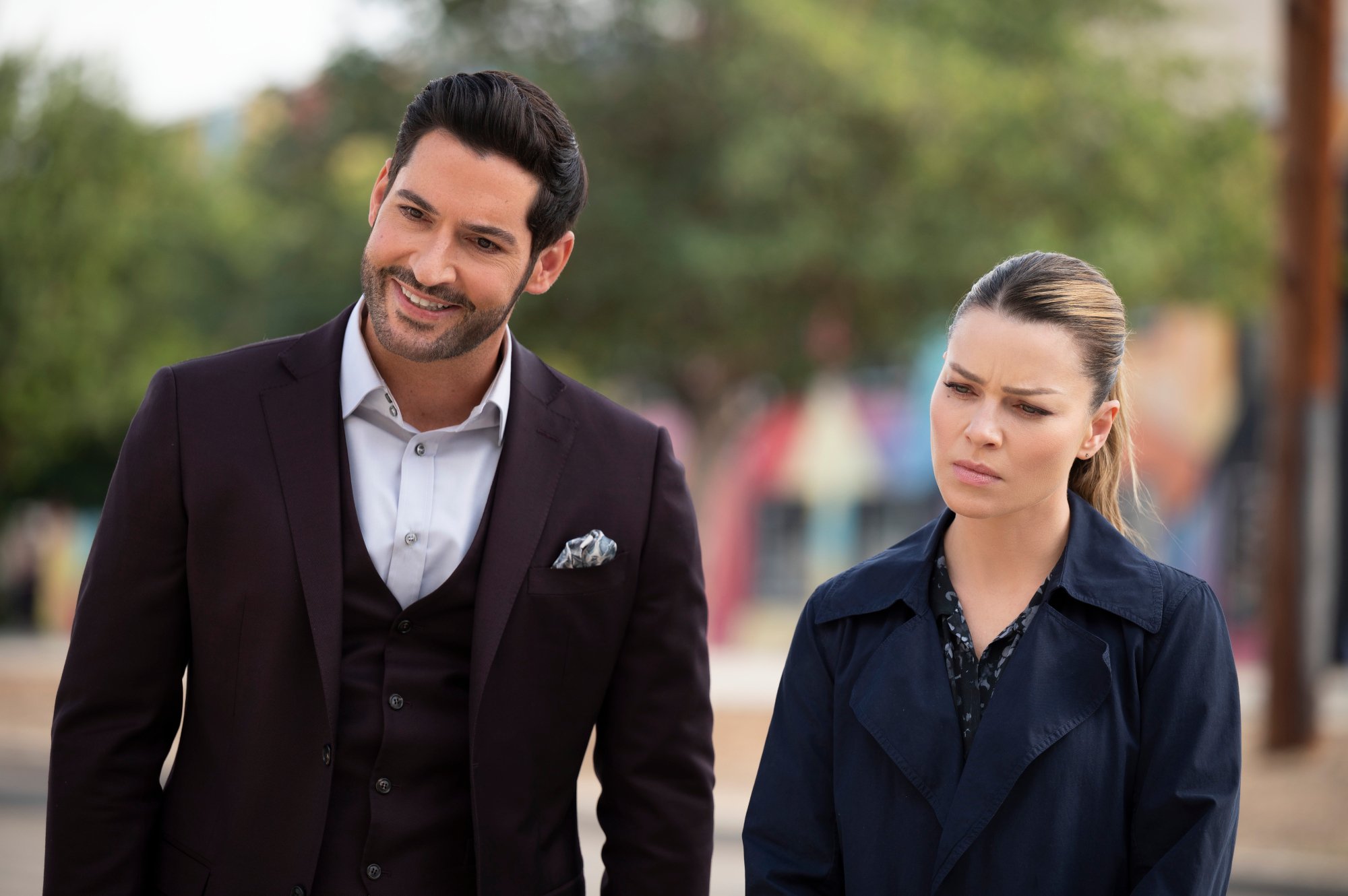 After six seasons and 93 episodes, it's natural Ellis and German would feel attached to the show and the characters they brought to life for so long. Perhaps that's why they found the ending so "bittersweet" — well, that and the fact that Lucifer Season 6 packs a pretty powerful emotional punch.
Speaking with TVLine, the two emphasized that fact. Ellis felt it was "a fitting goodbye" for both Chloe and Lucifer. He also believes the series finale will leave fans in tears — in a good way.
"I hope that they'll be sobbing!" he admitted. "And I hope their hearts will be filled with joy at the same time."
"'Bittersweet' is a great term for the ending," German agreed. "I think ultimately they'll get what they want to see."
Even with so much focus on the ending, however, the two stars recently reflected on the show's beginnings. In particular, they both recalled their favorite episode to film: a throwback from Lucifer Season 1.
Tom Ellis and Lauren German both loved shooting this season 1 episode
Looking back on their time on Lucifer, both Ellis and German recall a season 1 episode as one of the most memorable to film. According to the stars, they could barely look at one another without bursting into laughter.
During an Around the Table interview with Entertainment Weekly, Ellis and German both said they'd love to "revisit" the shoot for Lucifer Season 1 Episode 9, "A Priest Walks Into a Bar."
The 2016 installment sees the crime-solving duo protecting a priest named Father Frank (Colman Domingo) from a murderer and drug dealer. Unfortunately, they don't succeed in that endeavor. Lucifer gets to know the priest right before he's shot to death, forcing the devil to cope with the loss — and question whether there's any meaning behind it all.
Oddly enough, Frank's death scene is precisely why the actors couldn't stop laughing. German recalled reaching a "point of absent bliss delirium" after long hours of filming.
"I've never laughed so hard," she said. "Tom, Colman, and I laughed so hard shooting the church scenes of that episode, I couldn't breathe. We were dying laughing. And it's just one of the best memories."
Why 'A Priest Walks Into a Bar' is one of Tom Ellis' favorite 'Lucifer' episodes
RELATED: 'Lucifer': The Reason Lauren German Was Driven to Tears Behind the Scenes Might Surprise You
While German recalls the death scene from "A Priest Walks Into a Bar" as particularly memorable, Ellis cites another moment as his favorite. His character and Father Frank have a piano duet during the episode, one of the series' first musical moments. At the time, Ellis wasn't expecting anything like that to crop up — and the scene changed his perspective of what future episodes of Lucifer could look like:
"That, to me, was a real, huge moment in the show, and it really showed how different this show could be to what you expect it to be. And it was just a genuine moment. No words."
The duet remains one of Ellis' favorite moments from Lucifer, and it's one he looks back on incredibly fondly.
"That's a moment I will always go back to and think, 'I don't think I've ever been more euphoric on a set of anything, doing that,'" he explained. "There's been moments since then where we've done musical numbers and stuff and it's been amazing, but that was… I remember it being the first time. It was like, 'Wow, this is really special.'"
Of course, Lucifer went on to have many moments just as fun as the musical number from "A Priest Walks Into a Bar." For Ellis, however, it seems nothing will compare to that first one.
All six seasons of Lucifer are currently streaming on Netflix.