Lucille Ball Called This the 'Best Year of My Marriage to Desi'
I Love Lucy brought superstardom to comedy icon Lucille Ball and her husband Desi Arnaz. Launching the classic sitcom shortly after the birth of her first child, daughter Lucie, Ball saw positive changes in her spouse as they were about to premiere as television's most famous couple.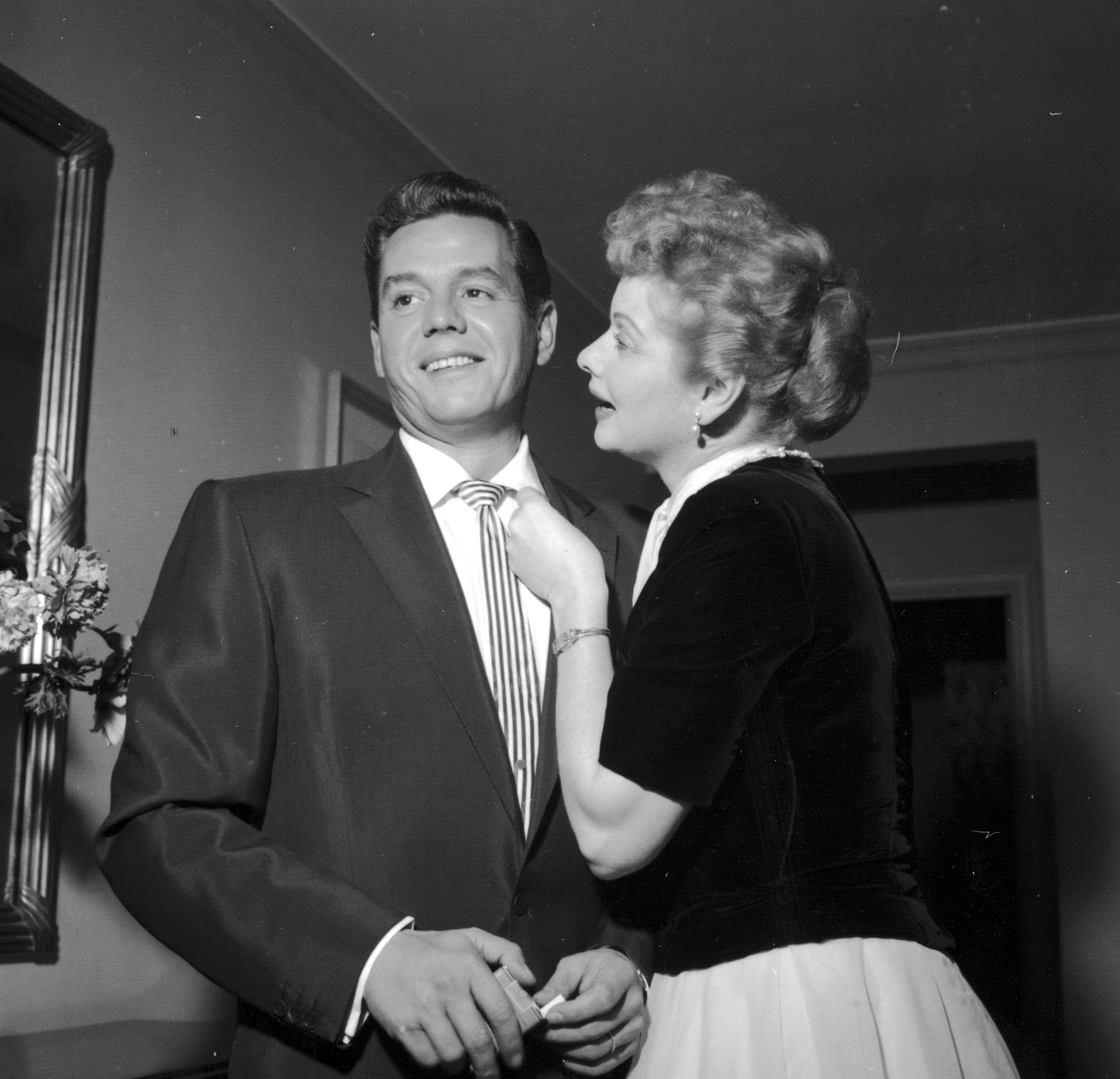 Lucille Ball expanded her family and career at the same time
The famous redhead had been open about the heartbreaking miscarriages she experienced when she and Arnaz had tried to start a family. Thankfully, toward the end of 1950, she discovered she was pregnant again and prioritized her well-being.
"This time I decided that nothing was going to endanger my becoming a mother," she wrote in her autobiography, "Love, Lucy". "I cancelled everything except my radio show and sat placidly at home, knitting and waiting."
Ball wasn't even halfway into her pregnancy when she and Arnaz were offered a network deal to headline the sitcom I Love Lucy.
"When I was going int my fourth month of pregnancy, CBS suddenly gave Desi the green light," Ball recalled. "They would finance a pilot for a domestic television show featuring the two of us as a married couple. … For ten years, Desi and I had been trying to become co-stars and parents; now our dearest goals were being realized much too fast."
RELATED: How Desi Arnaz' Old Behaviors Affected His Working Relationship with Ex-Wife Lucille Ball
'I Love Lucy' star enjoyed a 'daze of happiness'
The couple had been through various rocky patched during their 10-year marriage, including rumors of Arnaz's infidelity and excessive drinking. Ball noticed a welcomed shift in her husband's behavior when she was expecting their first baby.
"The best year of my marriage to Desi was just before and after the birth of our first child," the famous comedian shared. "We exchanged no harsh words and experienced no upsets of any kind. Desi hovered over me, attentive to every need. I was grateful to God and in a complete daze of happiness."
Apparently, Ball's pregnancy even impacted Arnaz's driving. He purposely lightened up on the gas pedal after hearing news of their upcoming arrival.
"Desi had a yellow convertible he usually drove at 70 and 80 miles an hour," Ball explained. "As soon as he learned I was expecting again, he began driving as conservatively as an old lady. He put up the convertible top and even rolled up all the windows to elimanate drafts. … The more conservative he became, the happier I grew. This was the way I'd always hoped our marriage would be."
The show had to go on for Lucille Ball
Ball vividly remembered welcoming their daughter into their lives on July 17, 1951, in the midst of planning out the launch of I Love Lucy.
"Lucie's coming changed our life completely," she wrote. "Before, there had been two professional people in the house, discussing deals and contracts and money matters and scripts. Now suddenly there was a fragile little new spark of life there, affecting everything we thought or did."
RELATED: Lucille Ball's Daughter Said She 'Didn't Want for Anything' During Her Childhood – Except 'Time With Our Folks'
With the sitcom premiering just three months after her daughter's birth, Ball wasn't allowed an extended maternity leave. She regretted being absent during Lucie's newborn stages.
"I had to go right back to work after Lucie was born, so I missed hours and hours and hours of her earliest life," Ball revealed. "Six weeks after she arrived, I walked on the Lucy set to start filming the series."
Ball and Arnaz welcomed a son, Desi Jr., in January 1953. Though I Love Lucy was a massive hit, they divorced in 1960 after 20 years of marriage.