'Lupin': Netflix Confirms Part 2 Release
Upon its release on Netflix, Lupin stayed in the streamer's "Top 10" list for weeks. A mix of drama, action, and mystery, the series takes place in France and centers on Assane Diop, the son of a Senegalese immigrant wrongfully accused of a crime.
Loosely based on the books by Maurice Leblanc, Lupin has created a global fan base with its modern take on a classic character. With 70 million streams for part 1 so far, Netflix confirmed that part 2 of the French-language tale will be here sooner than we think.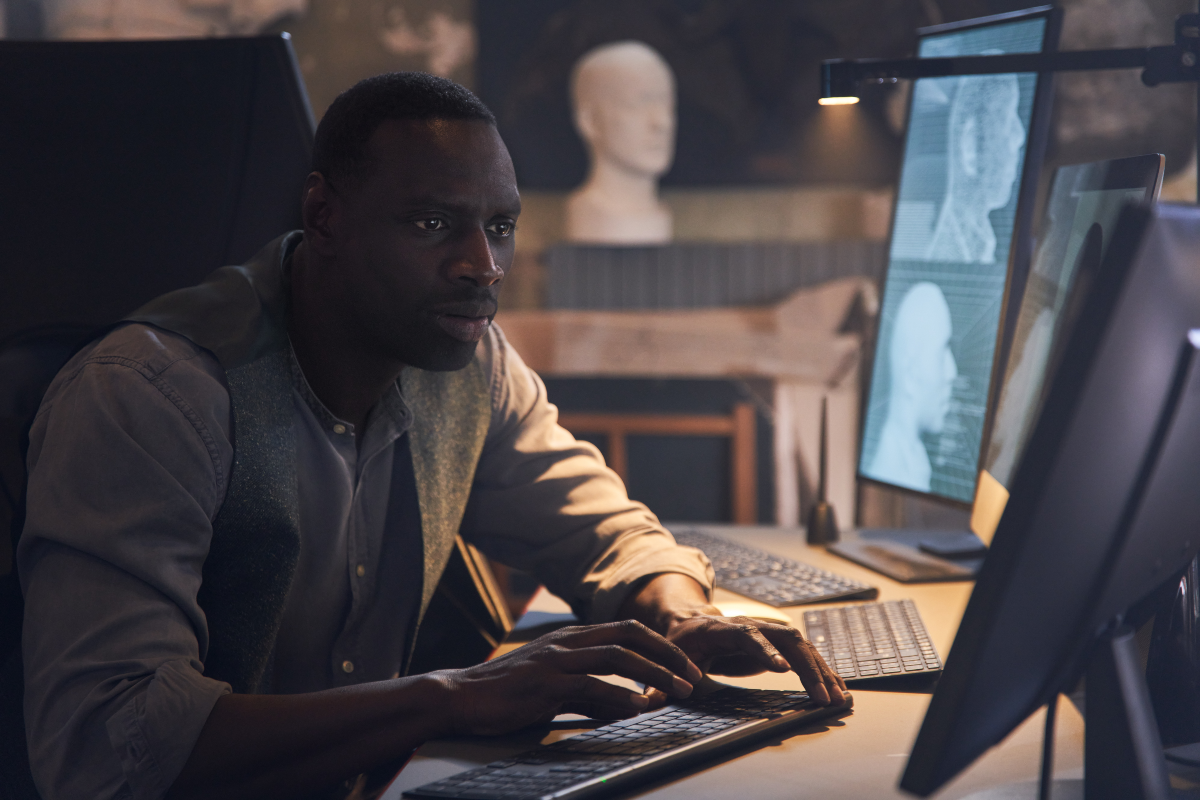 Lupin' Part 1 ended on a cliffhanger
As viewers learned more about Assane Diop's motivations as a gentleman conman, many quickly began rooting for him in his quest for revenge. Inspired by the exploits of Arsène Lupin, Omar Sy's Assane launched a series of schemes to bring down those involved with his father's conviction and death.
Although he did his best to disguise himself and cover his tracks, he slipped up, allowing a detective to decipher his riddles and his enemy's henchman to find him. After that dustup on the train in episode 5, Assane lost track of his son Raoul on the boardwalk, making the boy easy prey for Pellegrini's guy.
The closing moments in the episode left him shaken about his missing son and frustrated that Detective Guedira caught him.
RELATED: Is Arséne Lupin on Netflix's 'Lupin' Real?
Netflix to drop 'Lupin' Part 2 in 2021
What's next for Assane? Fans will not have to wait long to find out, as Netflix just announced part 2 of Lupin will be released in summer 2021. Per the streamer's news release, five more episodes are on the way and were directed by Ludovic Bernard and Hugo Gélin.
Although there aren't many hints about what to expect in the second half of the show, Sy recently told the New York Times the story will continue to explore themes of family, society, and culture.
"The idea of inheritance moves me — what do we retain and what do we pass on?" said Sy. "For me that's the true meaning of life, what makes us human," he added.
What to binge in the meantime
In the mood for another story about heists, clever deception, or revenge? In addition to devouring the Arsène Lupin books, there are films and TV series that may fit the bill.
According to The Times U.K., sales of the books have had a monumental increase in France since Lupin launched on Netflix. It's children who are buying them up, knocking a J.K. Rowling title out of the top spot.
As far as the big and small screen, Lupin has been compared to the Ocean's films starring George Clooney, as well as the British TV show Raffles.
USA's White Collar stars Matt Bomer as a suave thief/forger who, after getting caught by the authorities, assists the FBI in capturing white collar criminals. On occasion, he runs a few side jobs.
One of Netflix's other international hits, Money Heist, is less about charming con artists and more about a sophisticated plot to "steal" from the establishment. And yes, there is revenge, trickery, and plenty of duplicity. It's up to the audience to decide whether it's all for a good cause.