Lynda Carter Calls 'Wonder Woman' an LGBTQ 'Icon'
Companies, characters, and celebrities have shown their support during Pride Month. Some critics decry those efforts as nothing more than virtue signaling, but they've received pushback from the LGBTQ community and its allies. For example, actor Lynda Carter recently shared a strong opinion on Twitter about how her most iconic character, Wonder Woman, has always been a "queer or trans icon" and that anyone who argues otherwise hasn't been paying attention.
Lynda Carter schools critics
Lynda Carter's Twitter post from June 1, which marked the beginning of Pride Month, grew from a discussion prompted by an earlier post. The actor shared Paulina Ganucheau's colorful artwork of Wonder Woman wielding her Lasso of Truth, which forces anyone entwined in the golden rope to spill their guts, against a rainbow background. 
One Twitter user replied, "Wonder Woman IS NOT A SUPER HERO FOR GAYS!" 
Carter unequivocally shut down the argument that Wonder Woman is somehow not an LGBTQ icon: "You're right. She's a superhero for bisexuals!" 
Framing Wonder Woman as a bisexual icon has become canon, thanks to DC Comics writer Greg Rucka.
According to Comic Book Resources, the Amazon demigoddess was the first bisexual superhero. That fact hasn't always been explicit, but modern storytellers no longer beat around the bush about Wonder Woman's sexual orientation. The superhero finally and irrevocably came out in 2021's Dark Knights of Steel when she kissed her girlfriend.
Wonder Woman, LGBTQ icon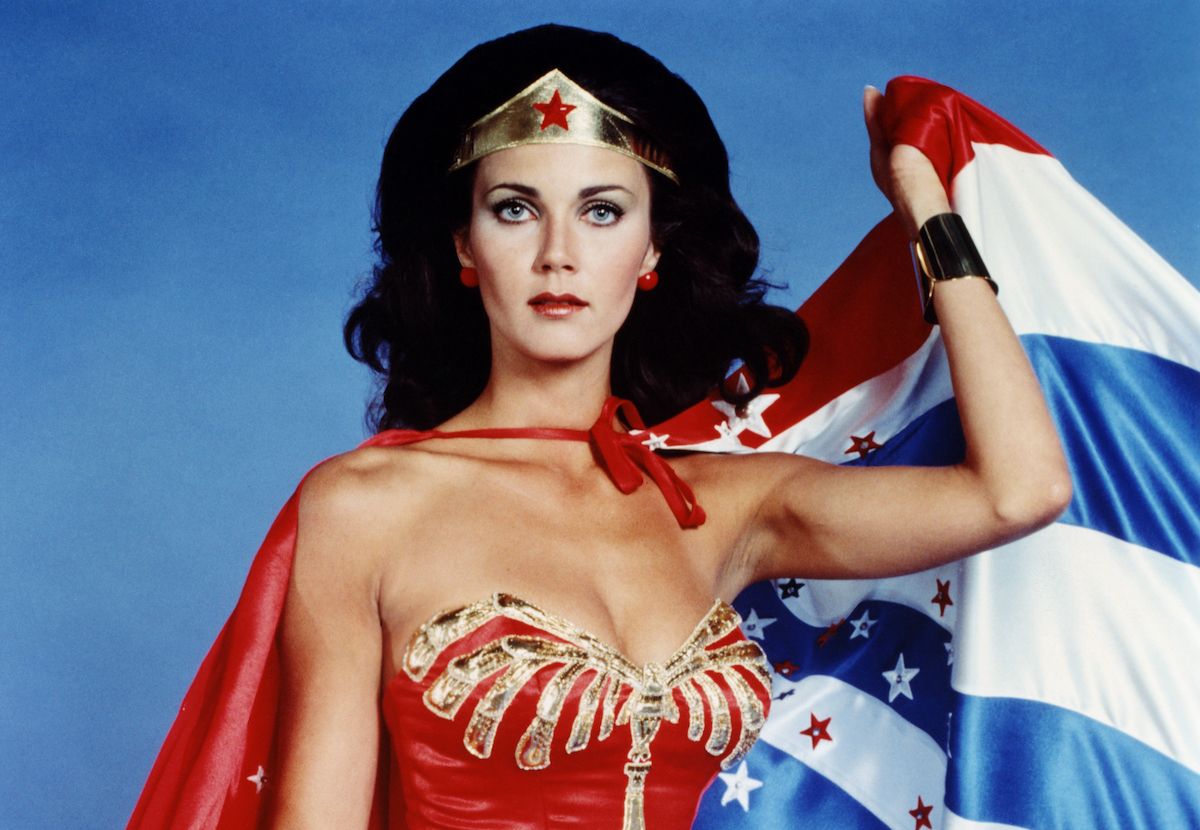 Of course, there have long been jokes about how an entire island of Amazons would have satisfied their romantic and sexual desires with no man in sight. So this confirmation really shouldn't come as a surprise. But even if Diana Prince were not bisexual, members of the LGTBQ community have long composed a portion of the character's devoted following. Lynda Carter likely noticed that fact when she played the role in the 1970s TV show Wonder Woman.
In some ways, it's easy to see why a character who breaks gender stereotypes by being liberated and physically strong would appeal to LGBTQ folks who have always had to pave their own way, much as Wonder Woman has done on the screen and page. She may be a fictional character, but she gave real strength to many who had to come out, something Carter has heard from fans over the years.
In fact, actor Gal Gadot and her Wonder Woman 1984 co-star Kristen Wiig discussed the movie's queer themes and why the LGBTQ community has gravitated toward the character. Their Gay Times interview even mentioned the many drag queens who dress like Wonder Woman. Gadot suggested that embodying femininity while also being strong might appeal to that demographic, no matter which actor portrays the superhero.
Yet that interview didn't earn the same backlash as Carter's tweets earlier this month, perhaps because the people who refuse to see Wonder Woman as a gay icon are unlikely to follow that outlet. Still, Carter wasn't deterred. She continued to interact with followers on Twitter, including sharing a photo of herself as a young woman with fists up and a humorous joke about the reader's "homophobic relatives." The actor also followed up the next day to mention organizations worth supporting this Pride Month.
Like Wonder Woman, Lynda Carter has fans too
It's no wonder that Lynda Carter herself has many adoring fans, which might explain why she has continued to take roles based on comic book characters. For example, the actor played President Olivia Marsdin in the Supergirl series. Fans might even have noticed Carter in Wonder Woman 1984. She played the Amazon Asteria, whom Diana, currently played by Gal Gadot, described as her people's greatest warrior. 
However, Carter was noticeably missing from the first Wonder Woman movie in the current DC Extended Universe. Although Carter had spoken to the movie's director, Patty Jenkins, the "timing was off," and she couldn't commit to the first film. Fans are lucky that Carter could make the follow-up film work, however.
And there's more to look forward to: Carter has already been announced to return to the role in Wonder Woman 3. However, fans will have to wait for the third movie.
RELATED: Cathy Lee Crosby Was the First Woman to Play a Superhero in TV Movie 'Wonder Woman'