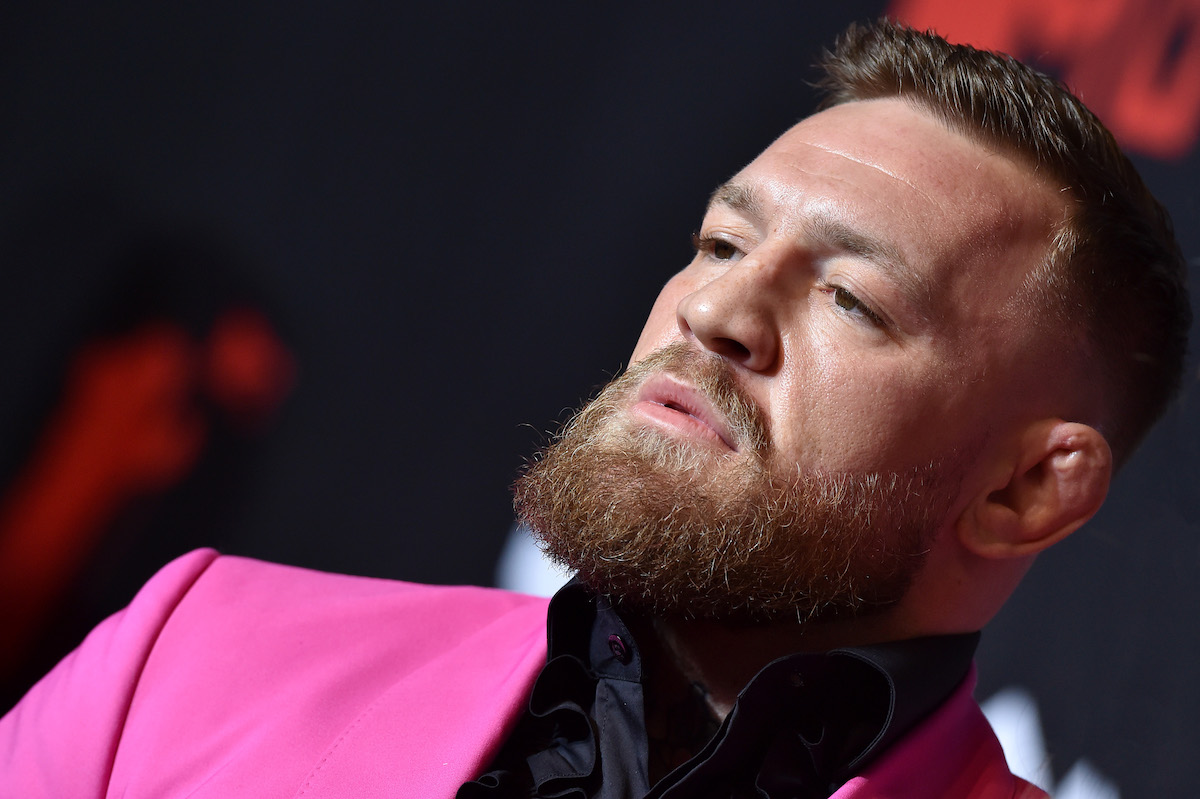 Machine Gun Kelly and Conor McGregor Allegedly Skirmished at the VMAs
Machine Gun Kelly and Conor McGregor might have gotten into a fight on the VMAs red carpet. Here is what happened and what McGregor had to say about the incident.
Machine Gun Kelly had an eventful night at the 2021 VMAs. Between shutting down the red carpet with Megan Fox and his live performance with Travis Barker, it was a memorable evening for the musician. 
But the night had some lows along with the highs for Kelly, who seemed to get into an altercation with UFC star Conor McGregor before the show. 
Here's what happened and what McGregor said about the incident. 
Machine Gun Kelly walked the VMAs red carpet with Megan Fox
Machine Gun Kelly has been dating actor Megan Fox for over a year now. The couple has made headlines for their PDA and shutting down red carpets together, and the 2021 VMAs were no exception.
Kelly wore a vibrant red sequined suit with a matching shirt underneath, while Fox wore a nude, see-through, sparkly dress. Fox posted a photo of the outfits on social media before the couple attended the event and captioned it, "Daddy's gonna win a VMA." 
Kelly posted a similar photo with the caption, "I found a mermaid 🔱'
Conor McGregor allegedly threw a drink at Machine Gun Kelly
Besides debuting Kelly's and Fox's stunning looks, the red carpet is also where the incident with Conor McGregor took place. 
It's unclear what started the fight. Video footage showed McGregor reaching out to Kelly, perhaps asking for a photo or simply greeting him. Kelly apparently denied the request, and his security pushed McGregor back into the crowd. The shove caused McGregor, who is nursing a broken leg from a recent fight, to stumble and spill his drink. 
According to Page Six, when the fighter recovered, he quickly threw what was left of his drink in Kelly and Fox's direction. Fox stood between the two men holding one hand up in an attempt to break up the fight. 
Conor McGregor called MGK a 'little vanilla boy rapper'
McGregor, who was at the VMAs to present the Artist of the Year award to Justin Bieber, wore a pink sports jacket and walked the red carpet with his girlfriend, Dee Devlin. 
Following the skirmish, a representative for McGregor said (per People) that the fighter was not asking MGK for a photo. "Conor and Dee are in their seats enjoying the show. Conor appreciates all his fans," said the representative. "Conor does not know MGK other than someone who attended his last fight."
The representative for McGregor also said that he wasn't trying to start a fight, despite photographic and video evidence to the contrary.
"Conor only fights fighters," they told Page Six in a statement.
When Entertainment Tonight asked McGregor what happened with Kelly, the fighter answered, "Absolutely nothing. I don't know. He showed up, and I don't know. I don't know the guy."
He then went on to diss the musician, who won the award for Best Alternative Video later that evening. 
"Nothing happened with me, I only fight real fighters, people that actually fight, you know what I mean. I certainly don't fight little vanilla boy rappers. I don't even know the guy. I don't know anything about him, except that he's with Megan Fox."
Although there is no known history of bad blood between Machine Gun Kelly and Conor McGregor, it certainly appears as if there could be some now.