Machine Gun Kelly and Megan Fox Date Night Is Not Like Yours—Ayahuasca, Swimming With Sharks, and Even Scaling a Balcony
Machine Gun Kelly and fiancee Megan Fox really know how to do it up when they go on dates. They've shared some of their more exciting ones with fans.
Many couples opt for low-key dinners or fun nights out on the town when it comes time to plan a date night. For busy partners who juggle a lot of responsibilities on a day-to-day basis, dates should be relaxing, a way to escape the chaos of the workweek. However, celebrity couple Machine Gun Kelly and Megan Fox like to take things to the next level with dates that are daring and exciting. Throughout their relationship, Kelly and Fox have opened up about a few of their wilder dates, offering inspiration for couples everywhere who want to try something new on their next evening out. 
Machine Gun Kelly and Megan Fox's chaotic first date
Fox and Kelly first connected when they worked on the movie Midnight in the Switchgrass. Not long after, Fox split from her longtime partner, Brian Austin Green, leaving her free to pursue a romance with Kelly. They quickly went public with their relationship. Fox called Kelly her "twin flame" and claimed they share an intense spiritual connection. Fox and Kelly embraced the edgy side of their romance from the start. And have had no problem opening up about how they spend their time together.
Kelly told Ellen DeGeneres in May 2021 that his first date with Fox was a walk on the wild side. The rocker revealed that the two climbed a "dangerous three-story balcony," with Fox wearing heels for the entire excursion. Kelly explained that he wanted to show Fox "my world for a minute."
What did Fox say about the 'ayahuasca journey' she took with Kelly?
Not only did their outrageous first date help to build a bond between Kelly and Fox, but it kickstarted a series of extreme dates. For their second date, the two took a trip to Bora Bora and swam with sharks. Kelly told DeGeneres that neither of them chose to stay in a cage, opting to free swim with the sharks.
Kelly isn't the only one to speak out about the pair's wild dates. In a July 2021 interview with Jimmy Kimmel, Fox talked about the "ayahuasca journey" that she and Kelly took during a trip to the rainforest. Fox noted that after she and Kelly took a liquid form of the hallucinogenic drug, they started experiencing intense hallucinations, vomiting, and other physical side effects.
"It was incredibly intense. Everybody's journey is different," Fox told Kimmel. Fox explained, "the second night, I went to hell for eternity. Just knowing its eternity is torture in itself because there's no beginning, middle, or end. So you have, like, a real ego death."
Fox and Kelly got engaged in early 2022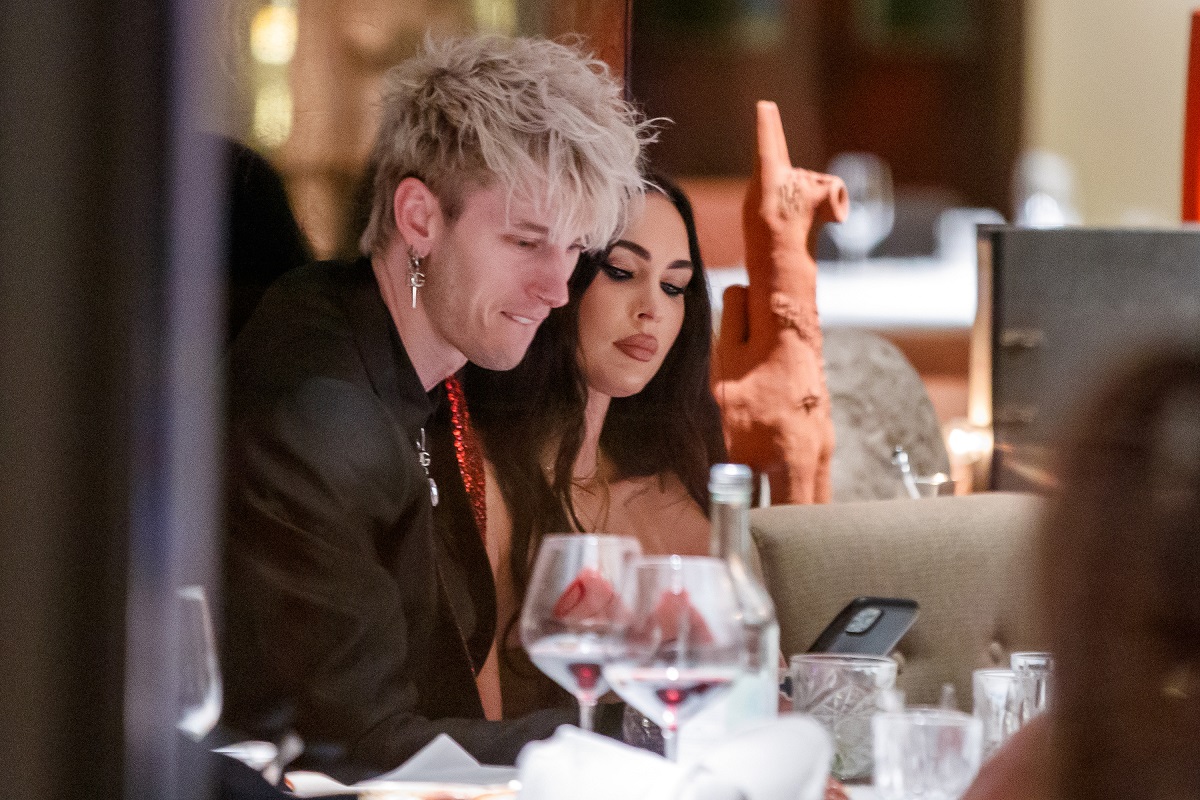 After about a year and a half of unusual, intense dates, Kelly and Fox made things official by getting engaged. They announced their engagement on January 11, 2022, taking to social media to share that they made their commitment to each other under the shade of a banyan tree before drinking each other's blood to solidify the promise. 
Fox and Kelly haven't shared any wedding details yet. But there's no doubt they'll keep fans updated every step, spilling all the info that has kept fans riveted to their relationship from the beginning. Certainly, their wedding will be one that will go down in pop culture history.