Machine Gun Kelly Designed Megan Fox's Engagement Ring to Hurt if She Takes It Off: 'Love Is Pain'
Machine Gun Kelly and Megan Fox are one of pop culture's hottest couples – and they always keep fans on their toes. The unconventional pair started dating as Fox was in the midst of a divorce from her longtime partner, Brian Austin Green, and ever since, they have been in the headlines. With the recent news of their engagement lighting up social media, fans are eager to learn what they can about the pair's love connection—and the story behind Machine Gun Kelly's inspiration for Fox's engagement ring. 
When did Machine Gun Kelly and Megan Fox get engaged?
Kelly and Fox got engaged on January 11. Fans had long been speculating that the two would get engaged, since the two never miss an opportunity to rave about their intense love connection. After Fox said "yes" to her musician boyfriend, they both took to social media to share posts about the big day. They shared a video, featuring the moment that Kelly got down on his knee to present Fox with a ring.
"In July of 2020 we sat under this banyan tree," Fox captioned her post. "We asked for magic. Somehow a year and a half later, having walked through hell together, and having laughed more than I ever imagined possible, he asked me to marry him." Fox described the aftermath of the engagement, writing "And just as in every lifetime before this one, and as in every lifetime that will follow it, I said yes.…and then we drank each other's blood."
What did Machine Gun Kelly say about Megan Fox's engagement ring?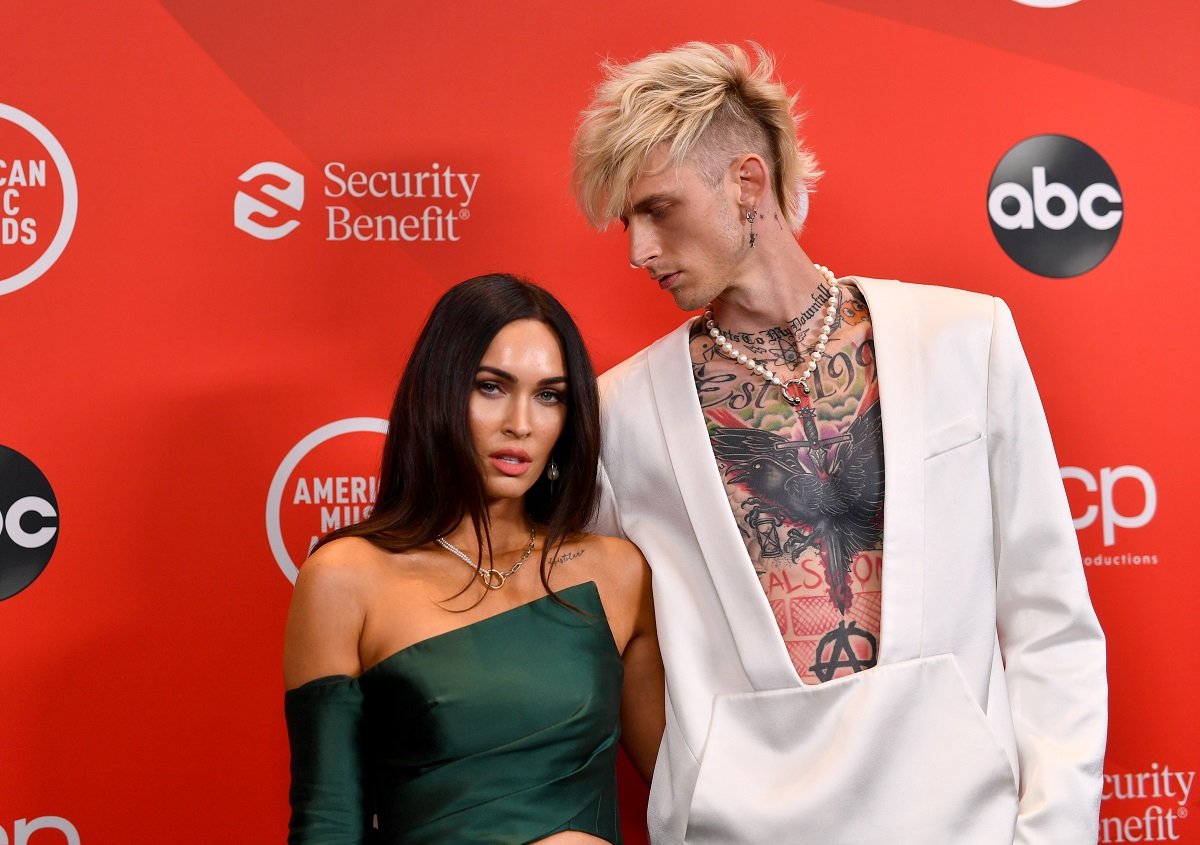 Of course, fans were immediately curious about the ring that Kelly gave Fox. In recent weeks, the musician has been opening up about the unique ring, which he designed with jeweler Stephen Webster.
The ring features two pear-shaped stones, one diamond and one bright emerald, on a platinum or white-gold diamond-studded band. In a recent interview with Vogue, Kelly talked about his inspiration for the ring. People Magazine reports Kelly as saying "It's a thoroughbred Colombian emerald, with no treatment. It was just carved into the teardrop, straight out of the mine. And the diamond was directly from Stephen Webster."
Kelly went on to note that the ring has "bands that are actually thorns…So if she tries to take it off, it hurts. Love is pain!" Kelly has also shared some close-up shots of the fabulous ring on his social media pages, giving fans an up-close look at a truly original piece of jewelry. 
Megan Fox and Machine Gun Kelly started dating in mid-2020
It might seem as though Fox and Kelly have been together forever, but they first connected in early 2020, on the set of their film Midnight in the Switchgrass. By May 2020, some outlets were speculating that Fox and Kelly were getting cozy, even as Fox embarked on a highly-publicized divorce from Brian Austin Green. Fox and Kelly soon worked together again, on a music video that was released in June 2020.
Insider notes that Fox and Kelly confirmed that they were dating that same month, with Kelly taking to Twitter to post "'i'm calling you girlfriend, what the f—' life imitated art on that one." After going public with their romance, Fox and Kelly never left each other's side – attending red carpets together and speaking out publicly about their connection in the months that followed. While some fans might have initially doubted their longevity, it's clear that Fox and Kelly are intent on staying together forever.